Homeslice Shanghai has just launched the spring 2019 edition of new pizzas, now available at both Found 158 and Zhongshan Park locations, and on delivery (Ele.me, Meituan, and Sherpa's).
There are plenty of hardcore Homeslice fans in Shanghai, and I'm one of them. If you don't already know, it's New York style pizza that does whole pies and by the slice.
They have new limited-edition pizzas for the season, including one for St. Patrick's Day and one that has taco toppings.
New Pizzas at Homeslice, Spring 2019 Edition
Al Pastor Pizza by Scott Melvin (Edition Shanghai)
¥30/slice, ¥150 for 16'' pie, ¥230 for 20''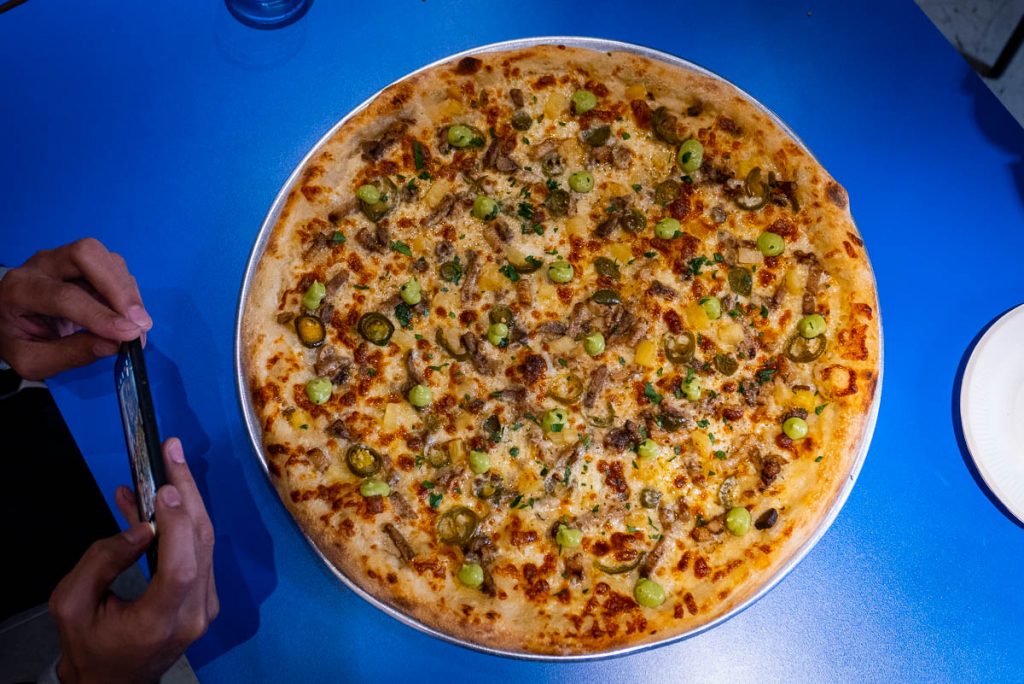 Every season, Homeslice gets one of the city's many talented chefs to create a signature pizza. Additionally, 10% of the sales of each guest chef pizza goes to charity, namely, Stepping Stones. Previously, they've had names like Austin Hu, Christopher Pitts, Carlos Sotomayor, Sean Jorgensen, and Anna Bautista, put their spin on a pizza. They've managed to donate ¥42,000 to the charity! Kudos.
Now, it's to Scott Melvin, the Executive Chef at the newly minted Edition Shanghai hotel. Scott is an old hand in the Shanghai F&B circuit and has been cooking here for nearly 10 years, first at Table No. 1 (now closed) and then at The Commune Social.
His pizza is a take on the Mexican dish Tacos Al Pastor, a product of Lebanese shawarma and Mexico's favorite handheld food. Marinated slow roasted pork and pineapple (Hah! It's back!), white onion, jalapenos, and avocado cream.
It reminds me of Anthony Bourdain eating Penang Laksa saying, "What's going on? I almost said the word yummy!"
Taco stuff on a pizza. It's…yummy.
Craic Pizza (Vegetarian with bacon option) ¥130/¥190
"It's the whitest pizza, ever."
Said someone at the tasting that day. They're not wrong.
Every year, Homeslice does a St. Patrick's Day pizza. And this year, it's a white base with potatoes, leeks, and mature Irish cheddar. That's about as Irish as it gets.
It's vegetarian, but there's the Smoked Craic Pizza (¥150/¥230) version with smoked cured Sichuan pork.
Oh, and it's pronounced "crack".
Amatriciana Pizza ¥150/¥230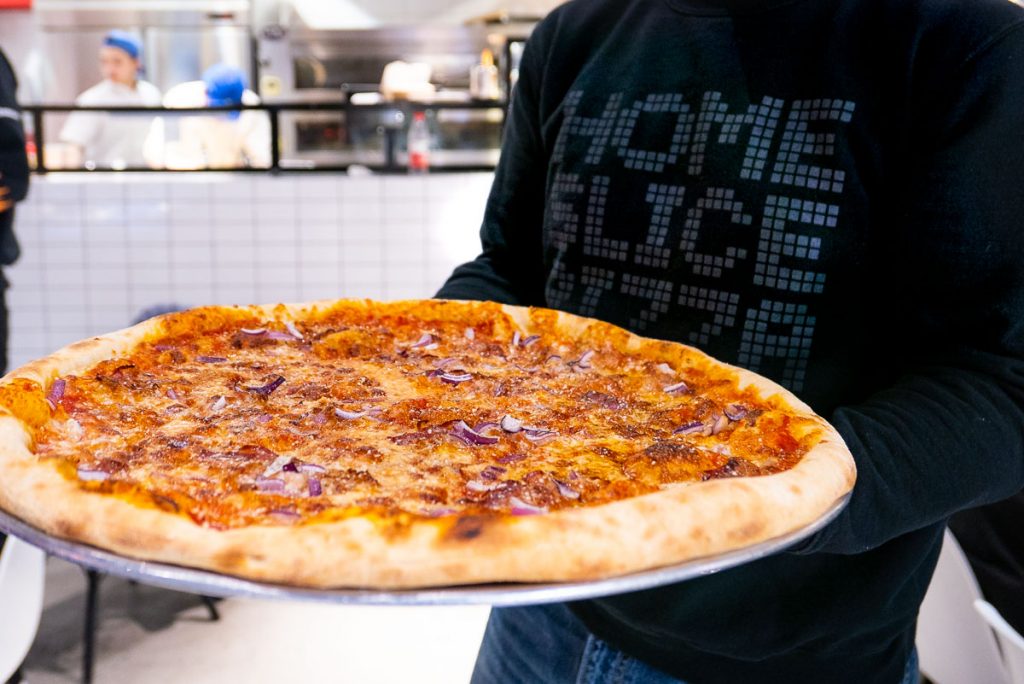 Guanciale! Difficult to find (in Shanghai) and most prized, the salt and black pepper-cured pig cheek is only second to lardo for its high fat content. It's also the only kind of meat you use to make carbonara. (Italians will rue the day when bacon is considered an equal substitute for guanciale.)
This pizza is inspired by bucatini amatriciana, a famous Roman pasta dish. Tomato, onion, and guanciale sauce, pecorino, and mozzarella on crusty, fluffy pizza unite like it's Morphin' Time—ready to blast my failing diet into nonexistence.
Sprinkle on some chili flakes and you'll find yourself halfway through a 16'' pizza in no time.
Meatless Spicy Sausage Pizza ¥130/¥190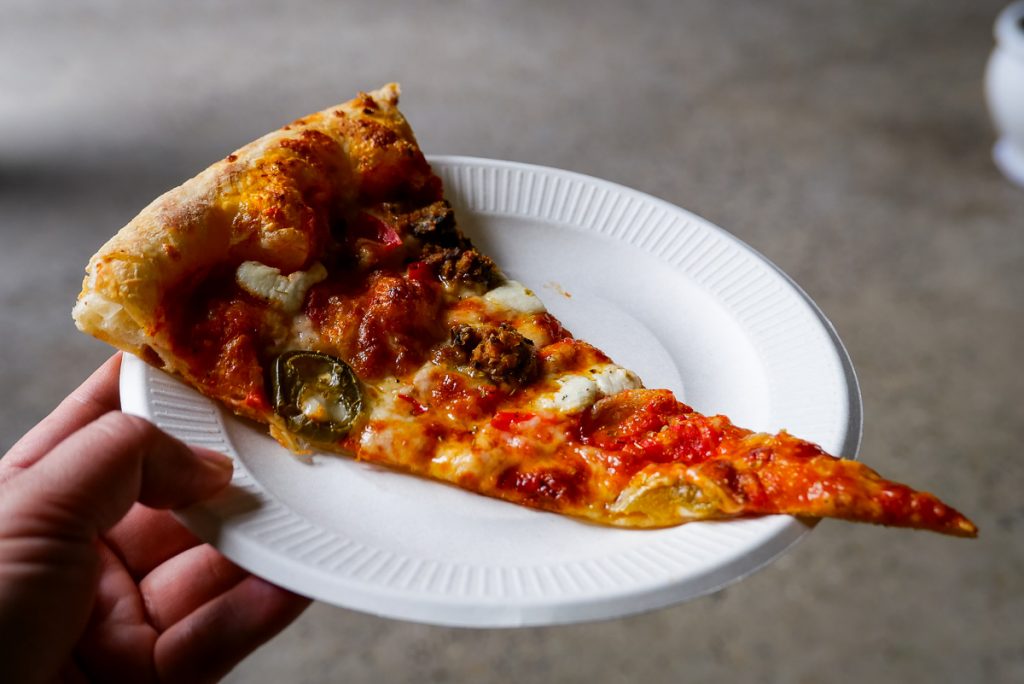 They aim to do at least one vegetarian pizza every season. And so, this faux meat pie is for all you non-meat eaters. Vegan sausage made with a mixture of kaofu, tofu, chickpeas, and a special combo of chilies and spices, served on a tomato base with jalapeno, pickled red chili and ricotta for this one.
And for a suuuuper limited time only…
Sausage and Broccoli Rabe ¥30/¥150/¥230
This pizza is only on for a short while—Homeslice pizza master Nat Alexander says it may only be there for two weeks. Broccoli rabe is seasonal, and they'll only keep serving it as long as there's a fresh supply. It has a light, earthy bitterness that works fantastically with the fennel sausage, cheese, and Parmesan cream.
Homeslice, You Sexy Thang.
Haven't tried Homeslice? Sorry, we can't be friends. They're available for delivery—you have no excuse.
Delivery: only 16'' pizzas, by the slice only via Ele.me/Meituan (starts at 11am). Sherpa's can do pre-order.
Also: Found 158 only does the Al Pastor by the slice, but Zhongshan Park does 'em all by the slice.
---
Homeslice Shanghai
Found 158
Address: B1/F, 158 Julu Lu, near Ruijin Yi Lu巨鹿路158号B1楼, 近瑞金一路
Tel: 53099332
Hours: Sun-Thu 11am-11:30pm, Fri-Sat 11am-2am
Zhongshan Park
Address: F1-04, 1398 Yuyuan Lu, near Dingxi Lu愚园路1398号, 近定西路
Tel: 62662883
Hours: 11am-11pm