Another crappy day? Just eat away those feelings and get these comfort foods delivered straight to your door. Order via Eleme, Meituan, or Sherpa's.
---
Tacolicious
Jing'an: 34 Yuyao Lu, near Haifang Lu 余姚路34号1幢, 近海防路
Tel: 15595950100
Hours: 11am-1am
Delivery: Eleme, Meituan, Sherpa's
Did you hear? There's a second location of Tacolicious in Jing'an. It opened on March 25. It's a massive space that seats over 120 people. Go check it out.
Tacolicious is known for their double-stuffed tacos—that's a fully-loaded hard-shell taco swaddled in a soft, toasted tortilla. It's ¥60-65 for a pair. They have more than a dozen kinds of tacos, of which three are vegetarian. Personal favorites: Beef Bulgogi, Fried Fish, Steak Asado.
---
Beef Bourguignon from Cuivre
Address: 1502 Huaihai Zhong Lu, near Wulumuqi Lu 淮海中路1502号, 近乌鲁木齐路
Tel: 64374219
Hours: 12pm-10:30pm
Delivery: Eleme, Meituan, Sherpa's
This is a new dish at Cuivre, one of my favorite French restaurants in Shanghai. Chef Michael Wendling wanted dishes that were easy to reheat for delivery, hence the rustic French classic, Beef Bourguignon (¥168). Thick chunks of beef are stewed in a wine and spices with garlic, onions, and mushrooms until the meat is fork tender. Comes with a side of pan-fried polenta. Great additional side: mashed potatoes (¥48).
---
Suan Tang Fei Niu from Maurya
Multiple locations
Address: Jing'an Kerry Centre, North Block, 4/F, 1515 Nanjing Xi Lu, near Changde Lu南京西路1515号北区4楼, 近常德路
Tel: 60675757
Hours: 11am-2pm, 5-8pm
Delivery: Eleme, Meituan
This is my ultimate rainy day Chinese food go-to. Suan Tang Fei Niu is a sour-spicy soup with thin-sliced beef, enoki mushrooms, bean sprouts, and vermicelli noodles. The broth is fortified with fresh and vinegar-pickled chilies and peppers, and preserved vegetables. I order from Maurya (孔雀), an upscale Sichuan restaurant chain with six locations in Shanghai.
Only Grand Gateway, Raffles Changning and Jing'an Kerry Centre locations have it on the delivery menu.
---
Spread The Bagel
Address: 32 Yuyuan Dong Lu, near Changde Lu 愚园东路32号, 近常德路
Tel: 13817173245
Hours: 8am-8pm
Delivery: Eleme, Meituan, Sherpa's
Spread The Bagel has three new vegetarian bagelwiches on the menu, partnering with Z-Rou, a new plant-based product made with soybeans, konjac, shiitake, and coconut oil, for the new sandwiches. The two above plus the Z-Rou Italian (¥68), made with Z-Rou mushroom patty, grilled shiitake, sun-dried tomatoes, pesto, arugula, and balsamic vinegar.
---
Kebabs from Eli Falafel
People's Square: 1/F, 686 Jiujiang Lu, near Guangxi Bei Lu 九江路686号1楼, 近广西北路
Tel: 63085881
Hours: 11am-10pm
Wulumuqi Lu: 294 Wulumuqi Zhong Lu, near Wuyuan Lu乌鲁木齐中路294号, 近五原路
Tel: 54017778
Hours: 11am-7:30pm
Delivery: Eleme, Meituan, Sherpa's
Mixed Grill – chicken, lamb, lamb rack, beef, fries.
Eli Falafel is my go-to for kebabs and falafels. The Mixed Grill (¥128) plate is good for two to share with a falafel (¥40) side dish.
---
Pie Society
Jing'an: No. 106, 688 Shaanxi Nan Lu, near Wuding Lu 陕西北路688号, 近武定路
Hours: 8:30am-9pm
Tel: 62720210
Xingfu: B102, 381 Panyu Lu, near Fahuazhen Lu 番禺路381号幸福里5号楼, 近法华镇路
Hours: 11am-9pm
Tel: 62146992
Delivery via WeChat: Pie Society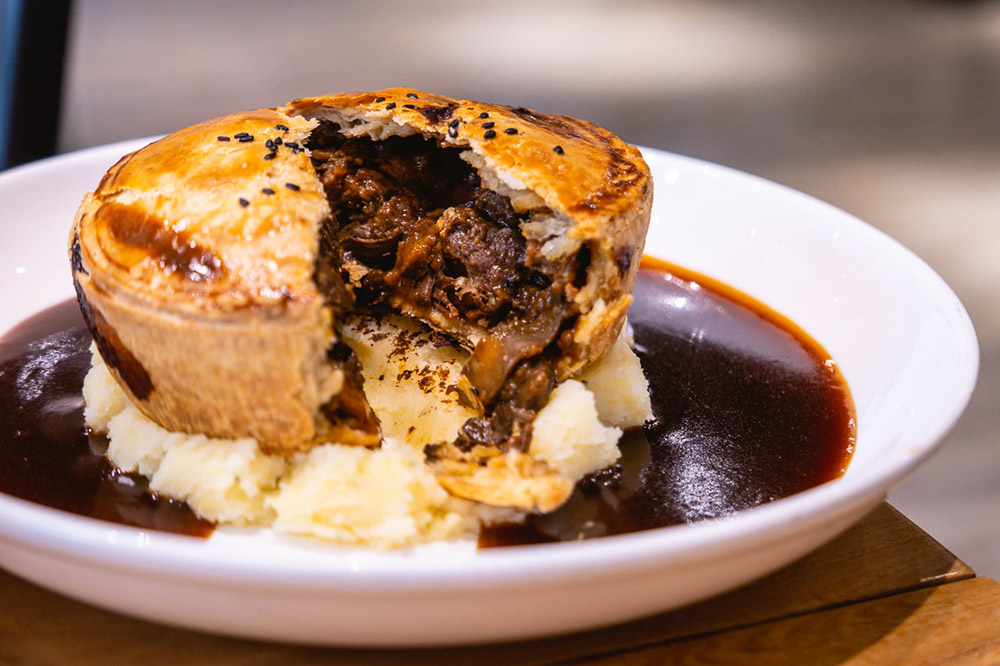 Meat pies with mashed potatoes and gravy—those words should be enough to help you with your decision. There's only one place in Shanghai where you can get this British staple from, and that's Pie Society. Pies start from ¥48, vegetarian options available.
---
Homeslice
Addresses: Click here for the full listing.
Delivery: Eleme, Meituan, Sherpa's, or
WeChat: homeslicepizza
For the nth time: Homeslice has new Spring 2020 pizzas. Favorite of the new seasonal pizzas is the Chicken Tikka by The Bull & Claw chef Hardeep Somal. But I tend to differ to the good ol' spicy sausage.
---
Joe's Pizza
Wujiang Lu: 281 Wujiang Lu, near Maoming Bei Lu 吴江路281号, 近茂名北路
Tel: 61394940
Hours: 10am-1am
Nanchang Lu: 509 Nanchang Lu, near Shaanxi Nan Lu 南昌路509号, 近陕西南路
Tel: 60866017
Hours: 11am-10pm
Delivery: Eleme, Meituan, Sherpa's
Some New Yorkers would argue that Joe's is the one and only superior NY-style pizza in town. Their pizzas (16'' or 18'') start from ¥120.
---
Currify
Multiple locations
Jing'an: 1101 Wuding Lu, near Yanping Lu 武定路1101号,近延平路
Tel: 52562563
Hours: 10am-9pm
Delivery: Eleme, Meituan, Sherpa's
This is a great TV-dinner curry. It's not going to blow your mind, but it'll still make you feel warm and fuzzy inside. Curries start from ¥42, naans from ¥10. Favorite curries: Palak Baneer (¥45), Lamb Masala (¥62). Currify has six locations in Shanghai, including one in Hongqiao and Lujiazui to cover the delivery radius.
---
Lasagna from Heritage
Address: 1/F, 600 Zhongshan Dong Er Lu, near Longtan Lu 中山东二路600号1楼, 近龙潭路
Tel: 63129089
Reduced Hours: 11:30am-9:30pm
Delivery: Eleme, Meituan, Sherpa's, or
Shansong if you're out of range (WeChat: austinhu101)
Heritage by Madison has been delivering a huge menu of share-friendly dishes, sandwiches, and pantry items. One on the menu that jumps out is the lasagna, made with duck ragu, parmesan cheese, and béchamel. Get it as a single portion (350g/¥128) or family portion (1.2kg/¥398).
---
Pho from Saigon Mama
Multiple Locations, here are two of them:
Shanghai Centre: 1376 Nanjing Xi Lu, near Xikang Lu 南京西路1376号, 近西康路
Tel: 62890522
Hours: 10am-8pm
Dapuqiao: SML Center, 1/F, 618 Xujiahui Lu, near Taikang Lu 徐家汇路618号日月光中心广场1楼, 近泰康路
Tel: 31593305
Hours: 10am-10pm
Delivery: Eleme, Meituan, Sherpa's
Saigon Mama is a casual Vietnamese chain with plenty of locations in Shanghai. Recommend the Pho Combo (¥68), which comes with beef brisket, shank, tendons, and tripe.
---
All The Sandwiches
All the sandwiches for delivery. Click here to read more.
---
Rotisserie Chicken