Flambe Bistro Grill & Bar is a Viennese restaurant in Xintiandi serving up flame-grilled ribs, sausage, and chops, alongside traditional Austrian dishes like schnitzel and goulash.
Read more to book get 2 hours free-flow beer for ¥30!
About Flambe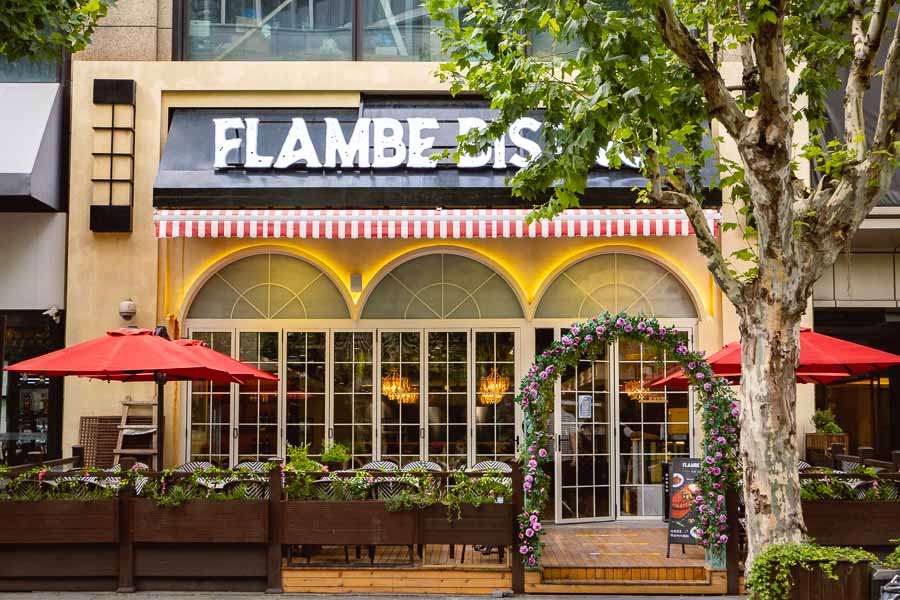 Nestled between mall blocks in a quieter part of Xintiandi, Flambé boasts a handsome terrace and a modest dining room. It's casual, bright, and a little old school, similar to those age-old restaurants you'd find in Europe.
Flambé is run by a Chinese family, who spent their formative years in Vienna operating Fisch Berger, a 100-year-old restaurant near the River Danube in Vienna that was famed for its ribs. This revival is kick started by second-generation operator David, who's keen to bring a taste of Vienna to Shanghai.
The Food
The menu highlights are dishes from the grill, obviously.
The Vienna Ribs is house signature. Preface: these are not the fall-off-the-bone kind. These ribs require some serious gnashing and getting your hands dirty. These sweet-savory racks are coated in a peppery, finger-licking good house barbecue sauce and then finished off on the grill.
Other classic Viennese dishes also feature on the menu like the Schnitzel, which is fantastically thin and crispy, the mixed sausage platter, and the hearty Viennese goulash.
As for drinks, the go-to is beer. There's a small selection (for now) including bottled beers of Hoegaarden (¥35-45) and 1664 (¥35), and Budweiser draft (¥30). Flambe also has a couple of house wines (from ¥128/bottle) and cocktails.
They have also partnered with Zantho, a leading Austrian wine producer that uses indigenous grape varieties, to import wines to China. Bottles range from ¥188 to ¥688; the classic riesling is ¥188 a bottle.
In Summary: It's a laid-back, inexpensive restaurant in a neighborhood that's infamous for sticker shock. It's a good casual option for those who live in the area and for people who want a small taste of Viennese food.
The terrace is also dog-friendly.
Nomfluence Readers Deals
The deal below is valid from now until September 4, 2022 for Nomfluence readers when you book via the link below!
Add ¥30 for two hours of free-flow Budweiser when ordering a grilled main dish. Deal is available all day.
Grilled main dishes included in this deal are Vienna Style Ribs (¥138), Sausage Platter (¥138), Grilled Beef Kebabs (¥148), and Grilled Lamb Chops (¥138). One order per person.
---
Flambe Bistro Grill & Bar 维也纳烤肋排
Address: No. 107, 9 Jinan Lu, near Chongde Lu 济南路9号107单元, 近崇德路
Tel: 13701653038
Hours: Daily, 11am-11pm