I've hit the mother of all pop-ups/collabs! I'm doing the guest chef pizza at Homeslice this spring!
It's been a year (maybe more) in the making. The honor! The excitement! It launches on April 1. (Not a joke!)
The Pizzas: Homeslice Spring 2021
Like my previous pop-ups, the guest chef pizza I'm doing at Homeslice features flavors from my home country of Malaysia. The "Pork Satay Pizza" at Homeslice is inspired by Penang, Malaysia's food mecca and historically Chinese-majority state, where pork satay is a popular skewered delicacy.
Pork, marinated for 24 hours in a heady mix of spices and aromatics and then roasted, is the main event, along with onions, roasted peanuts and raw onion, on top of a curried tomato base. It has all the vibrant tastes of Malaysia in pizza form. (You can skip the raw onion but if you've had street satay, you'll know it's essential!)
As usual Homeslice will be donating 10% of all revenue from this pizza to Stepping Stones, an amazing charity who help to provide English teaching and other support to the children of migrant workers in and around Shanghai. Homeslice has been able to donate over ¥170,000 to their work, thanks to your support of their guest chef pizzas.
Other pizzas on the Spring 2021 docket include:
The Italian Meatball, a classic of Italian-American homes and restaurants, made with pork meatballs on a red sauce pizza and finished with basil and parmesan.
Sichuan Omnipork, based on the classic Sichuan dish of "fish-fragrant" or yuxiang (鱼香) pork, has garlic, ginger, pickled chilies, Omnipork, bamboo, carrot and wood-ear mushrooms. Will also have a vegan option, topped with Homeslice's housemade vegan cheese.
Homeslice is bringing back the Four Cheese pizza from summer 2019. It's house made ricotta, gorgonzola, provolone picante, mozzarella and parmesan, white base with a sesame crust.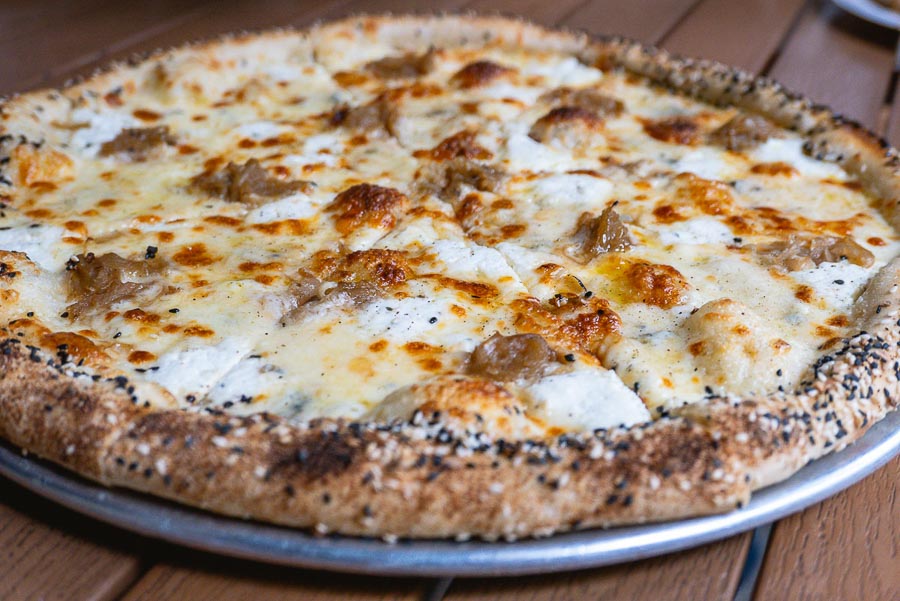 All of these pizzas launch on April 1 and will be available in-store and via delivery for about three months.
Pricing for the pizzas above are ¥30/slice, ¥150/16-inch, and ¥230/20-inch.
Happy eating!
---
Homeslice Pizza
Found 158: B1/F, 158 Julu Lu, near Ruijin Yi Lu 巨鹿路158号B1楼, 近瑞金一路
Tel: 53099332
Hours: Sun-Thu 11am-midnight, Fri-Sat 11am-2am
Xujiahui: 111 Yuede Lu, near Wending Lu 裕德路111号南阳1931商场, 近文定路
Tel: 64150003
Hours: 10:30am-9:30pm
Jing'an: 358 Kangding Lu, near Shaanxi Bei Lu 康定路358号, 近陕西北路
Tel: 62886001
Hours: 11am-11:30pm
Xintiandi: 3/F, South Block, Xintiandi Mall, 123 Xingye Lu, near Madang Lu 兴业路123号新天地南里3楼, 近马当路
Tel: 33045797
Hours: 11am-9:30pm
Delivery: Eleme, Meituan, Sherpa's, or
WeChat: homeslicepizza