Sponsored by LA MATCHA

LA MATCHA is a matcha bar outside La Maison serving matcha drinks and desserts in Shanghai. The second location just opened in Jing An Kerry Centre.
LA MATCHA uses a traditional whisk called a cha-sen to prepare all the drinks. Beverages, available hot or cold, range from the entry-level pure matcha to creative blends with Oatly, cranberries, coconut water and even doujiang (soy milk). They're all about using these tasty, colorful drinks to deliver the healthy superfood (high in antioxidants and amino acids) to the masses.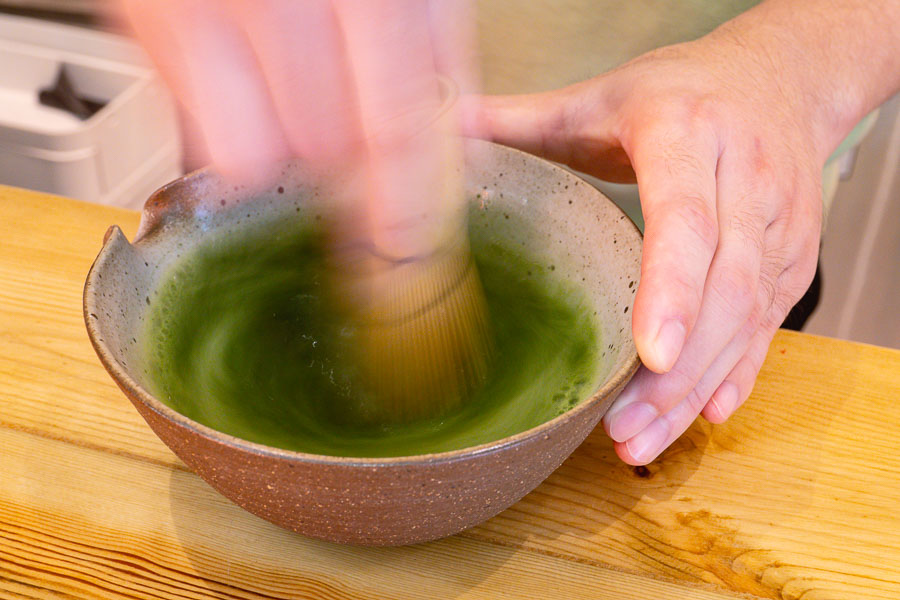 What about the caffeine? Well, it's different to coffee, obviously. Matcha gives a slow-release of caffeine compared to the burst of energy you'd get from an espresso; it also contains less caffeine than coffee.
They also have a couple desserts: Matcha Cream Mini Pineapple Bun (¥28), Sparkling Matcha Milk Cookie (¥15), Matcha Tiramisu (¥38) and Matcha Madeleines (¥38).
So, about those drinks…
The Drinks at LA MATCHA
I started from the top of the list and worked my way down. Which one did I like the best? I defer to the super sciency method of x-number of sips. More sips, more likey. Ten matcha drinks and a seasonal special with pumpkin. Here's each drink:
Matcha-cano ¥25
hot / cold
Matcha, straight up. It's like an Americano—you like matcha enough that you'll dose it throughout the day. You can even add an extra matcha shot (¥8). I know what this tastes like. One sip.
Matcha Latte ¥35
hot / cold
Pretty self-explanatory. Matcha and milk. I got it without sugar. The matcha flavor is faint. Perhaps some monkfruit sweetener (instead of basic syrups) would have been better. You can also swap milk for Oatly. One sip.
Soy La Matcha ¥36
hot / cold
This has actual scoops of doufuhua (silken tofu) at the bottom, and they make their own soy milk "doujiang" (not Oatly). The silky doufuhua is mildly sweet and replaces the pudding you'd get in your super sweet bubble tea. Fun to drink. Two sips.
Oatly Chocolate Cookie Matcha ¥38
hot / cold
Oh, this is the turning point and I'm barely halfway through. It's Oatly, chocolate, cookie, and a matcha "naigai" cheese-matcha foam top. I should pace myself, but this one is tasty. Five sips.
Cranberry Coco Cream Matcha ¥38
hot / cold
Sounds weird on paper, but actually really nice. It's cranberry and coconut cream blended with ice, topped with a shot of matcha. It kind of reminds me of a breakfast yogurt. The bits of cranberry are nice, naturally sweet. Dairy free. Three sips.
Red Bean Matcha ¥36
hot / cold
Personally not a fan of red bean, and fortunately, the flavor of red bean here is subtle. It's a heavy drink—that's the amount of blended red bean at the bottom of the cup. Also dairy free. One sip.
White Chocolate Matcha ¥39
hot / cold
White chocolate. Not as intimidating as I thought—I imagined white chocolate bar kind of sweet. After the Oatly Chocolate Cookie Matcha, I expected this to bust me. But no. Two sips.
Golden Turmeric Matcha Soda ¥36
cold
Turmeric and matcha with fizz. I was skeptical but stand corrected. It more than just works—I could see this drink as a replacement for soda water or other soft drinks at restaurants. Refreshing. Two sips, but I'm also taking this to go.
Butterfly Pea Matcha ¥36
cold
It is known that butterfly pea has no flavor. If it does, it's an ever-so-subtle grassiness. This, my friends, is used for flair. But the drink holds up! Mostly for the bits of sweet, crunchy coconut mixed in with Oatly, lemon juice and matcha. Another fun drink. Four sips.
Coconut Matcha ¥36
cold
This one has bingfen (jelly), coconut water and matcha. Good summery drink. One sip because this is turning into a meal.
Pumpkin Matcha ¥38
hot / cold
Finally, there's the seasonal special—Pumpkin. It's all-natural pumpkin powder, milk, and a matcha cap. It's subtle, not very sweet. It's like a healthy PSL minus the spice. I am very full. One sip.
The verdict?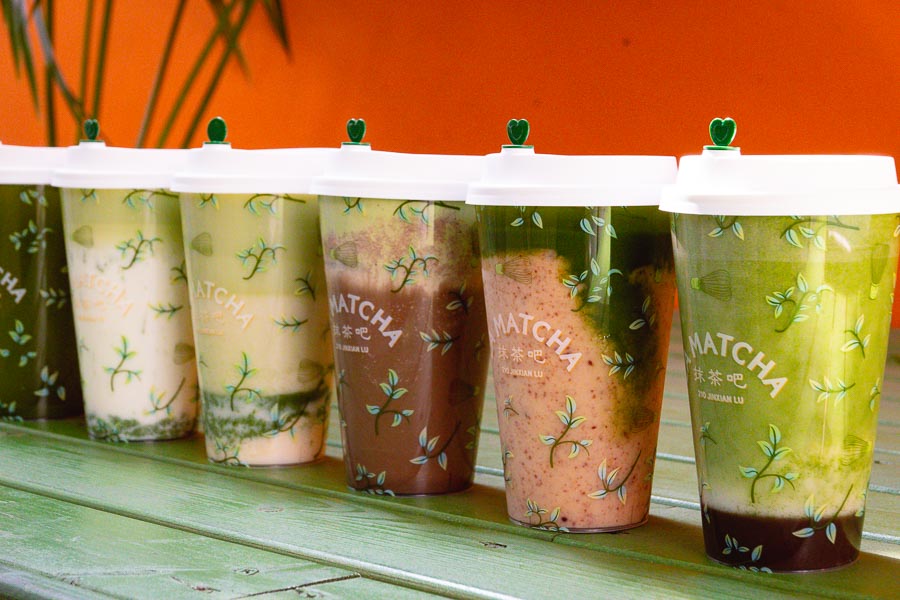 Clear winner: Oatly Chocolate Cookie Matcha. You can't go wrong with putting all those ingredients together. Second favorite is a tie-up between Cranberry Coconut Cream and Butterfly Pea. Third has to be the Golden Turmeric.
They also do delivery! Available via Meituan and Eleme.
Nomfluence Readers Deal
Show this article when you buy your drinks at LA MATCHA Jinxian Lu or Jing An Kerry Centre to get 10% off your bill. Or you can scan the QR Code below to redeem your 10% off voucher—applicable for in-store purchases, pick up or delivery.
QR Code voucher only valid for purchases via the mini program. Deal valid until November 30.
---
LA MATCHA
Jinxian Lu: 210 Jinxian Lu, near Shaanxi Nan Lu 进贤路210号, 近陕西南路
Hours: 10am-10pm
Jing An Kerry Centre: B1, NB1-12A-12B, 1238 Yan'an Zhong Lu, near Changde Lu 静安嘉里中心B1, NB1-12A-12B, 延安中路1238号, 近常德路
Hours: 8am-10pm
Tel: 15900935660