Christopher St. Cavish is a Shanghai-based food writer and critic.
He was most recently the Managing Editor of SmartShanghai, engaging readers and the F&B industry with both inspiring and controversial articles, borne out of meticulous research, the need to advocate for the diner, and a love and fascination for Chinese food. ("Chinese food, you should be eating more of it!" he would tell me.)
He's also written for Lucky Peach, Saveur and Eater. He's known for The Shanghai Soup Dumpling Index, a project of scientific proportions to determine the best XLB in the city. And he's spent over a decade working in kitchens.
In my opinion, he is the most highly respected food writer in Shanghai. He's just gone off on his own to work on new projects and to continue writing on his WeChat official account (saintcavish). And I thought it was about time: someone should interview this guy.
He talks about what brought him to Shanghai, what he thinks of the dining scene here, his love affair with noodles and where you should eat Chinese food, his proudest written work, and what he's working on right now.
Interview: Christopher St. Cavish
Let's start with the basics. Who are you, where'd you come from and what brought you here?
I'm a writer from the US. I grew up in and around Miami, which is fun if you're on vacation, but kind of suburban hell when you're a teenage misfit. Like many misfits before me, I found my place and my people in the kitchen. I was just drawn to cooking, had been since I was old enough to knock over my laundry bin and pretend it was a maître'd stand.
Eventually, I wanted to get out of Florida for good. I'd done some cycling trips through Southeast Asia with a chef friend of mine, some meditation stuff in Thailand, and some city break stuff in Hong Kong. They all appealed to me but Hong Kong had the strongest pull. The third culture – not fully Chinese, not fully Western – what we call haipai in Shanghai – that really got me.
I had worked my way up the ladder of fine dining restaurants in the US, so it seemed fitting that if I went to Hong Kong, I would end up at The Peninsula. I couldn't figure out how to make that happen from the US so I packed up my life and flew to Hong Kong.
I couldn't figure out how to make that happen from Hong Kong either.
They didn't need an arrogant young cook who didn't speak Cantonese and couldn't legally work in Hong Kong anyway. From there, I kind of stumbled my way into an interview with a French chef who was opening a new restaurant in Shanghai and was willing to take a chance on a kid with a decent string of kitchens behind him. That was Paul Pairet.
My year in Pairet's kitchen [at Jade on 36] was tough, for a lot of reasons. He was cooking in a way completely new to me, and I was probably still too green and inexperienced for it at the time, even though I had been cooking full-time since I was 16. I didn't go to cooking school; there were some big gaps in my knowledge. So I quit.
That led me to riding a motorcycle across China, that led to me writing about it, that led me to a boss at a weekly magazine who gambled on me, and now it's 15 years later and I'm more of a writer than I ever was a cook. Oh, also, I never bothered leaving Shanghai. It became home.
Would you ever work in a restaurant again?
For years, I said never. But only a handful of people know that in 2018, I was planning to open a xiaolongbao restaurant, modeled on Jia Jia Tang Bao / Lin Long Fang. I was going to be the grumpy cashier selling premium soup dumplings. As my partner and I got deeper in the process, I became nervous about the economy and started to get cold feet.
Then Morgan Short left SmartShanghai, I was offered his old job as Managing Editor, and I decided to put the dumpling dream on hold.
So, no, I will never work in a restaurant again. Never. Never. Never. Well, maybe.
You're known to be controversial with your writing. So here goes: what is wrong with the dining scene in Shanghai?
Yea, so here's the thing. I believe in the power of conflict. I think disagreements — civil or not — lead to something approaching truth, or at least to helping people justify and distill their opinions.
I don't really care whether you love or hate Da Vittorio, which I wrote a nasty piece about when they first opened. I'm not angry at the restaurant. I have my opinion about it, which is mine and mine alone, and other people have theirs. We can talk about it. I might convince you, you might convince me, or we both might just walk away understanding something more about what we value in restaurants, food and experiences.
I do it in a controversial way and I don't hold back, but that's me. I'm blunt. "Rough" as some food PR people call me. I really, truly believe in the power of being an advocate for the diner. I also know that I'm often the first (and only) voice of dissent, and so I need to be loud and brash to make room for other people to speak up as well.
What was the question?
Oh, I seem to have gotten defensive. Lol.
I dunno, that's a big, negative question. If, by "dining scene", you mean "western fine dining", then I'd say that the average diner's knowledge and experience still has to some catching up to do, and in that gap, there are some unscrupulous restaurants who step in and see a chance to make a lot of money. People have more money than experience, basically, and some restaurants take advantage of that.
If you mean "Chinese food", I don't know. I'm not qualified to make huge judgments like that.
But here's a few things that I think could help improve restaurants:
An easing of the visa requirements for hospitality workers. Shanghai is stagnating in terms of the chefs, managers and professionals here. How many chefs have been here for years and years now? When's the last time some young hotshot came out of nowhere and did something new and original in the city? A big part of that is because of visa rules. Make it easier to get new blood into the city and the city will become more exciting.
A few more assholes. I mean, why is the media landscape so… timid? Restaurants, chefs and PR firms here have it too easy. The more honest criticism there is, the better restaurants will become. We need more asshole writers. More voices. This is a complicated problem.
Professional training courses, like the CIA's Greystone academy, for western chefs to learn about the incredible depth of knowledge in Chinese cuisine; and for young Chinese chefs who are working in cuisines they didn't grow up with. Chefs love to learn but lack organized resources at the moment.
Some people think you are a bitter asshole with unattainable standards who is just bored with life and you take it out on restaurants. How do you respond to that?
Yea, fair. I dish out criticism, and I can take it too. I know there are more than a few unhappy hospitality industry people who would like to see me shut up. But where they see "bitter asshole", I see "consumer advocate". I wrote a lot about this as one of my first post on my WeChat official account.
To sum it up, I do have high standards for restaurants, and that's because I've never had money to waste, even when someone else was paying the bill. I have an acute sense of value, I know what restaurants in other countries are charging for similar experiences, I have a decent idea of what foods cost what, and I go to a lot of restaurants, so I know when someone is just being derivative and lazy in the ideas department and when someone is really being original. I don't mind spending a lot of money — my own money — for originality or high-quality cooking and ingredients. But for every one restaurant like that, there are 99 more who are faking it.
In my angry moments, I'd call the worst of those outright scams. And it infuriates me that lazy restaurants don't get called out. I see it as my responsibility to sound the warning when I see this happening, so that other people in the city — the people who read me, the people reading this now — don't spend their hard-earned money in these restaurant traps. There are really a lot of them. Ten years ago, the scams were laughably transparent: chefs with fake credentials charging a bomb. These days, they are more subtle: cheap ingredients at astronomical prices, outdated ideas sold as fresh, fine dining repetition sold to us as original thinking… And, yeah, I'm direct. Always have been.
What are some of your proudest pieces?
I like the ones that help people. I know, I write tear-down pieces and I'm an asshole sometimes, and I believe those are necessary and valuable for readers, but the ones that I like promote people who I believe are doing something worthwhile or interesting. I'm probably proudest of pouring the gasoline on The Beer Lady and then watching her light the fumes; she was a convenience store clerk (and owner) when I met her. Now she's getting invited to Europe (well, not this year) to visit breweries.
The one about the wok makers was close to my heart. I spent years following the Cen brothers, and then hours talking to Mr. Tao. None of them make woks anymore. That was a moment in time. I was lucky to know about it.
Going to noodle school in Lanzhou was fun. Going to Xinjiang after that to write about camel milk was eye-opening. The primary research ones and the people ones. Those are the good ones.
Speaking of, how did you end up doing The Shanghai Soup Dumpling Index?
*The Shanghai Soup Dumpling Index is a scientific investigation into the quality of soup dumplings in Shanghai. It applies a quantitative framework to the existing qualitative descriptors of the xiaolongbao: thin skin, plentiful soup, abundant filling, fresh meat. A total of 52 restaurants were sampled for this index between December 2013 and October 2014 in Shanghai, People's Republic of China.
I had a boring job in the research department of a multinational corporation for several years, and learning my way around data and quantitative analysis warped me. I wanted to strip the fun out of food and stick it into the boring research language. The rest… all the credit goes to my designer friend, Ailadi. I came to her with an idea and she ran with it. Also, I guess I had too much time on my hands.
When you're not writing, what are you doing?
Reading, walking around the city, traveling, researching the next thing I'm going to be writing, browsing Google Scholar for inspiration and data, cooking and looking for good ingredients on Taobao — Dongbei grows excellent tomatoes, for example; Shandong has outstanding green figs; and Yunnan grows the "88" potato variety, which makes fantastically light gnocchi. Have bought all of those on Taobao. Hmm, now that I write it out, I probably need more interests.
I hear you have a love affair with noodles.
Um, yea, well obviously Lanzhou la mian is magic, right? Never grown tired of watching it, even when I was at noodle school and people were pulling noodles all around me.
This sounds silly but at some point I was sort of reflecting on things I've written or researched and I saw this noodle obsession clearly for the first time, and I realized half of my meals were either Chinese wheat noodles (I prefer wheat and the Shanxi grains to rice noodles) or Italian pasta (writing PastaQuest). So, without giving too much away, that's where I'm headed in the next couple of years in terms of writing. I do all this fine dining stuff and my head is there, but my heart is dumplings and noodles.
That said, what are five Chinese restaurants people should eat at?
The noodle place in Suzhou. Yu Mian Zhai. My favorite restaurant in east China.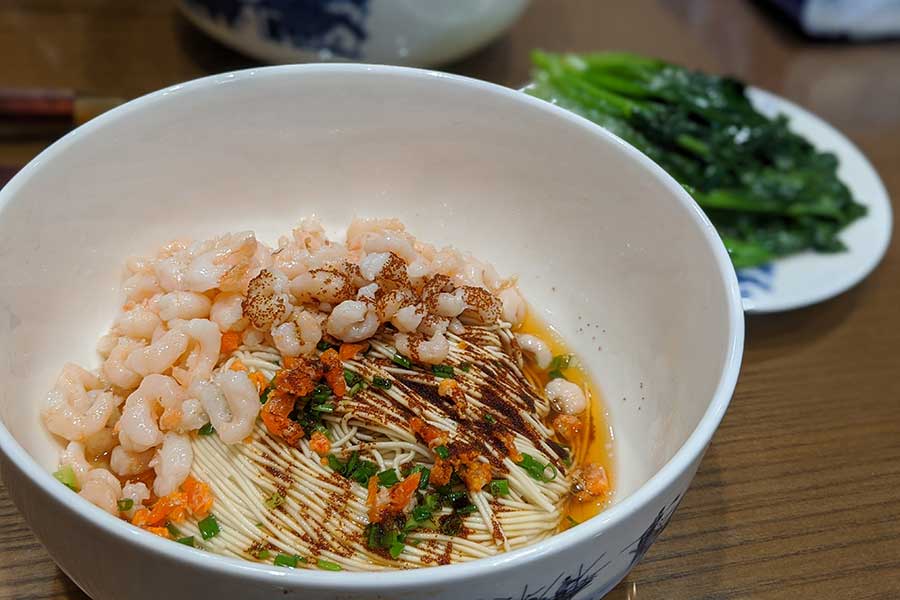 The Park Hyatt Ningbo seafood restaurant. Kinda snobbish to recommend this one, I know, but if you want to understand Jiangnan seafood cooking, and see Jiangnan food in a different way than we do it in Shanghai, this is a great one.
Dragon Well Manor in Hangzhou. A little more snobbery. But Dai Jianjun's garden restaurant in the tea hills is just… it's gorgeous and it has a coherent mission. And Dai's knowledge of his ingredients, their backgrounds and their seasons is impressive. I guess the drawback is that it's the type of place that you really need an explanation for what they are serving and why, or else you'll just miss too much. It's countryside cooking but with the best ingredients.
Old Jesse. I don't care that it's been in the Lonely Planet for longer than I've been in Shanghai. Old Jesse has depth and when you think you're sick of it, you just need to go with someone who orders differently than you, because the B-sides are good enough to be hits as well. Shanghainese restaurants can be tricky if you are not hyper-aware of the ordering, and think far in advance about how many sweet, brown dishes you may have ordered.
The Shandong dumpling place on Yanqing Lu. I dunno, I've just been on a kick for this place again recently and it's winter, so jiaozi seems appropriate. It could be this restaurant or any jiaozi place. They are mostly interchangeable. Heresy!
How can you learn more about Chinese food?
Talk to Chinese people.
What are you working on right now?
Um, last night and this morning I've been maxing out the limits of MS Excel to build a 131-restaurant flowchart about where to eat dinner. It's a giant mind map / restaurant dump built into a decision tree. I had to split it into four documents just to get Excel to stop freezing on me in the Koreatown section. Now that it's completed, I have no f'ing clue what to do with it. I'll wait until my designer friends wake up and see if it can turn into… content? A project?
I've started a yearlong survey of my local wet market with another friend (she's doing fruit) to turn into another art project in early 2022. That's for a new project / company we're doing called Obsessive Food Studio, making beautiful food-related design objects. Mostly useless ones.
I'm writing a new WeChat account once or twice a week, doing whatever I want to do and writing as deep and detailed as I want to. I finished 2,200 words about Chinese black truffles last week. I've got a long list of ideas to keep me occupied.
What's the purpose of your new WeChat account?
I have a ton of gratitude to Alex Weng [founder at] SmartShanghai, my former employer, for publishing me for many years, but I want my own platform. And since everyone is moving away from WeChat, away from long-form articles and into video, I thought now's the perfect time to start writing several thousand words of esoteric food trivia!
Seriously, for the first stage of its life, "saintcavish" is just a no-holds-barred reflection of my mind and my story impulses and my thoughts and ideas in whatever format I want to do. SmartShanghai was great to me but they have their format. I want to break out of that and do things that no business-minded boss would do — 2,200 words about truffles, like I mentioned, or an experimental photo essay about a jiaozi shop, shot by a fashion photographer. It is not commercial. I do not make money from it. It costs me money, actually.
I just want to keep it creative and keep finding reasons to work with artists and photographers and illustrators and designers that I respect and admire. It's a great excuse to approach people and say, "Hey, let's make a thing."
It will be mostly about food. I can say that.
Anything else you want to add?
What I want people to know about me:
My email address is stcavish@gmail.com. I accept job offers, compliments and notes from strangers. Hate mail goes into its own folder and will be published publicly at some point. I collect it.
---
More information about the Xiaolongbao Index can be found at:
theshanghaisoupdumplingindex.com
For more musings from Christopher St. Cavish, follow his WeChat account "saintcavish".