​If you're new to Shanghai and you've somehow never heard of The Beer Lady, you're missing out on a crucial bit of recent Shanghai history. Here's a beginner's guide to navigating the behemoth that is The Beer Lady.
The Beer Lady's Humble Origins
The Beer Lady might not be Shanghai's original beer market—always hard to say for sure with these things—but it's definitely become a byword for the stores dedicated to fridges packed with beer bottles.
It's also a rags to riches story: owner Zhang Yindi, affectionately known as Pijiu Ayi, started out running a regular convenience store before opening her first location on Fahuazhen Lu (sadly now shut). In 2020, she opened her fourth location, a gigantic warehouse in Songjiang with shelf space for something like 50,000 beers. And she also makes a point to sample every beer that she stocks.
If you've been looking for somewhere to sample as many beers as possible without leaving the building, you could do much worse than one of the Beer Lady locations.
The Beginner's Guide to The Beer Lady
So if you do go, how do you navigate the endless rows of beer?
Bring Friends & Bottle Share
The long walls of illuminated fridges, stocking hundreds of beers, can be daunting for the solo drinker. You're going to need back-up! Also, bottle share. It's a thing. In fact, it's the perfect thing for Beer Lady, where the wide selection is the main draw and your goal should be to try as many different kinds of beer from as many different brewers as you can.
Check The Bottle/Label
Check the brew date on the bottle. Most beers are in their prime for about 6-9 months after bottling. Bottle-conditioned beers, like Chimay Première, stay fresh longer as some fermentation occurs in the bottle. Some, such as IPAs, generally lose their appeal—their delicate aromas and flavors—after a couple of months. In general, beers start to go stale after 12 months, and you don't want a beer that's more than three years old, even assuming it's been well-refrigerated for that entire time.
You can also look out for the "white import label", which would indicate that this is the same beer you (should) find overseas.
Foreign beers with a label in Chinese could be made in China, or the contents could have been tweaked for shipping to China. Check the location of the brewery: even if it it's a Belgian brand, it might have been brewed in Wuhan. That doesn't mean it'd be worse! In fact, in some ways, it could be better. It's likely fresher, for one; most imported beers have probably already spent between 1-3 months just in transit and passing through customs.
That being said, there's no guarantee you won't get a dud. Sometimes beers just go bad. Like corked wine. It's a fact of life.
Drink it out of a glass
Reserve a bit of class and use a glass. This is Beer Lady, not Family Mart. Beer Lady has a fridge of chilled pint glasses in all shapes and sizes. Pick one of the ridged IPA glasses if you're going for an IPA (duh), a goblet style for stouts and dark beers, and a pint glass for anything else.
See if they have it on tap
Beer Lady is mainly about bottles and cans, but check what they have on tap. The kegs tend to keep the beer better, but even more importantly, you can ask for a little taste of a beer before committing to the purchase of the full thing.
Recommendations: What We Picked Up
You're here to sample as much beer as possible, but in case you go deer-in-headlights in front of the fridges, here are a couple of beers you can start off with.
Price Range: ¥20-30
Here is where you'll mostly find mass-market lagers such as Asahi, Sapporo, etc. These will rarely fail you, but you're not getting much creativity down here. You're more likely to run into Salitos, an unremarkable Mexican lager made in Germany, which occupies multiple full rows at the Beer Lady in Suzhou Creek.
Budejovicky Budvar Original: bitter, mildly hoppy pale lager. Try the Dark for a medium bitter caramel flavor that's not too sugary.
Boxing Cat's First Blood: a medium-light amber lager that's not too bitter.
Price Range: ¥30-50
You'll find a lot of Belgian beers in the ¥30-40 range, things like Duvel, Chimay, and La Chouffe. These tend to be pretty fruity and higher ABV (which means they travel and store well, too!). Ideal if you're looking to get toasty on a dime without sacrificing taste.
Dogfish Head's 60 Minute IPA: citrusy, potent East Coast IPA, with more than sixty hop additions over a sixty-minute boil.
Duvel Tripel Hop Citra: part of Duvel's Tripel Hop series, the Citra adds grapefruit and tropical fruit notes to the classic Belgian ale.
Price Range: ¥50-75
This is where it gets interesting.
At least at The Beer Lady, you're going to have a hard time finding a lot of choices in the ¥65-75 range, but in the ¥50-65 range, try any IPA from Lost Coast but especially the Triple IPA. The high alcohol content and whiffy (but in a good way) aroma means it stands the test of time better than most other IPAs.
You can also find a good number of stouts here: try the boozy Founders Dirty Bastard for a dark, thick, glorious ale that stands the test of time. Or try the Dogfish Head 90 Minute Imperial IPA.
Lost Coast Brewery's Triple IPA: a boozy, dry, hoppy IPA that develops a not unpleasant skunkiness as it ages.
Dogfish Head's 90 Minute IPA: big, bold flavored imperial IPA that manages to balance its enormous hoppiness with a strong malt foundation.
Brouwerij de Molen's Water & Vuur: a balanced, slightly bitter New England IPA.
Estonian Põhjala's Kosmos: a hazy IPA, not so bitter, a little sweet, with a lot of citrus flavors.
Barista Chocolate Quad: a Belgian quadrupel: thick, dark and rich like a stout, with a lot of toffee, caramel and (obviously) chocolate flavors.
Price Range: >¥100
You won't find a lot in the over ¥100. You're either going to be getting into the heights of beer geekery (Mikkeller beers), or the 750ml bottles that live on the bottom shelf. That, or Snake Venom (¥998), which claims the title of "the world's strongest beer", produced by Scottish winery Brewmeister. It even comes with a warning label. Scratch another notch for marketing gimmicks!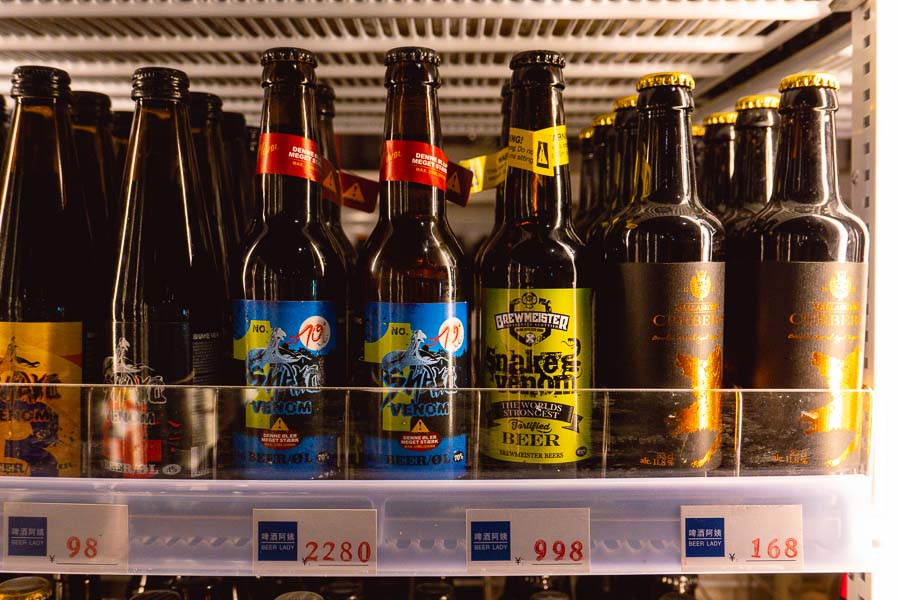 If you really need to know what it can do, there's an episode of Donny Does where he drinks it in one sitting (even though the label says not to). Best avoid this category entirely.
Beer Lady is best at approachable, medium-priced beers, where you can afford to try as many as you can!
The biggest location is in Songjiang. Most locations are open 24/7. Suggest going to Suzhou Creek or Changning locations.
---
The Beer Lady
Suzhou Creek: 1247 Nan Suzhou Lu, near Xinchang Lu 南苏州路1247号, 近新昌路
Tel: 53863393
Hours: 24/7
Changning: 1010 Kaixuan Lu, near Yan'an Xi Lu 凯旋路1010号, 近延安西路Tel: 62186891
Hours: 24/7
Putuo: 1/F, No. 20, 1888 Caoyang Lu, near Chaozhou Lu 曹杨路1888弄20号1楼, 近潮州路
Tel: 65668722
Hours: 24/7
Baoshan: 1328 Yixian Lu, near Yingao Lu 逸仙路1328号, 近殷高路
Tel: 55887790
Hours: 24/7
Songjiang: 10053 Songjin Gong Lu, near Songhui Dong Lu, 松金公路10053号云间粮仓, 近松汇东路
Tel: 31029700
Hours: 10am-2am