Lao Men Kuang (老门框爆肚涮肉馆) is a traditional Beijing-style hotpot chain in Shanghai that specializes in hand-cut lamb and beef.
There's no English name really. They just have "Chinese Hotpot" written in all caps on the door. There are eight locations in Shanghai, I went to the one by People's Square. Its Chinese name translates to "Old Doorway", so named for the Menkuang Hutong, a small traditional food street in Beijing.
What To Order at Lao Men Kuang
As per Northern-style of hotpot, the restaurant employs copper Mongolian pots, putting coals in the center orifice to heat the broth. And this is a Muslim-run chain, listed as a halal restaurant.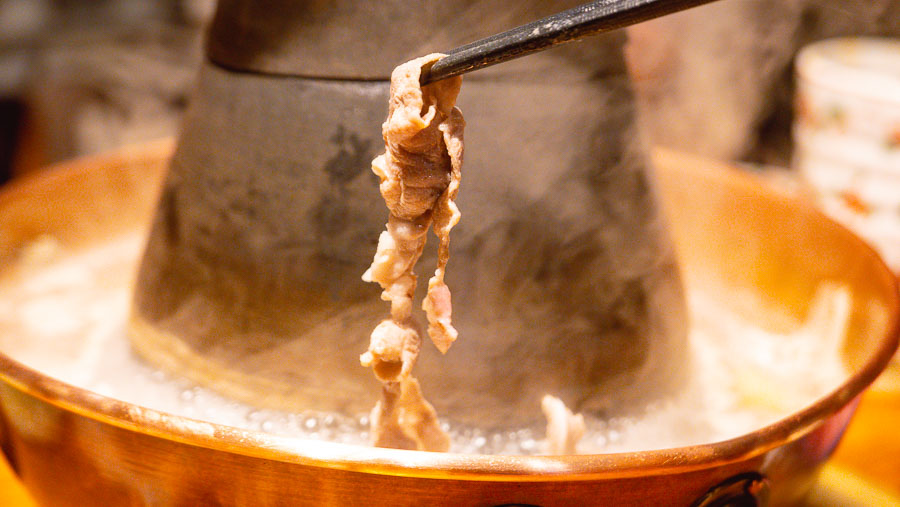 Cow and lamb innards of all shapes and colors can be found on the menu. It's their specialty! It's even in the name (爆肚). "Normal" meats are also available, hand-cut or machine-precision thin rolls.
The thing about tripe and other spare parts, which a prepared by blanching in roiling water, is that you have to eat it as soon as it arrives at the table. Wait longer than a TikTok video and the bits turn as stiff as a carcass or as chewy as a deflated balloon. A quick dip in your own hotpot might revive it, but it wouldn't be the same.
As for the meats, they're good. The lamb is sourced from Inner Mongolia, and so is the beef.
There are sauces!
Sesame sauce (¥6, 祖传麻酱) with fermented bean paste and leeks is a requisite. But also get the chili and garlic oil (¥5, 现榨辣椒油), which comes in a vessel that's more teacup than bowl because the mix is still bubbling from the boiling oil. There's also a funky XO sauce (¥7, XO牛肉海鲜辣酱) with fermented shrimp sauce. Fair warning, that last one is pungent.
With such potent dipping sauces, it's comforting to know you can choose a clean broth (¥25, 传统锅底), which is labeled as the "traditional" option. A handful of red dates, goji, dried mushrooms and leek bubble on the surface. There's a numb and spicy mala one for ¥58 as an alternative.
Lamb skewers (¥12/one, 羊肉串) feature, too. Those are really good—lean, adequately spiced and are not as fiery as they look.
As for non-hotpot dishes, there are these sesame bings (¥3.5/one, 芝麻烤饼). Layers of sesame paste baked into crispy buns.
And there are vegetables, tofu, noodles, and the like for the pot. Real cheap.
Beer is the best way to wash down hotpot. They have Taishan (¥28, 泰山原浆) and Yanjing (¥10, 燕京).
To order, you just scan the QR Code on your table and follow the picture-menu.
Lamb Hotpot, It's Made For Winter
There are lines! The hype is real—they're still so busy after opening in 2017. (At least the Huaihai Lu location has been around since 2017.) They accept bookings, but you'd be hard-pressed during rush hour. Go during the later hours of dinner if you want to bypass the queue.
Average check for gluttons is ¥180 and above.
---
Lao Menkuang 老门框爆肚涮肉馆
Hours: 11am-11:30pm
People's Square: 45 Huaihai Dong Lu, near Yunnan Nan Lu 淮海东路45号, 近云南南路
Tel: 80197237
Zhongshan Park: 1/F, No. 13, 1115 Dingxi Lu, near Wuyi Lu 定西路1115号一层13号店铺, 近武夷路
Tel: 32125886
Jinqiao: 763 Linghe Lu, near Yanggao Bei Lu 凌河路763号, 近杨高北路
Tel: 68683563
Gubei: 961 Gumei Lu, near Pingnan Lu 古美路961号, 近平南路
Tel: 34510873