The 2021 Michelin Guide for Shanghai was announced today, awarding a total of 43 restaurants in Shanghai with stars. This marks the fifth edition of the guide.
43 starred restaurants
1 three-star restaurant
10 two-star restaurants
32 one-star restaurants
21 Bib Gourmands
---
Paul Pairet's multi-sensory restaurant Ultraviolet maintains its status as a three-star restaurant.
This year sees four newcomers for one-star restaurants: Canton Table at Three on the Bund, Meet The Bund, Ren He Huang 人和馆 (Zhaojiabang Lu) and Tea Culture 逸道 (Beijing Dong Lu).
There are two new entries for two star restaurants, Bao Li Xuan (Bvlgari Hotel) and Da Vittorio, both previously one star. Wujie 大蔬无界 (Huangpu) was not on the two-star list as it had closed.
No new entries on the Bib Gourmand list. Even though The Tandoor has been closed since the beginning of COVID-19, it still got a Bib Gourmand. How odd. Din Tai Fung (Shanghai Centre) got cut from the Bib Gourmand list, as did Wujie (SWFC and Xujiahui) on account that all outlets of the upscale vegetarian restaurant have closed.
Michelin Three-Star Restaurants in Shanghai
Ultraviolet
Michelin Two-Star Restaurants in Shanghai
8 1/2 Otto e Mezzo Bombana
Bao Li Xuan (Bvlgari Hotel)
Canton 8 | 喜粤8号
Da Vittorio
Imperial Treasure | 御宝轩 (Huangpu)
Ji Pin Court | 吉品轩
L'Atelier de Joël Robuchon
Taian Table | 泰安门
Xin Rong Ji | 新荣记 (Nanyang Lu)
Yongfoo Elite | 雍福会
Michelin One-Star Restaurants in Shanghai
Amazing Chinese Cuisine | 菁禧会
Canton Table
Cheng Long Hang | 成隆行蟹王府 (Huangpu)
Da Dong | 大董 (Xuhui)
Da Dong | 大董 (Jing'an)
Fu He Hui | 福和慧
il Ristorante – Niko Romito (Bvlgari Hotel)
Jade Mansion | 苏浙总会
Jean Georges
Jin Xuan | 金轩
Lao Zheng Xing | 老正兴
Le Comptoir de Pierre Gagnaire (Capella Shanghai)
Le Patio & La Famille | 南麓·浙里 (Huangpu)
Lei Garden | 利苑 (Pudong)
Lei Garden | 利苑 (Xuhui)
Maison Lameloise
Meet The Bund 遇外滩
Ming Court | 明阁
Moose | 鹿园 (Changning)
Moose | 鹿园 (Pudong)
PHENIX | 斐霓丝 (The Puli Hotel & Spa)
Ren He Guan 人和馆 (Zhaojiabang Lu)
Seventh Son | 家全七福 (Jing'an)
Shang-High Cuisine | 迷上海 (Jumeirah Himalayas)
Sir Elly's | 艾利爵士 (The Peninsula Shanghai)
T'ang Court | 唐阁 (The Langham, Xintiandi)
Tea Culture 逸道 (Beijing Dong Lu)
Xin Rong Ji | 新荣记 (Nanjing Xi Lu)
Yi Long Court | 逸龙阁 (The Peninsula)
Yong Fu | 甬府
Yong Yi Ting | 雍颐庭
Yu Zhi Lan | 玉芝兰
Bib Gourmands Shanghai 2021
A Niang Mian | 阿娘面
Da Hu Chun | 大壶春 (Sichuan Lu)
Four Seasons | 文兴酒家
Gong De Lin 功德林 (Nanjing Xi Lu)
Hai Jin Zi | 海金滋 (Jinxian Lu)
Hao Sheng | 豪生酒家
Jesse | 吉士
Lan Ting | 兰亭
Lan Xin | 兰心 (Jinxian Lu)
Lu Bo Lang | 绿波廊
Mao Long | 茂隆
Mi Thai (Anfu Lu)
Nanxiang Steamed Bun | 南翔馒头店
Polux
Rong Cuisine | 荣小馆 (Huangpu)
Rongshu Noodle Soup with Yellow Croaker 荣叔黄鱼面
Tandoor | 天都里
Tasty Congee & Noodle Wantun Shop | 正斗粥面专家 (Pudong)
Yangzhou Fan Dian | 扬州饭店 (Fujian Zhong Lu)
Ye Olde Station | 上海老站
Yongfu Mini | 甬府小鲜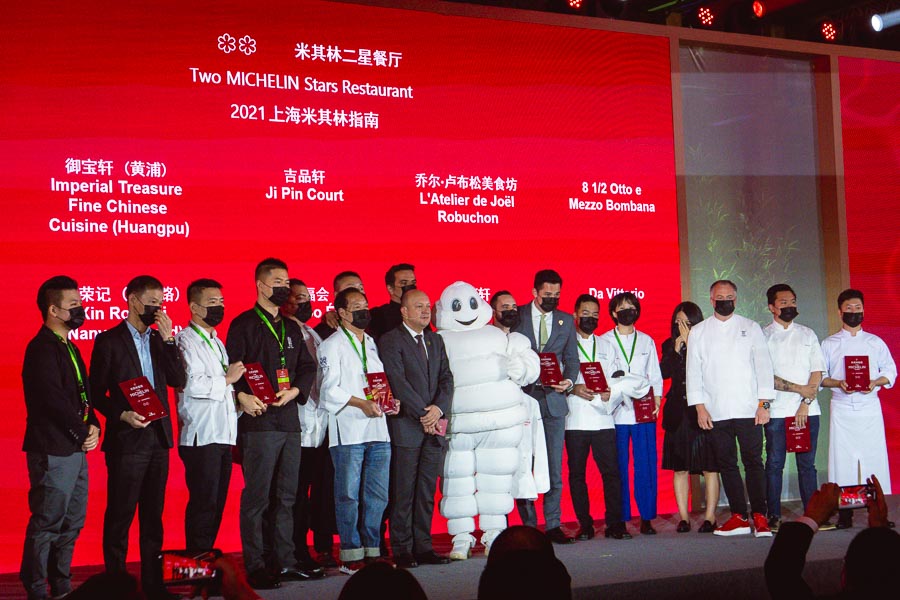 ---