Oha Café & Eatery is a cozy restaurant that serves experimental Guizhou food around a 20-seater bar. After a brief hiatus, they're back open with a new menu, featuring some obscure Guizhou ingredients like tree bark, and a multiverse of fermentation.
They also had some work done on the space—they've removed the walls separating the café from the dining area and now have an open kitchen. The room definitely feels bigger.
Food at Oha Eatery: Experimental Guizhou-Inspired Food
Like the first iteration of Oha's menu, Chef Blake Thornley and the team scoured Guizhou for local produce and inspiration.
One of the more interesting items from their latest haul is tree bark, harvested from a natural reserve 2,250sqm above sea level, purchased from the local market.
Traditionally, as I'm told, the bark is boiled and marinated and served as a cold dish. The texture is not far from what it sounds like—leathery where it's thick, and crinkly where thin.
What Are Sours?
Another "ingredient" is the use of "sours" to elicit the sour-spicy flavors Guizhou food is known for. There are many variations of the sour—white sour, red sour, hot sour, shrimp sour, smelly sour (mother yeast).
White sour is made from fermented rice water and red sour is from fermenting tomatoes. The white sour smells more pungent than it tastes, and the milky-white liquid is used as an all-purpose additive in most dishes. Shrimp sour is shrimp enclosed in an urn with fermented rice water, usually for two months, traditionally buried.
Fermentation is a big part of Guizhou food, but when you ferment shrimp, the result can be quite divisive, like the Shrimp Paste Beef Dumplings (¥72).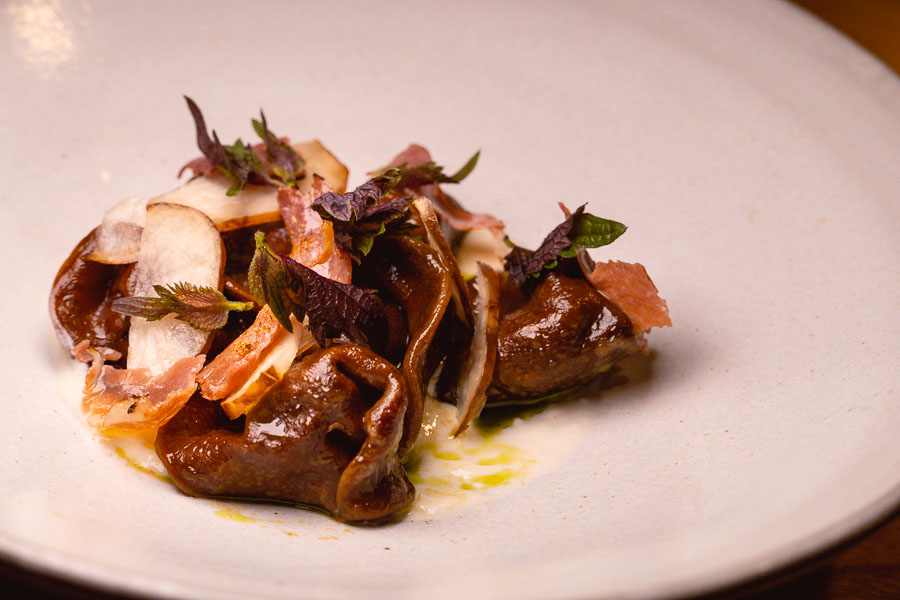 Shrimp paste and air-dried mountain beef are wrapped in old soy sauce-laced dumpling skins with pickled Jerusalem artichoke and tofu purée. The shrimp is pungent, the beef salty; it has a breathy fermentation, as if the dumplings had been cured in alcohol. Oh, and it's spicy. The shiso leaves and galangal oil does little to mask the strong flavors. It's an interesting flavor to experience, but I'm unlikely to order it again.
The tree bark and shrimp paste dumplings are the most divisive dishes on the menu.
The rest of the menu appeals to the broader palate with moderate levels of Guizhou cuisine's intense flavors. Some of it is great, some of it not so polished, but enjoyable nonetheless, given the thought put into the dishes and the price point.
On The Menu at Oha Eatery
Lunch Sets at Oha Eatery
Lunch sets are served every day from 12-2pm. The offerings will rotate regularly. Lunch is great value—¥58 per set, which includes house pickles and vegetables of the day.
The Drinks: Coffee & Cocktails
The cafe is open throughout the day. They also have a short and sweet selection of cocktails and natural wine.
No. 23 Latte (¥45) with black sugar from Yunnan and housemade almond milk, Mountain Lemon Pepper Highball (¥68) mountain lemon pepper clover infused bourbon, honey, and tonic.
In Summary: Something New & Exciting
Favorite Dishes: Baby Octopus, Konjac and Abalone, Duck and Sour Radish, Lamb Ribs.
Not all the dishes on Oha's new menu are crowd-pleasers, but I think that's what they're going for.
The unusual dishes are there for the curious diner, and who knows, you might even like them. Either way, it's ballsy, new, and exciting. If you're not keen on sampling tree bark or highly fermented shrimp, there are plenty of tasty things worth trying.
---
Oha Eatery
Address: 23 Anfu Lu, near Changshu Lu 安福路23号, 近常熟路
Tel: 13621647680
Hours: 12pm-2pm, 5pm-11pm (food last order 9:30pm)
Cafe is open from 8am-6pm.