Maison Lameloise Shanghai is a French fine dining restaurant located on the 68th floor of the Shanghai Tower. It opened in May 2018 and it was awarded one star in the Michelin Guide Shanghai 2020.
I gave Maison Lameloise a gushing review after a visit when it opened about a year ago. And after a revisit, I stand by my laudations.
The original Maison Lameloise is in Chagny, Burgundy, which has maintained its heritage for almost a century and is deemed an institution of French gastronomy. The much-venerated Eric Pras is the chef there, while Yann Klein is the Executive Chef of Shanghai's Maison Lameloise.
Pras just came through on his many frequent visits to Shanghai, and with that, a few new dishes are now on the menu to mark the occasion and the turn of the season.
The restaurant has updated its opening hours and is now serving lunch time on Saturday and Sunday. That means you can enjoy the lunch menu—which starts at ¥488—and the spectacular daytime view at your own leisure.
Lunch at Maison Lameloise Shanghai
Lunch at Maison Lameloise Shanghai is not something you can rush through. It's best to set aside at least three hours to fully appreciate the fine French cuisine and the breath-taking view. Channeling the prestige of Chagny is paramount, and thus, service here is fantastic and the food triumphantly spectacular.
The heart of French cuisine is in the sauces, and the ones here are multi-layered and intense. Don't be shy to ask for more bread to savor ever last drop of the sauces. (Though, their adept servers won't give you the chance, and are quick to refill your plate.)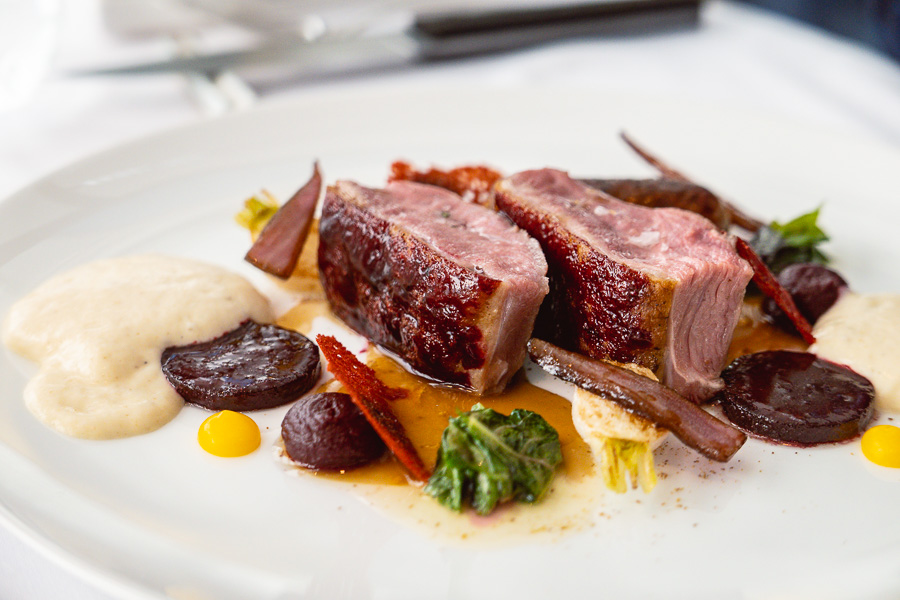 Desserts at Maison Lameloise Shanghai
How Much
Le Menu du Déjeuner is ¥488 (two mains) or ¥888 (three mains).
Le Menu Dégustation is ¥1,688 (three mains).
Prices subject to 15% service charge.
With every meal at Maison Lameloise comes the parade of amuse bouches and appetizers, as well as mignardises and petit fours for dessert.
In Summary
The experience is absolutely exquisite and one I'd recommend.
It's not an everyday meal and not easy on the wallet. If you want an introduction to the world of Maison Lameloise, I highly recommend the ¥488 Le Menu du Déjeuner for lunch.
---
Maison Lameloise Shanghai
Address: 68/F, Shanghai Tower, 478 Lujiazui Huan Lu, near Yincheng Zhong Lu, 陆家嘴环路478号上海中心68楼, 近银城中路
Tel: 68816789
Hours: Mon 6-9pm, Tue-Sun 11:30am-1:30pm, 6-9pm