RooDooDoo is an all-day restaurant by famed chef Paul Pairet (Polux, Ultraviolet, Charbon, Mr & Mrs Bund) and VOL group, located at the IFC Shanghai mall in Lujiazui. Fresh baked breads and pastries, coffee, ice creams, sandwiches, brunchy plates, and familiar favorites from the group's other restaurants.
The Space
First off, the location. RooDooDoo is located in the lower level plaza of IFC mall in Pudong, where the Apple store is.
The space feels like American-style diner meets French café; barstool counter seats, window-side banquettes and a long row of tables under Renaissance-style coffered ceilings.
The Food – Bakery & Pastry
New in the wheelhouse of Paul Pairet restaurants is the bakery and pastry component; this is the first time the group is concentrating efforts on baked goods, rolling out loaves, tarts, cakes, and viennoiseries (breakfast pastries).
Other dishes borrow from the group's other restaurants; The Real Club Sandwich (¥108) from Polux, BB Capsicums from Charbon, a version of Grilled Seabass Vierge (¥138) and the Real French Toast from Mr & Mrs Bund, and Ultra-Lune Mid-Autumn cakes from Ultraviolet.
They also have ice creams (¥48), which are the same from Charbon, soft serve milk-based creations that can also be made into sundaes (from ¥58) and shakes.
Viennoiseries include pain aux raisins, croissants, brioche, and all manner of breakfast pastries; from ¥18 (croissant) to ¥68 (Paris-Brest). Breads too; ¥20 for a baguette.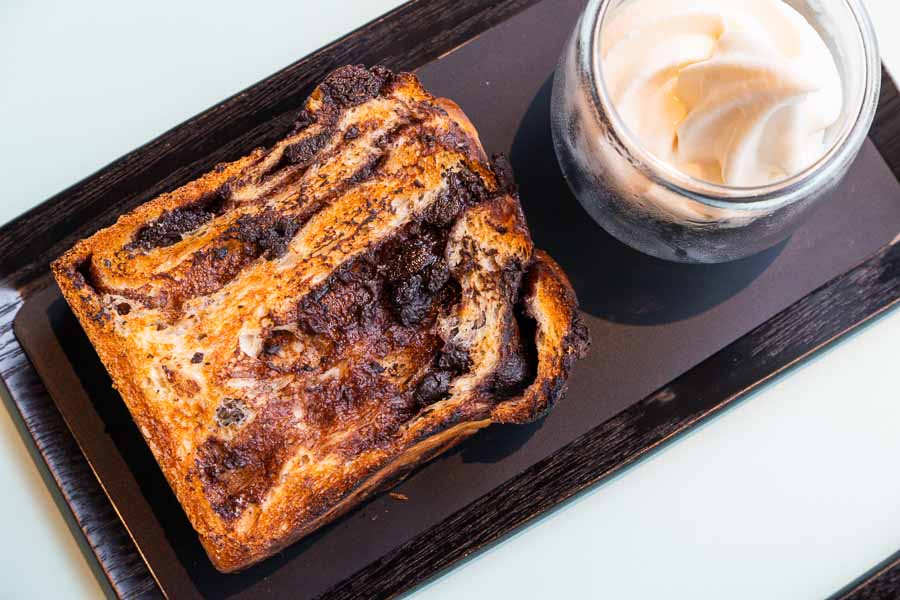 Burgers, Sandwiches & Brunch
Also new are toasts and sandwiches, a hot dog, and a number of brunchy plates.
I feel like Shanghai takes cheese steaks to a whole new level, and the one at RooDooDoo is at the top of the gourmet selection of cheese steaks in the city. Thinly shaved beef with a three-cheese spread topped with jalapeno.
In Summary
It's simple, delicious food done at a high level. Pudongers can rejoice! Meanwhile, us in Puxi are crying because RooDooDoo didn't open at the nexus of Jing'an and Xuhui districts. If it was in my neighborhood, I'd probably be a regular.
Soft opening from October 19. Outdoor seating and extended hours to come soon. Prices subject to 10% service charge.
---
RooDooDoo by Paul Pairet (沪嘟嘟)
Address: LG1-40, IFC mall, 8 Shiji Dadao 世纪大道8号国金中心商场地下一层LG1-40号
Tel: 68680737
Hours: Tue-Sun, 9am-9pm; closed Monday (soft opening)