Open-flame grilling and dry-aged fish and fowl at The Merchants, Paul Pairet opens casual grill Charbon in iapm serving skewers and sundaes, and a peculiar combination of Sichuan and Spanish food at Drunk Lee Bistro.
---
The Merchants
Address: 52 Yongfu Lu, near Fuxing Zhong Lu 永福路52号, 近复兴中路
Tel: 18321867088
Hours: Dinner: Wed-Sun, 6pm-11:30pm, two seatings; Cafe: Mon-Tue, 10am-8pm; Wed-Sun, 10am-5:30pm
By way of Beijing comes The Merchants, a three-pronged concept with a café, a restaurant, and a cocktail bar. The restaurant part of this destination is all about dry-aged fish and fowl, house-cured charcuterie, and wood-fire grilling.
It's housed in a beautifully restored villa on Yongfu Lu. The building belongs to the Shanghai Film Association, which had been completely gutted and re-outfitted to accommodate a restaurant and bar with gaslines and water mains.
The design is gorgeous with tasteful finishings and furnishings. The dining room is elegant yet casual; and there's a bar counter that offers front row seats to the open kitchen.
The café is only open during the day for coffee, cakes, and freshly baked pastries. The cinnamon rolls are rather popular. In the evening handles the spillover from the dining room.
The cocktail bar is on the second floor, and serves a menu designed by Shenzhen's Bar Choice. Signature cocktails are ¥128 a pop. There's also a pool table and two private rooms.
The Merchants is all about dry aging, smoking, and cooking over a wood-fired grill. They even make their own charcuterie of wagyu and hamachi. The smoked yellowtail is the best thing I've eaten this year.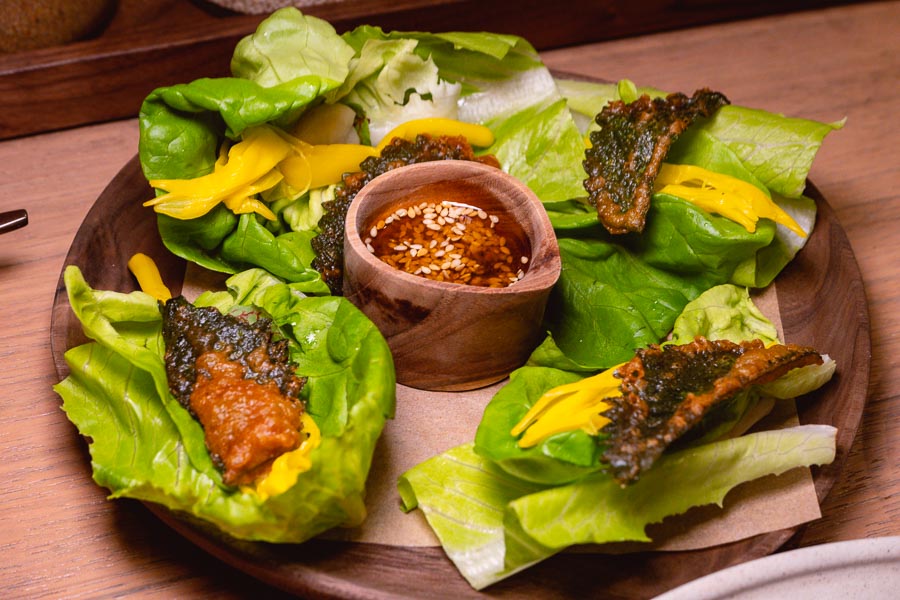 For drinks, it's mostly wines, which start from ¥80 by the glass, bottles from ¥380.
The Merchants is probably the most interesting opening I've seen this year. The food on offer is different, new, and exciting.
It's an occasion dinner destination. It's not cheap. Expect to pay upwards of ¥500 per person without drinks. But I find it's justifiable, given the effort and time put into the dry-aging process, the entertainment value of the open kitchen, the comfort of the dining room, and the uniqueness of the dishes. Will definitely return.
---
Charbon
Address: L6-606, iapm, 999 Huaihai Zhong Lu, near Xiangyang Nan Lu 淮海中路999号环贸iapmL6-606, 近襄阳南路
Tel: 54562399
Hours: Tue-Sat, 11am-9pm (soft opening)
Charbon is a restaurant in iapm that does flame-grilled skewers and sundaes. It's the latest from Paul Pairet of Polux, Mr & Mrs Bund, and Ultraviolet.
Upmarket meat on a stick in a mall wouldn't have piqued my interest, but it's by Paul Pairet, who has Michelin stars and 50 Best under his belt.
Charbon is located in the space formerly housing The Cut, a now defunct steakhouse brand. The space is sleek, casual, and comfortable, nice enough to distract from the florescent glare of the mall. Currently, only the sixth floor is open. The seventh floor with rooftop access and terrace seating will open later on.
The main sell at Charbon are the skewers, which start at ¥50 a stick, and house-made soft serve ice cream. The rest of the menu is populated by a dozen mezze as starters and meaty mains.
Each skewer is served with one sauce, fresh herbs, and one flatbread. The herbs are there if you wish to make your own wrap. Skewers are seasoned with tare (soy sauce, mirin, sake), satay (aromatics and curry powder), miso (fermented soy bean paste), or yogurt, and are served with sauces of miso tahini, aioli, chimichurri, etc.
Soft serve ice creams are all made in house. There are eight flavors available, served as single or mixed swirls (from ¥50), as sundaes (¥50-80), or in milkshake form (¥50 or ¥70 with alcohol).
As for drinks, there are house highballs from ¥50, beer and wine on tap from ¥40, classic cocktails from ¥60. Highballs include the Orgeat Blossom (¥50), a refreshing gin-based highball with orange blossom and orgeat (almond syrup); and the Ispahan (¥60), a sweet and tart drink of lychee, raspberry liqueur, rose, and soda.
The skewers are tasty and the ice creams great. The food is good, but it isn't impressive enough to draw me back to a mall when there are so many other options out there. Plus, I'm probably harboring a psychological limit for prices of food on sticks. Traditionally cheap, made expensive? I might be alone here, but I would rather have ¥180 worth of black cod as a filet, not on a stick.
Some sticks are worth it like the chicken satay and koftas, and the mezze platter is good. The Indonesian oxtail stew is also lovely. As for the others, I find the flavors a bit too similar to Polux and Mr & Mrs Bund, and I'd still go there first. If you work in the area or want to eat before the movies, Charbon is miles better than anything else in the vicinity.
Currently in soft opening. Full hours by the end of the month.
---
Drunk Lee Bistro
Address: No. 1, 108 Changshu Lu, near Changle Lu 常熟路108弄1号, 近长乐路
Tel: 19370618464
Hours: Daily, 11am-4pm, 5pm-11pm
Tucked in an alley on Changshu Lu is Drunk Lee Bistro, a cozy little eatery serving a peculiar combination of Sichuan and Spanish food. Why, you ask? Well, it has ties to Albaluz, a Spanish restaurant on Tianping Lu. I guess they wanted to join the trend of restaurant-bars serving Chinese bites and wine…without neglecting their Spanish fare.
The food isn't fusion, save for the one pasta with spicy scallion oil and Sichuan dishes with Iberico. The Sichuan dishes are more traditional in flavor, and some Spanish dishes have some unconventional spices.
Tapas weren't the draw for my visit. It was more for the Sichuan food, which was very enjoyable. Though, Drunk Lee Bistro isn't a place I'd go out of the way for. It's more of a casual neighborhood spot.