Brunch is the meal chefs love to hate. Hate is a strong word, but it summarizes my point. I asked a bunch of Shanghai chefs to answer the question, "Why do chefs hate brunch?"
What did they say? We'll get to that, but first…
The preface
The catalyst for this article came from a discussion about brunch—the woes of the diner versus the complications of meeting the guest's expectations.
We wake up to a weekend of freedom. Chefs wake up to deadpan diners in hangover recovery with their screaming children or barking dogs in tow, and the table of 20 ordering a 3-course brunch from a mix-and-match menu of five different sections.
If you're thinking, "Well, if you don't want my money I can go elsewhere," hold that thought.
The worst kind of diner
You're a paying customer, I get it, but chefs, restaurant managers, and the first-time waiter are people too.
Biggest pet peeve for chefs and restaurants has got to be the table of late guests. The restaurant manager has to call to confirm the booking during the busiest time of service, and then apologize to the line of angry customers demanding why they can't have the empty table.
Also, have you hosted a dinner party? It takes you all day to prep for a dozen guests. So when a restaurant is at capacity, your food might take a while. Here's a thought: take comfort in knowing your food is freshly prepared, not microwaved.
Actual comments from actual chefs about brunch
Questions:
Why do chefs hate brunch?
Why is it ok to charge upwards of ¥88 for an Eggs Benny?
Why don't brunches go all day?
Chef #1
Brunch is notorious. It's the service with the lowest average check per customer, but also happens to be the busiest service too.
Other hassles are people that say, "Table for 3," but end up being 5. A table of 5 is an extra table that, when halfway through service the extra shows up, is difficult to accommodate. Or the table that says 6 but is only 3, then the restaurant loses the second table they aren't using.
If you want to really feel how bad a brunch service is, test it out yourself, I challenge you to make 10 perfectly cooked eggs and serve them at the same time: Make 6 fried eggs, 2 poached (1 soft, 1 hard), and 2 scrambled. Plus, 10 orders each of bacon, sausage, mushrooms, toast, and fried tomatoes.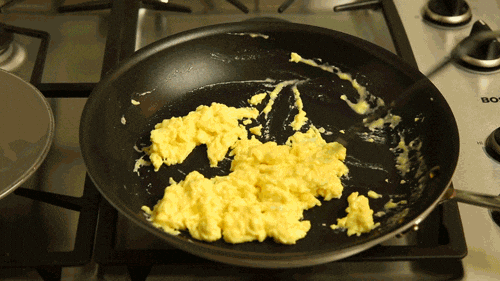 Make sure they're hot and ready to go at the same time. Then, times that until you get 200 portions.
Oh wait, I forgot. We actually have over 30 different items at brunch on menu, so it won't even be 10 of the same thing.
Chef #2
Why do I serve eggs Benedict for ¥88? Because I can. Also, restrain your children. If you can't afford a babysitter, stay home.
Brunch is not a correct representation of the restaurant. It's a cash cow, treated as such, and brunch causes a lot of duress because it's so important to diners, and not to the people working.
I'm there because I'm needed. It's a shit shift. What kind of chef would I be if I made my cooks sweat it out? Brunch diners are more entitled than most. They're more apt to demand more and complain more.
Chef #3
Why can't some places do all-day brunch? People need a break in the kitchen and cannot stay open forever, especially places like Le Bec or Highline—it's really exhausting.
Many customers do not think about how much effort it takes to do a different menu, have a good offer, and then get crushed for service—sometimes is not worthwhile.
You have to add an egg element, which is fun, but you only do that for two services (days) a week, if not one. You get crushed with people that expect to be the only person in the restaurant, when you have 300 that need attention.
Why charge over ¥88 for an avocado toast? Avocado cost ¥12 a piece already. The added value of a good bread brioche, plus other things, equals a dish to be sold for at least ¥70+.
(Ed's note: ¥12 for an avocado is 13% of ¥88. Add costs for the toast itself, rent, hardware, and staff, and you might get a profit margin of 6%.)
Then you get the free-flow rowdy crowd that count by the minute, and are loud and want to be served…. right now!
It's all for half of the price of the regular menu—because it needs to seem like a package, good value for money, as people always ask, "Which place has the best deal in town?"
The Shanghai brunch crowd sometimes is a bit much—they don't understand quality, you have picky eaters, and random vegans (jokes). They want it fast and cheap, but also good, which does not go together.
About dietary restrictions, if a lady is pregnant and needs an egg well done, yes, I will do it! But if you don't eat garlic because it gets you bloated, I'm not stalling my kitchen to think if my beef chili has garlic and how to take it out. I can suggest other dish, and if the customer doesn't like it because he wants that exact same dish—I'm sorry, but I'm not your personal chef. We can be flexible, but doesn't mean we have to meet all of your demands.
Chef #4
Our major issue is food coming out at different times for tables that don't share.
(Ed's note: Who doesn't share nowadays…weird. It's like seeing Italians eat an entire uncut pizza.)
We can charge more for our Benedicts cause they made from scratch with a twist on the original. Our English muffin is made in-house and the brisket is brined and slow smoked with house barbecue sauce; it takes 20 minutes to cook one piece on the stove.
Chef #5
Guests, particularly large groups that don't respect their reservation times—those fashionably late, and those trying to work the system and still arriving when they want to. Believe it or not, we create our reservation system so that you can have a better dining experience.
Why do I think I can charge ¥88 for an eggs Benedict? Because at the end of the day your lazy ass ain't gonna make it at home! Kidding aside, eggs are not that expensive, but the hollandaise sauce and the New Zealand salmon or French ham that comes with it are.
Chef #6
I don't hate it at all. We serve a special menu only during brunch and it gives us space to work in new dishes.
Brunch is so popular in Shanghai for every nationality, and in our restaurant the main problem is how do we satisfy everyone.
Locals want the food served fast and almost all at the same time. Expats want it slow but without pause, big groups first order dishes as starters and then mains. Our concept is for sharing, and the food arrives when it is ready, as it's all made-to-order. A well-cooked egg is a luxury.
In our case, there are 32 dishes on the menu, plus dessert. We do 130-150 pax per brunch service. Each customer orders 3 dishes. That means around 400 plates within 3 hours will be running out of a small kitchen.
The limited timing makes it more attractive, even exclusive. If you arrive at 14:45 on a Sunday you cannot get the 8 dishes we only serve during brunch. You will need to wait until next week.
Chef #7
"Brunch" has a completely different meaning in China. In the West, brunch starts at around 11am, with egg-centric dishes and bottomless bubbly to wash it all down.
In Shanghai, brunch is an event. There's a special group of people that come out in droves, dressed up in their Sunday's best, and surrounded by an entourage of photographers ready to snap at a moment's notice. These people I speak of are the Dianping "KOL's".
Restaurants have basically revamped their entire weekend menu to cater to them. It's also why restaurants can justify a ¥80+ for a simple eggs Benedict. It's because these selfie-obsessed customers will sit, 3 hours or more, taking up precious seating space, and essentially reducing the turnover rate to basically zero.
Chef #8
If you have yogurt on the all-day brunch menu and someone comes in at 5pm and orders it, isn't that weird?
As chefs, we want to serve a menu that is available only for that time, a menu that we hope to impress people with.
About deals and free-flow…let me put it this way: H&M have sales all week but Prada doesn't. You don't walk into a Michelin restaurant and be like, "Do you have a brunch free flow deal?"
Takeaways
A brunch menu is not made by just adding eggs to existing dishes. It takes effort to create a brunch menu.
Large groups are welcome. But be understanding—your 20 orders are not going to fly out of the kitchen all at the same time.
Not all restaurants have the staff to open all-day brunch. There are places equipped for that.
Keep your reservation time and number of bookings. If not, have the courtesy to call ahead.
Be nice.
If you want a high quality meal, expect to pay more for it.