Botong Sikdang is a Korean restaurant that does grilled pork, banchan and a short menu of Korean dishes. The wildly popular restaurant has just opened a second location in Jing'an.
What makes it great spot is that it is uncomplicated, inexpensive, has excellent service and atmosphere, and is thoroughly satisfying. You just need to be patient and wait for a seat, and there's a hack to reduce your wait time, which I'll get to in a bit.
Botong Sikdang opened its first location in January this year at People's Square, and it's been ridiculously busy ever since. They just opened a second location double the size on Tongren Lu in Jing'an.
Food at Botong Sikdang: Order Everything
What's on offer is straightforward. There are less than a dozen options for food and a select number of drinks.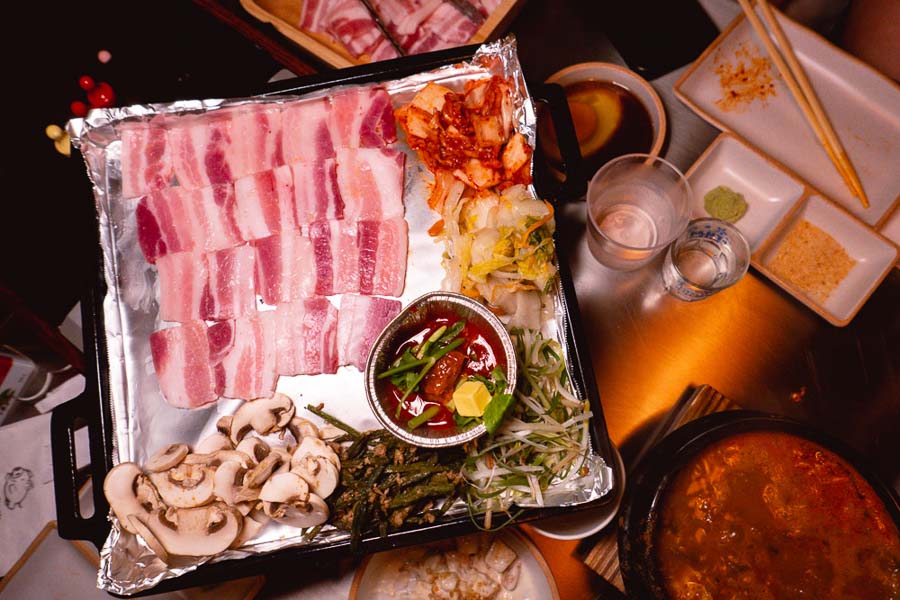 For food, the main focus is the pork, thin or thick cut (¥68/¥88), to be cooked on the tabletop grill. Accompanying the pork is an assortment of unlimited house-made banchan—kimchi, soybean sprouts, mushrooms, fried string beans, potato salad, and fermented chilli dip.
They've added a couple of new dishes since the opening of the first location.
The Kimchi Cold Noodles (¥48) is insanely addictive with tangy kimchi, shredded cucumber and springy rice noodles. They actually put ice cubes into the sour-spicy broth to keep the temperature nice and cool throughout the meal.
There's also a "Mini" Mentaiko Rice (¥38) bowl, should you desire some carbs with your grilled pork.
Other dishes are the staples. You should get one of each.
For drinks, it's everything that's listed on this wall—makgeolli (¥45), soju (¥38), beer (¥28), soft drinks (¥15) and plum soju (¥158).They do have ample table water.
How To Get A Table & House Rules
Because seats are limited, there are some house rules.
Maximum of 4 people a table, and only complete parties will be seated; maximum 2 hours of dining time. Each person must order at least 1 serving of pork (which comes with the unlimited banchan!).
Wait numbers for tables are given out at 2pm until they've reached capacity. But later seating has a few no-shows, and more tables are released around 9:30pm. For the Jing'an store, there currently isn't a line by 9:30pm—chances are high you could do a walk-in then.
And no, you cannot call to make a booking.
1. It's really worth the wait.
2. Go to the Jing'an location around 9pm for a potentially shorter wait time. Last order is 11pm.
---
Botong Sikdang by Belloco (普通食堂)
Jing'an: 1/F, L114, 88 Tongren Lu, near Nanjing Xi Lu 铜仁路88号1层L114,近南京西路
Hours: Mon-Sun 4:30-11:30pm
People's Square: 101B, 1/F, 660-686 Jiujiang Lu, near Guangxi Bei Lu 九江路660-686号1层101B, 近广西北路
Hours: Mon-Fri 4:30-11:30pm, Sat-Sun 11am-1:30pm, 4:30-11:30pm
Dinner last order 11pm.