Update: Taian Table was awarded two Michelin stars in the 2020 Shanghai Michelin Guide.
Michelin one-star restaurant Taian Table is one of my favorite restaurants in Shanghai. It's creative, fun, interactive, and wows on all fronts.
I've followed the restaurant since its conception, and the new menu format— the seasonal set of new dishes, plus classics and specials—allows me to explore new items as well as savor the signatures.
About Taian Table
Founded in 2016, Taian Table is an intimate dining venue conceptualized by veteran chef and restaurateur Stefan Stiller, one of the most recognized and most respected chefs in Shanghai. With multiple Michelin stars under his belt and nearly 15 years of working in China, Stefan is also the President of Bocuse d'Or Asia and leads the China team into competition every season.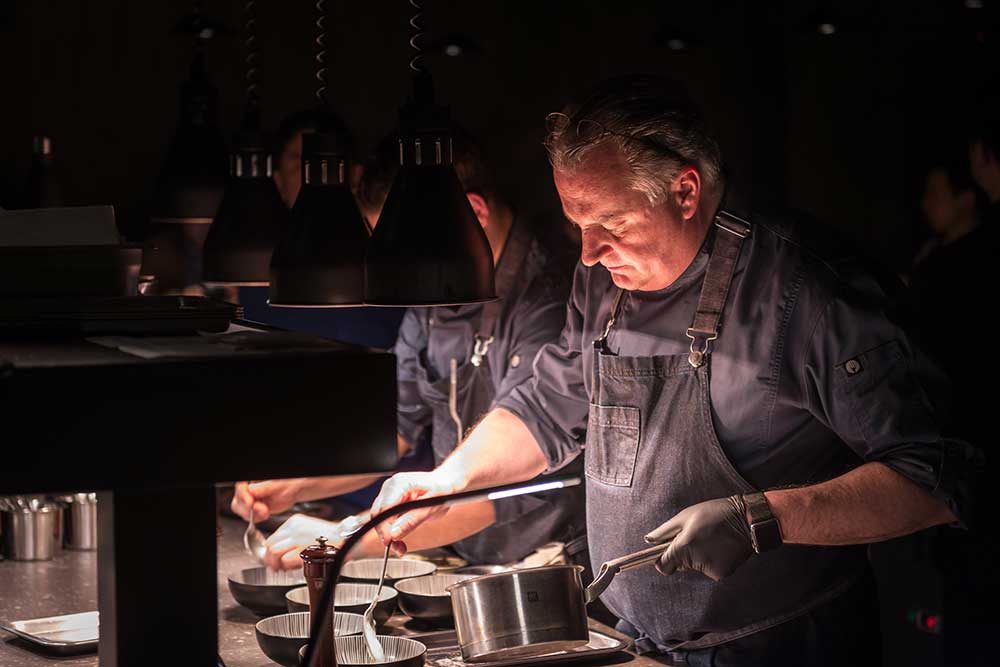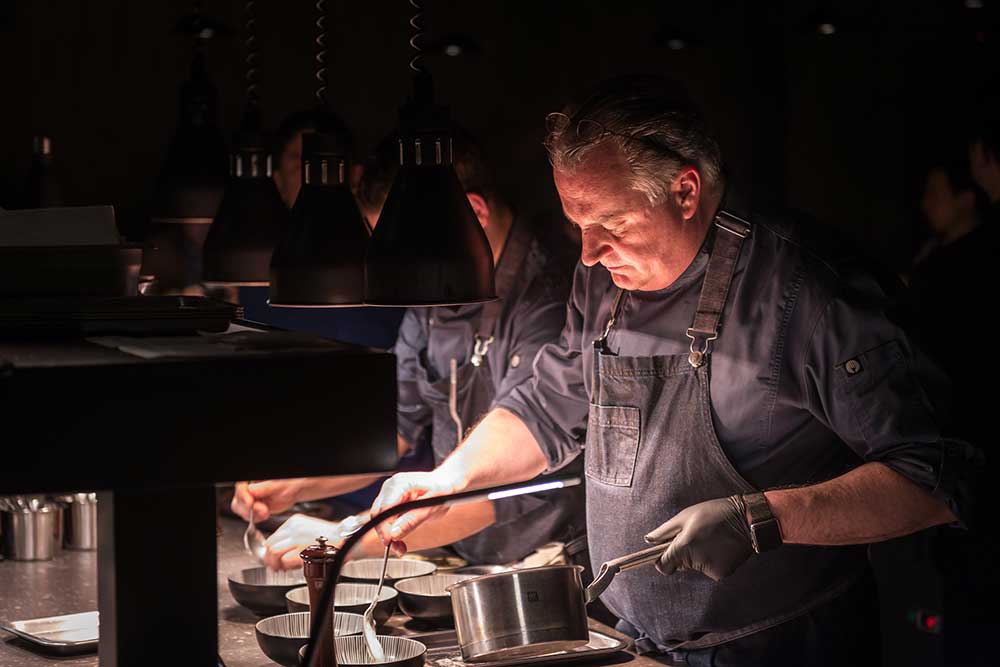 His lieutenants are Chef de Cuisine Johnny Pham, Executive Sous Chef Alex Fu, and Sommelier and Maitre d' Tendy Yang, the latter two have been with him since the beginning, while Johnny joined in 2018 from Temple Restaurant Beijing.
The beauty of Taian Table is seeing how chefs work up-close, and to have the opportunity to converse with them. Dinner takes place at a counter surrounding the open kitchen, introducing diners to an interactive dining experience.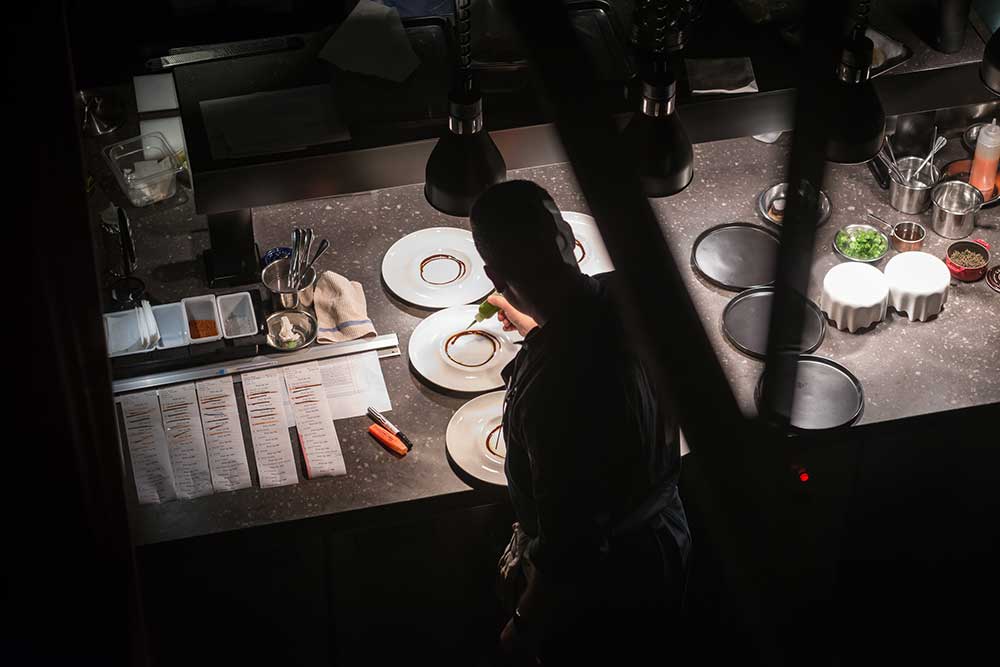 Dishes are expertly crafted with beautiful flavor combinations and finished with creative flair. The style of cooking is refined, modern, and predominantly Western, but many dishes bear a distinctive Asian touch—we are, after all, on this side of the globe. It's comprised of a highly seasonal core menu that changes every 6-8 weeks, plus "specials" and "classics".
Taian Table – Menu 20
Welcome bites—changes every menu based on available ingredients. This time it's a mini version of the sea urchin on brown butter sourdough (a classic dish), sweet pea tart, and lentil puff.
The first course is a Smoked Sardine, aromatic from being smoked in the Bertha oven. It comes with cubes of beetroot, horseradish, dollops of crème fraiche, snowed over with egg mimosa, and a quenelle of caviar.
Next is the Baby Squid. Ribbons of paper-thin squid and flame-torched carabinero bathe in a tart, bright tomato consommé accentuated by herbs of lemongrass, basil, and ginger. Stray pieces of kimchi-cured bacon punctuate with salty interludes.
The special, David Herve La Royale oyster with sour cream dashi jelly, pickled shallots, and caviar, earns a "Holy fuck, that's good." This is no longer on the menu, unfortunately, but many other specials are!
Dishes from the Classics section rotate less often, the Foie Gras Snow with lychee and Riesling jelly being one of them. It's creamy and delicate, and balances velvety foie with gentle citrus and cool jelly.
Pivoting back to the new menu is the artistic Razor Clam. Painted "shells" made from rice paper guard tender cubes of razor clam, confit tomatoes and shallots, and sea vegetable samphire. The clam jus ties it all together, triggering a desire for bread to sop it all up.
The Turbot Fillet is superb. A leaf of roasted savoy cabbage veils a perfectly cooked fillet, giving way to dollops of gochujang-mayo and runaway strips of kimchi and salty guanciale that sparkle through with its distinctive umami aromas.
Another showstopper is the Spring Morels. A flawless teardrop shaped Yunnan morel peeks through a medley of stewed vegetables, chervil, crisp croutons, and more morels. It's fortified with a sauce of Vin Jaune, a yeasty yellow wine emblematic of Eastern French cooking that has a similar nose to Chinese shaoxing wine.
Passion fruit sorbet for the palate cleanser. Cubes of yacón, a crisp, sweet tasting South American root gives it texture.
The "main" is the Duck Breast with sous vide duck heart, mushrooms, little discs of kombu, and seared foie gras. A lusty mushroom dashi binds the dish with its bold profile.
Raspberry with yoghurt and hazelnut for dessert.
Farewell Sweets—a trifecta of small bites, and your choice of chocolates from the chocolate box.
How much is it going to cost
10-course set menu (choose 2 from either classics or specials) = ¥1,328
12-course (choose 4) = ¥1,558
14-course (choose 6) = ¥1,788
Wine pairing: ¥780 for six fine wines (0.15l pours), ¥1,288 for six premium wines
**Pricing may change based on available products and cost of ingredients.
---
Taian Table
Address: Bldg. 1, Lane 161, 465 Zhenning Lu, near Xinzha Lu 镇宁路465弄161号1楼, 近新闸路
Tel: 17301605350
RSVP: www.taian-table.cn
Hours: Tue-Sat, seating starts from 6-8pm