The first time I heard the word "staycation" was when I had first arrived in Shanghai to start work. What a lavish notion, I thought.
Psshh. How naive was I? Staycations are the best.
Spending the day luxuriating in a gorgeous room, eating your way through the hotel's dining outlets, and exfoliating in the spa is not a bad way to spend a weekend when time and budget is tight.
It's a chance to don those fluffy slippers—the same pair you would feel tempted to pack with you when you leave. It's a chance to soak in a tub, which your tiny apartment can't accommodate. Bottled oils and scrubs and glass-enclosed rainforest showers, and those plush bathrobes you'll eventually end up wearing to sleep in an immaculate bed with perfectly starched, tightly tucked sheets. Yeah, who wouldn't love that.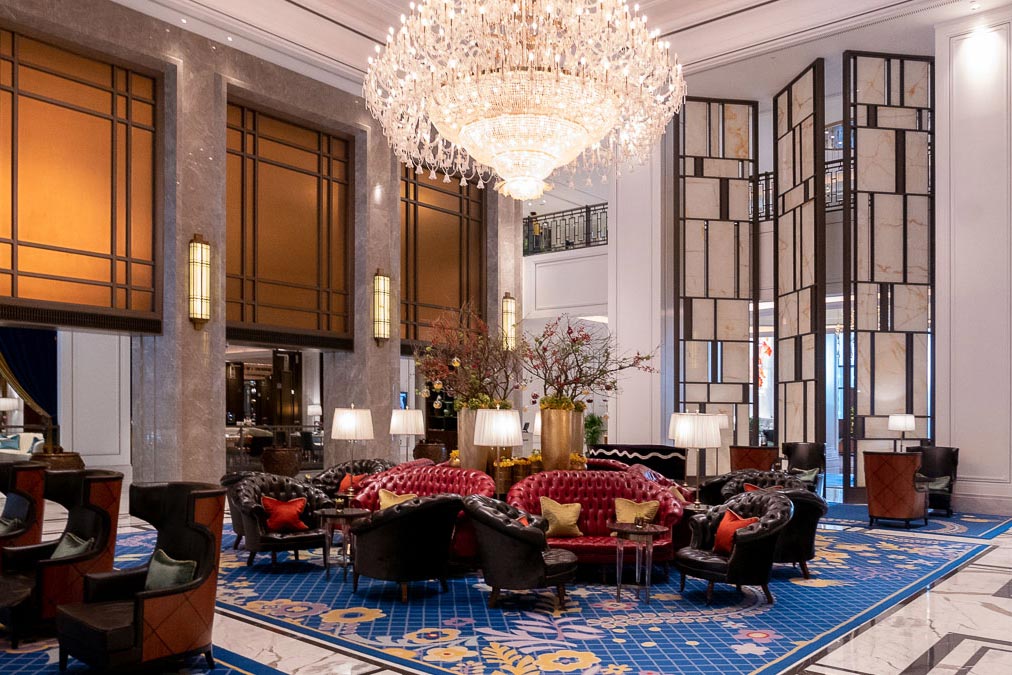 If you're looking for the best hotels for staycations in Shanghai, you're spoiled for choice.
On this occasion, I had the pleasure of staying at The St. Regis Shanghai. It is one of the newer hotels in Shanghai, located right on Beijing Xi Lu in the heart of Jing'an district. The palatial hotel has well-appointed rooms, an excellent selection of dining outlets, is equipped with great facilities including the Iridium Spa, and has outstanding service. So if you're looking for a day of luxury, this is it.
Here's how my experience went, and how you can do it better.
The Room
I stayed in the Superior Deluxe Room.
At 54sqm, it's bigger than my entire apartment. It has a living room equipped with couch, coffee table, and desk. There is also a walk-in closet, a spacious bathroom with rainforest showers, and an oversized bathtub, one that comfortably fits two adults.
Located on the upper floors, the room also has unobstructed views of downtown Shanghai. It's quite a breathtaking scene to wake up to.
Some people define staycations as an opportunity to rediscover your city by playing tourist and roaming about. So, for activities, I'd suggest the Jing'an Sculpture Park, only two blocks east and the Shanghai Natural History Museum (510 Beijing Xi Lu), a 15-minute walk from the hotel.
But I was set on spending as much time I could in the room. If you're thinking the same and are about to plan your next staycation, I'd ask the front desk if it were possible to do an early check-in or late check-out to optimize your stay.
I'd also bring a few things to keep entertained.
Things To Bring With You For A Staycation
Some LUSH bath bombs, because all rooms at The St. Regis Shanghai have bathtubs.

A book! I'm currently reading Big Breasts, Wide Hips by prolific Chinese writer Mo Yan, the 2012 winner of the Nobel Prize for Literature. It's pretty gritty. Beautifully translated though.
A movie and HDMI Cable. I had asked the front desk for one, but they were not able to provide a cable. Wi-Fi included if you want to stream, or just flip through channels on the 48-inch LCD flat screen TV.
Bathing suit and gym clothes. The indoor pool is big enough to do laps and it's very clean. Plus, the shower rooms have steam and sauna. The gym is better outfitted than others and because its a new hotel, and equipment is in pristine condition. All in-room guests have access to these facilities.
Lunch at Yan Ting
The St. Regis Shanghai has four dining outlets—Social for all-day dining, Yan Ting for Cantonese, Seki-Tei for Japanese, and Bespoke for a western seasonal tasting menu. Another two venues include The Drawing Room for afternoon tea and The St. Regis Bar.
Shortly after checking in, I was treated to lunch.
Yan Ting is a Cantonese restaurant that highlights specialties from Shunde, a city near Foshan in Guangdong province, an homage to their Chinese executive chef's hometown. The environment is a little old school (read: classic conservative high-end hotel Chinese restaurant), with a couple private dining rooms for a more intimate setting, but the food is outstanding.
If you want to experience some Shunde specialties, this restaurant has received high praise from locals, and it's worth the price tag.
This would be my third time eating at Yan Ting, and I remain impressed. Here are snapshots of the meal:
A soup of braised, shredded fish and vegetables bears the sweet essence of fresh seafood (¥128). Presumably slow-cooked for hours on end.
The pan-fried shrimp cake (¥188) looks plain on paper and in presentation, but it's one to be savored. These chunky, juicy medallions carry a breath of wok and a coat of sweet and savory seasoned oil.
Following is a steamed cod (¥238) garnished with umami-rich pickled mustard greens that have been deep fried to evoke a light, crisp texture. Accompanying it is soft tofu and bitter greens with light soy sauce.
The highlight of the meal is the seared beef short rib (¥188) in red wine sauce. Lacquered in butter, the meat is cooked to the bone and is juicy and supple. Another signature, the curry and cumin spiced pan seared chicken (¥138) caps the meal. It goes without saying, but be sure to enjoy all of this with a bowl of rice.
The food is undeniably delicious. Those looking to entertain fine Cantonese cuisine will find it gratifying. As a curious diner who's less willing to part with ¥500 for lunch, you would require a little more understanding and affinity for Cantonese fare to appreciate a meal here. Inquire about their set menu for two.
The St. Regis Bar
Later in the evening, opt for a drink at The St. Regis Bar. It's a handsome, sprawling lounge that has nightly live music performances.
It's known for Bloody Marys, my drink of choice. The Shanghai-inspired Bloody Mary, the Mary Jing (¥108) is quite unlike a BM, as it's sweeter, light bodied, and floral due to the fresh yellow tomato juice, fig infused vodka, and osmanthus honey. It's easy to drink and well suited for a light nightcap.
Tried the Chili Padi Mary (¥98), brought over from The St. Regis Singapore, made with fresh cherry tomato juice, lemongrass, ginger, and a whole lot of bird's eye chili. Boy, oh boy, does it burn. The heat is unforgiving, but for those who are tickled by piquant drinks and have a high tolerance, they might find it tempting.
Breakfast at Social
Breakfast at Social is an add-on.
Best to go early. It's not the biggest venue for a hotel of this capacity and the popular stations are clustered together. There's plenty to choose from and stations for noodles, omelettes, congee, pancakes, etc. If waking up early doesn't enthuse you, opt for brunch instead for ¥468 per person. It's a much larger spread with an emphasis on fresh seafood.
Alternatively, there are plenty of dining options within walking distance: Currify for lunch or Pelikan for brunch.
Book Tickets For Sleep No More
Sleep No More is right across the street. Plan ahead and get your tickets for the immersive show so you'll have something else to do other than just watch TV all night.
Sleep No More tells the story of Shakespeare's Macbeth through an immersive theater experience—audiences roam the set and choose what to see and where to go, and opening doors to set pieces with actors in the middle of their scene. Shows are in the evening, available daily. Tickets are ¥520 to ¥850.
Before You Go & How To Book Your Room

Before booking a room, I suggest to sign up to become an SPG Member, if you aren't one already.
St. Regis is under Marriott International and Starwood Preferred Guest. SPG Members get perks like better rates, deals, points to exchange for more perks and free rooms in the near future, etc. It's free to sign up, so it won't hurt to do this first.
Last I checked, rooms start at ¥3,358 per night including breakfast for the weekend. Prices subject to change with season and date.
To see on-going deals, click here.
---
The St. Regis Shanghai

1008 Beijing Xi Lu, near Jiangning Lu 北京西路1008号,近江宁路
+86 21 62579999