Xibo is a smart casual Xinjiang restaurant in Shanghai. It is a long-standing favorite that serves a fantastically colorful range of ethnic Xinjiang dishes. Highly recommended!
Keep reading for Nomfluence Readers Deals!
About Xibo
Established in 2009, Xibo is so named for the Xibonese people, an ethnic minority from northwest Xinjiang. Founder/operator Atina Kuo is Xibonese, and hails from Chabuchaer, Xinjiang, the home of the ethnic minority.
Over the years, Atina has made countless journeys to her home region to discover and source ingredients. Dried fruits from Kashgar and Turpan, yellow carrots from Changji, wild bachu mushrooms from the Huyang Forest in Bachu county, desert scallions from the Gobi Desert, and even dried long beans and peppers from her father's family garden in Chabuchaer all have a place on the menu. Of course, there's also high quality grass-fed lamb and beef.
There are some truly fascinating stories behind those ingredients, and the effort put into sourcing them is beyond admirable. There's some info in the menu about the regions and the history of the Xibonese people. Spend time reading that.
Ethnic Xinjiang Dishes
It is a large menu. And for the most part, the portions are large too. You could enjoy a one/two person meal with a rack of fried lamb chops, a veg side, and pilaf to share, but truthfully, the best way to explore Xibo is with a big group.
Here is what's on the menu: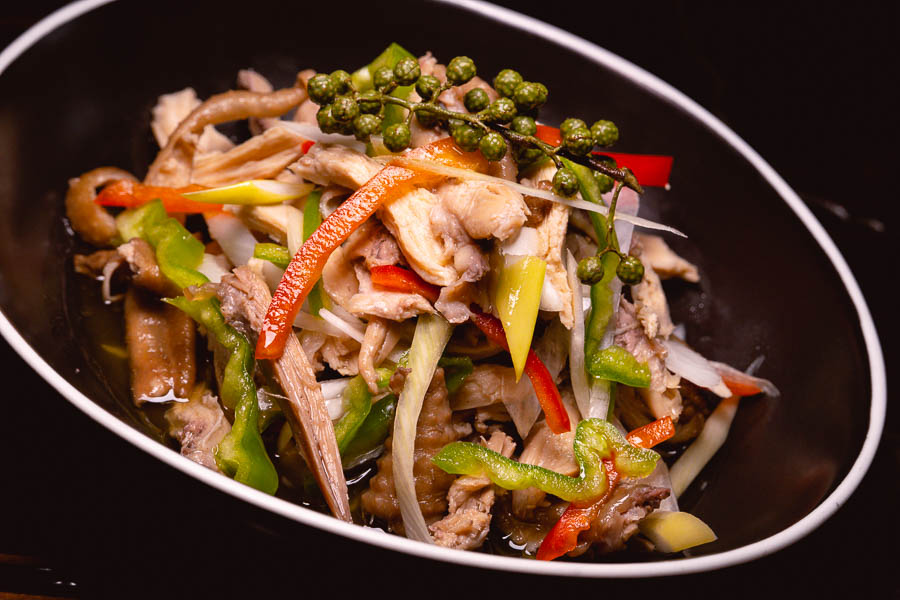 And a whole lotta lamb!
If you love eating lamb, this is the perfect place to dine. Lamb: stewed, roasted, whole, skewered, in spring rolls, and more! (FYI: The whole roasted lamb is ¥2,288 for small or ¥2,588 for medium; pre-order three days in advance.)
Here are some lamb dishes:
Desserts
To Drink
As for drinks, there's Sinkiang black beer (¥28), cocktails (from ¥48), and a great wine selection; by the glass from ¥55, bottles from ¥228.
The wines you should be ordering are the ones from award-winning winery Puchang in Turpan; Beichun, a jammy red wine (¥348) and Rkatsiteli, an Italian-style riesling (¥348/bottle).
Not imbibing in alcohol? There's the Urum Milk Tea (¥58/2-4 people). The milk tea is available as sweet or savory (salted) and is served with urum, a dairy product that's made from skimming the top off boiled milk. It's chewy, milky, and usually consumed along with the tea.
Locations
There are currently three locations of Xibo in Shanghai; one on Changshu Lu, one in Fengsheng Li, and another in Yangpu.
Changshu Lu has a gorgeous sun room, kept warm in the winter by powerful heaters and is breezy during the mild weather months. It also has a beautiful terrace.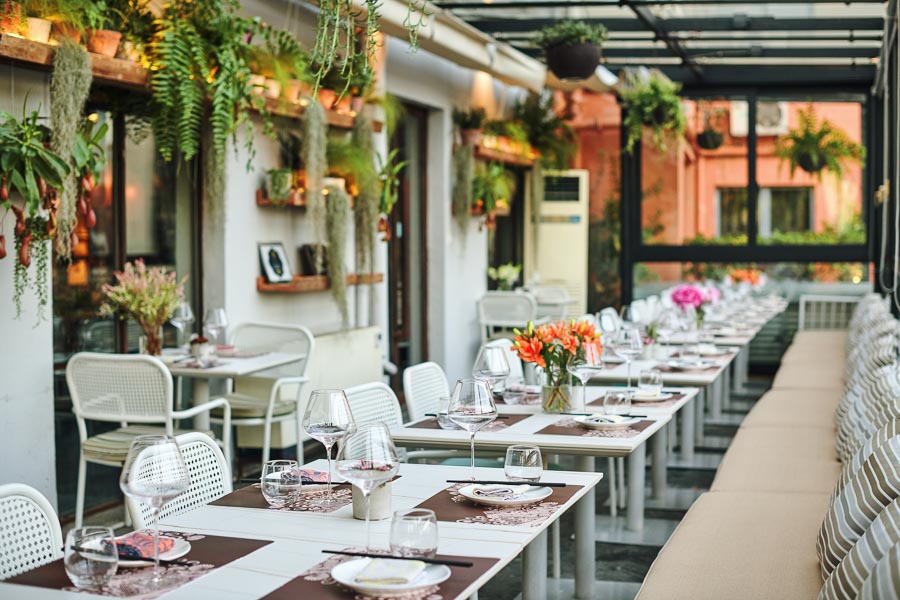 The Fengsheng Li space (on Maoming Lu) is located on the second floor of the mall block. It has a spacious private room for 14, which is perfect for those "whole lamb roast" dinners.
It's elevated Xinjiang food in a smart, chic environment.
There's also no pork used at Xibo. It's not certified halal because they serve alcohol. Also, Xibo is available via delivery!
There's so much to explore at Xibo. If you haven't been yet, it's 100% worth trying. Plus, it's inexpensive.
---
Nomfluence Readers Deals
Special deals for Nomfluence readers when you book via the link below! Deal is valid until March 18, 2022.
Deal is applicable for lunch and dinner at Changshu Lu and Fengsheng Li locations.
---
Xibo Restaurant & Bar (Xibo 锡伯 • 新疆)
Changshu Lu: 3/F, Shenzhou Building, 83 Changshu Lu, 常熟路83号神州商务大厦3楼, 近巨鹿路
Tel: 54038330
Hours: Mon-Sun, 11am-2:30pm, 5pm-11pm
Fengsheng Li: Lot 204, F Block, No. 16, 2/F, 281 Maoming Bei Lu, near Nanjing Xi Lu 茂名北路281弄16号F幢204单元, 近南京西路
Tel: 52993983
Hours: Mon-Sun, 11am-2pm, 5pm-9:30pm