Looking for the best restaurants on The Bund to wine and dine? Here's an eating and drinking guide to Shanghai's most visited attraction.
---
What You Need To Know & Tips
Since COVID, there have been quite a few changes to the Bund-scape. Some of Shanghai's most iconic restaurants, namely, M on the Bund, have closed. However, there are still plenty of options, if you're looking for destination dining. The following are some simple FAQ to navigating Bund restaurants.
Venues on The Bund most likely will have a service charge, and some will have additional VAT charges.
For payment, most restaurants will accept international credit cards. The norm is WeChat or Alipay. As for cash it is possible that you may run into a few snags, though, unlikely for Bund venues. Businesses in Shanghai (or China for that matter) may not be able to accept cash or provide extra change—everything's digital now!
If you're looking to take in the lights from the Lujiazui side, get to The Bund before 10pm, the cut-off time for lights-out.
About safety. If you're new to Shanghai, fret not! Shanghai is one of the safest cities in the world. You can walk about without any worry, any hour of the day or night. Stroll along The Bund pre- or post-meal.
Prices stated below may be subject to change.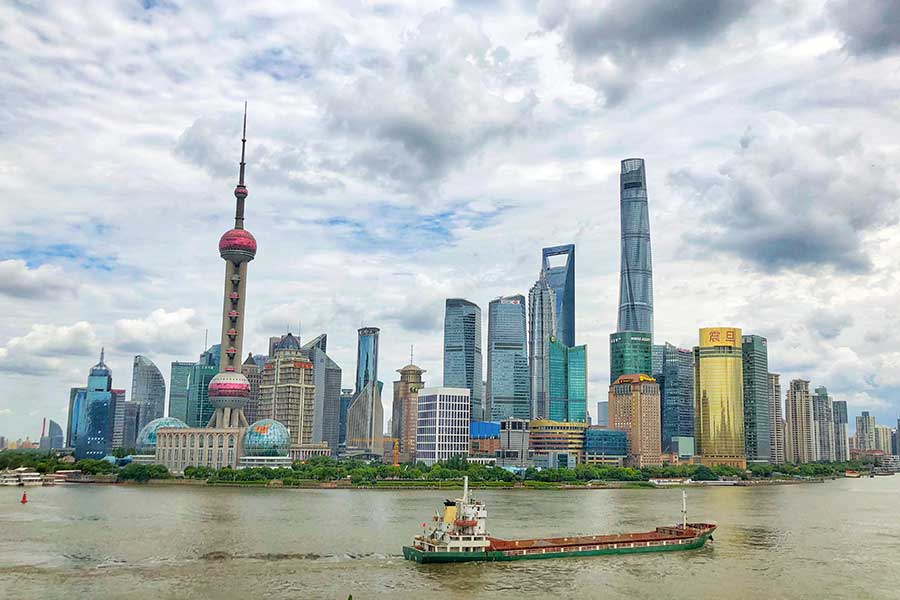 If it's been a while since you've been to Shanghai, note that these Bund restaurants are now closed: M on the Bund, Joel Robuchon, SakeMate, Atto Primo.
My personal favorites are: Mr & Mrs Bund, Mercato, 8 1/2 Otto e Mezzo Bombana, Canton Table, and The Nest.
---
The Best Restaurants on The Bund
An up-to-date list of restaurants on The Bund in Shanghai. These ones are right on the Bund strip, Zhongshan Dong Yi Lu, if not just one street behind.
---
Jean-Georges
Address: 4/F, 3 Zhongshan Dong Yi Lu, near Guangdong Lu 中山东一路3号4楼, 近广东路
Tel: 63217733
Hours: 11:30am-2:30pm, 5:30-10:30pm
Jean-Georges is the eponymous French restaurant of the acclaimed NYC-based chef and restaurant operator. Under the watchful eye of Jean-Georges Vongerichten, Executive Chef Nikolai Grigorov transforms classic French dishes through the use of bold, Asian-inflected seasonings and unexpected flavor combinations. If this is your first foray into fine dining, try the Jean-Georges Tasting Menu (¥1,498), which features a number of signature dishes. Jean-Georges Shanghai has maintained a Michelin one-star since 2018.
---
Canton Table
Address: 5/F, 3 Zhongshan Dong Yi Lu, near Guangdong Lu 中山东一路3号5楼, 近广东路
Tel: 63213737
Hours: Mon-Fri, 11:30am-2:30pm, 5:30pm-10:30pm; Sat-Sun, 11:30pm-3pm, 5:30pm-10:30pm
Canton Table is a Cantonese restaurant at Three on the Bund. In the kitchen is Master Chef Eason Man, a talent that has been bred in the art of dim sum and Cantonese cuisine for more than 30 years. Expect traditional Cantonese favorites like barbecued and roasted pork, rich double-boiled soups, luxurious seafood, and high-quality wok-finished meat dishes. Canton Table also has a vegetarian tasting menu for ¥488 per person and does dim sum brunch on the weekend. Plenty of private rooms for intimate occasions.
---
Mercato
Address: 6/F, 3 Zhongshan Dong Yi Lu, near Guangdong Lu 中山东一路3号6楼, 近广东路
Tel: 63219922
Hours: Mon-Fri, 5:30pm-11pm; Sat-Sun, 11:30am-3pm, 5:30pm-11pm
Mercato is a rustic Italian-inspired restaurant from celebrated Michelin-starred chef Jean-Georges Vongerichten at Three on the Bund. Over the years, Mercato has become one of the most popular restaurants in Shanghai—the service is impeccable and the consistency flawless. It was listed in The Michelin Guide Shanghai 2018 and was awarded a Michelin Plate in 2019. Fan favorites include the housemade ricotta, wood-fired black truffle pizza, and crispy beef short ribs. Dishes are made to share.
I suggest having a meal here then head up to POP (see below) for a drink and the requisite photo of the Bund.
---
POP American Brasserie
Address: 7/F, 3 Zhongshan Dong Yi Lu, near Guangdong Lu 中山东一路3号7楼, 近广东路
Tel: 63210909
Hours: 11am-11pm
POP American Brasserie is an all-day dining restaurant that serves American cuisine. The restaurant has a gorgeous terrace with excellent Bund views, shared by its bar and lounge. Dinner is a splurge of American classics from Caesar salads to Alaskan king crab cake and clam chowder. Steaks, lobster, and racks proliferate the menu, supplemented by fresh seafood, oysters, side dishes, and hearty desserts. Lunch sets are ¥178 for two courses, ¥218 for three. Good to pop-in if you want to grab a drink with a view.
---
Mr & Mrs Bund
Address: 6/F, 18 Zhongshan Dong Yi Lu, near Nanjing Dong Lu 中山东一路18号6楼, 近南京东路
Tel: 63239898
Hours: Daily 5-10:30pm, Sat-Sun 11:30am-2:30pm, Thu-Sat 10:30pm-1am
Mr & Mrs Bund is a contemporary French restaurant on The Bund by world-renowned chef Paul Pairet. The cavernous restaurant commands a 250-dish strong menu of re-imagined French classics with an Asian twist. Most of those dishes are beloved signatures and are made to share. It's truly one of the most fantastic restaurants in Shanghai and a definite must-try. Personal favorites include: Long Short Rib Teriyaki, Veal Chop, Mushrooms Essential, Meunière Truffle Bread, Lemon & Lemon Tart, and The Real French Toast. Serves brunch, dinner, and late night.
Mr & Mrs Bund also has a small terrace, great for getting a selfie with the Lujiazui skyline.
---
Hakkasan
Address: 5/F, 18 Zhongshan Dong Yi Lu, near Nanjing Dong Lu 中山东一路18号5楼, 近南京东路
Tel: 63215888
Hours: Mon-Thu 5:30pm-12:30am, Fri-Sat 11am-1am, Sun 11am-11:30pm
Hakkasan is an upscale Cantonese restaurant chain that comes to Shanghai via London. It is one of the most consistent venues on The Bund, excelling in service, food, and drink. Luxurious signature dishes like the crispy roast duck with caviar stand alongside simpler yet equally enjoyable mainstays like black pepper beef. They have two dedicated cocktail bars to service their drinks program. The weekend dim sum brunch is also a highlight.
---
Ginza Onodera Shanghai
Address: 3/F, 18 Zhongshan Dong Yi Lu, near Nanjing Dong Lu 中山东一路18号3楼, 近南京东路
Tel: 63339818
Hours: 11:30am-2pm, 5:30-10:30pm
Ginza Onodera is a high-end Japanese chain of Tokyo fame that has dedicated counters for teppanyaki, robata, and edomae-style sushi. In addition to high-flying Japanese fare, Ginza Onodera serves to be a place of exclusivity—intimacy and service are key. It's extremely pricey, but what'd you expect?
---
Ling Long
Address: The Waldorf Astoria Shanghai, 2 Zhongshan Dong Yi Lu, near Yan'an Dong Lu 华尔道夫酒店, 中山东一路2号, 近延安东路
Tel: 23290313
Hours: Wed-Sun, 5:30pm-10:30pm
Ling Long is a contemporary fine dining Chinese restaurant located at the Waldorf Astoria on the Bund. It's set menu only for ¥1,680 +15% service charge. It comes by way of Beijing, helmed by chef Jason Liu; Ling Long Beijing currently ranks #77 in Asia's 50 Best, a new entry in the 2023 edition.
Ling Long Shanghai is an artistic opus, a storytelling of chef Jason Liu's vision and interpretation of Chinese ingredients and traditions. It's quite interesting and the experience, in my opinion, is worth the ticket price. It's rather popular, and reservations weeks in advance is recommended. Click here to read more.
---
Kanpai Classic
Address: 5/F, 20 Guangdong Lu, near Zhongshan Dong Yi Lu 广东路20号5楼, 近中山东一路
Tel: 63400767
Hours: 5pm-midnight
Kanpai Classic is a premium Japanese barbecue (yakiniku) restaurant from a Taiwanese restaurant group. Kanpai Classic sources beef from its own farm in Australia, importing chilled, not frozen cuts of meat. Some people swear by it, while some don't see the point in paying premium for wagyu beef here. There are cheaper options in Gubei, and if you want high quality beef, there's also High Yaki. Kanpai Classic holds a Michelin Plate. Expect to pay upwards of ¥1,000.
---
Royal China Club
Address: 3/F, Bund 5, 5 Zhongshan Dong Yi Lu 中山东一路5号外滩五号3层
Tel: 63332981
Hours: Daily, 11am-2pm, 5pm-10pm
Royal China Club is a Hong Kong import that also has locations in London and Dubai. It's a high-end Cantonese restaurant that serves dim sum (lunch) to banquet-style dishes. It's a posh setting, perhaps more suited for entertaining business clients or for wooing your Chinese in-laws.
---
8 1/2 Otto e Mezzo BOMBANA
Address: 6/F, 169 Yuanmingyuan Lu, near Beijing Dong Lu 圆明园路169号协进大楼6层, 近北京东路
Tel: 60872890
Hours: Wed-Sat, 12pm-2pm, 6pm-10pm; Mon-Tue, 6pm-10pm
8 ½ Otto e Mezzo BOMBANA is a Michelin two-star Italian restaurant in Shanghai. It is a culinary fixture of Shanghai's fine dining scene, the eponymous restaurant of acclaimed chef Umberto Bombana, who first opened in Hong Kong in 2010, followed by the Shanghai location in 2012.
The experience is exceptional. Fresh hand-made pastas, meticulous sourcing of produce, and first-class service is what you'll find at the Bund location. It's what you would expect from restaurants of this caliber—indulgent, calculated, elegant food done with aplomb. Lunch is ¥888, dinner starts from ¥3,200, plus service charge. Click here to read about lunch.
---
The Nest
Address: 6/F, 130 Beijing Dong Lu, near Huqiu Lu 北京东路130号中实大厦6楼, 近虎丘路
Tel: 63087669
Hours: Mon-Thu, 5:30pm-midnight; Fri-Sat, 5:30pm-1am; Sun, 11am-11pm
The Nest is Shanghai's first/original gastrolounge. It opened in 2014 to much fanfare, and serves a Nordic-inspired menu, vodka-based drinks, and oysters by the hundreds. The Bund-side fixture tends to draw a dinner crowd that stays through the night, ending it with plenty of drinks.
Every Sunday and Monday, they have a deal on oysters, a dozen for ¥148.
---
Goodfellas
Address: 7 Yan'an Dong Lu, near Zhongshan Dong Yi Lu 延安东路7号, 近中山东一路
Tel: 63232188
Hours: Daily 5:30-11:30pm, Sat-Sun 11:30am-2:30pm
Goodfellas is a traditional Italian restaurant on The Bund. The cozy restaurant has received consistently good reviews left by travelers and residents alike, a feat achieved by long-serving chef Antonio. Expect pastas, pizzas, and entrées that would do any Italian grandma proud.
---
Lost Heaven on the Bund
Address: 17 Yan'an Dong Lu, near Zhongshan Dong Yi Lu 延安东路17号, 近中山东一路
Tel: 63300967
Hours: Daily, 11:30am-1:30pm, 5:30pm-9pm
Lost Heaven is a Yunnan restaurant with multiple locations in Shanghai. This is their flagship location, complete with a lounge and terrace. The food is quite authentic, barring a few twists to appeal to an international clientele. This has been a dependable restaurant over the years—order anything, it'll be satisfying.. Popular dishes include Dali-Style Chicken, Yunnan Fried Pork Ribs, and Steamed Cod in Banana Leaves.
---
Atelier Izakaya
Address: 3/F, 17 Yan'an Dong Lu, near Zhongshan Dong Yi Lu 延安东路17号3楼, 近中山东一路
Tel: 15802189845
Hours: Daily, 5:30pm-midnight
Atelier Izakaya is a Japanese restaurant located above Lost Heaven, and has claimed the terrace for al fresco dining. If you're looking for an inexpensive meal on the Bund but with nice setting, this is one of few options. It's mostly yakitori, and skewers start at ¥12 a stick. Other dishes include typical izakaya appetizers and filling rice mains.
---
The Way of the Dragon
Address: 2/F, 27 Zhongshan Dong Yi Lu, near Beijing Dong Lu 中山东一路27号2楼, 近北京东路
Tel: 33308888
Hours: 10am-2am
The Way of The Dragon is a massive Sichuan hotpot restaurant on the second floor of the House of Roosevelt on the Bund. Extravagant doesn't even begin to describe its excessiveness. Elaborate interiors, performances on the hour, water features, and unnecessarily complex plating await intrepid hotpot fanatics. It's not the best hotpot in town, but it's hotpot on the Bund with unabated entertainment value.