​Yao Ji Da Tie Guo is a Chinese restaurant that specializes in Tie Guo Dun (铁锅炖) or "Iron Pot Stew", a Dongbei form of cooking.
Plus, it's open until 4am.
There's also song and dance, but we'll get to that later on.
The Food: Tie Guo Dun & How To Order
Tie Guo Dun is a Dongbei "dish" centered on a deep cast iron pot, whereby soup, chicken, pork, vegetables, noodles, and corn cakes are thrown in and cooked all together. It's similar to Sichuan's Gan Guo or "Dry Pot", or like hotpot with less volume of soup.
Similar to hotpot, you first choose a "stew base," a hardy stock to broil your order of meats, vegetables, noodles and whatnot. The bases include pork bones (¥238), chicken-mushroom (¥298), goose (¥298), and fish (¥268).
We go for the signature free-range chicken (¥258). A whole free-range chicken—gizzards, liver, hearts and all—is cooked long and slow in an already rich stock with ginger and spices. That soup is tumbled into a massive cast-iron pot in the center of the table, along with the foodstuff you've ordered.
Here are a few things ordered: goose claw (¥58), greens (¥15), black ear mushrooms (¥18), tofu skin (¥15), potatoes (¥15), rice cake (¥15), oyster mushrooms (¥38), tea tree mushrooms (¥30), and spare ribs (¥118), mountain yam (¥20) and noodles (¥20).
One must-order is the corn cakes (玉米饼, ¥2/piece), an essential item of the whole ensemble. These corn cakes are affixed to the side of the pot just above the simmering line of your stew.
The catch about ordering them is that you can only do it once, before the pot is covered to stew. So be sure you have enough of those before the lid goes on.
The mealy corn cakes are crisped on the bottom with a fluffy center, making them an ideal vessel to soak up all the stew. Oh, and every time a pancake is placed on the pot, the server bellows idioms of well wishes.
Eat the pot stuff with a raw garlic and chili dip.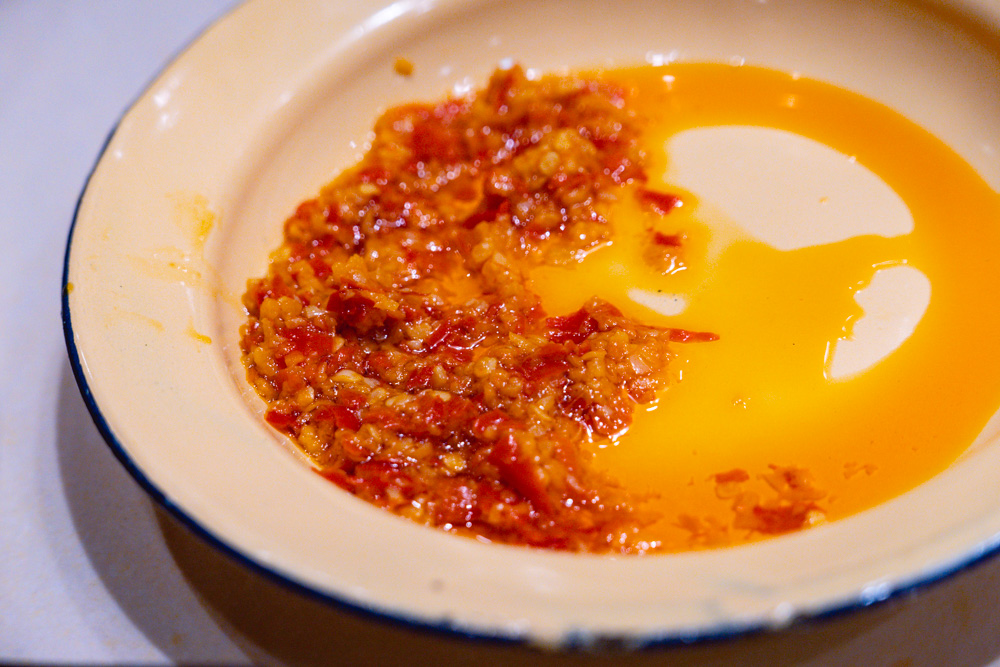 Get some side dishes too.
It's going to get really campy halfway through your meal.
There will be performances. They provide earplugs. There's audience participation! You get to chug beers in front of everyone. Then there's a duet, followed by a song and dance by the staff, all of who hail from Dongbei.
Even if your Putonghua is native, you might not understand much of what they're singing about—they're performing in Dongbei dialect. Just sit back, eat your food, and enjoy the show.
Drinks Situation
BYOB is allowed!
They do have beer: Suntory 450ml (¥10), Tsingtao (¥12), and a bunch others. Plus a wide selection of baijiu and huangjiu by the bottle, and soft drinks.
In Summary: Eat More Chinese Food
For many of us living in Shanghai, our knowledge of Dongbei cuisine is based off weekend getaways to Beijing and the menu at Dongbei Four Seasons Dumpling King. Add this to your food list.
Food here is good—it's great! Plus, it's Dongbei-ren approved. It's one of those no-frills meals (if you're not counting the performance acts), and you'll be duly satiated. Yao Ji has been around for a while, so if you haven't been yet or heard about it, it's definitely worth trying.
Average check is around ¥130.
---
Yao Ji Da Tie Guo 姚稷大铁锅
Multiple locations.
Wanhangdu Lu: 529-3 Wanhangdu Lu, near Wuding Xi Lu 万航渡路529-3号, 近武定西路
Tel: 13122833333, 52761988
Hours: 10am-4am
Changping Lu: 317-5 Changping Lu, near Shaanxi Bei Lu 昌平路317-5号, 近陕西北路
Tel: 13122833333, 52761988
Hours: 10am-4am