Staying in Shanghai for Chinese New Year? Celebrate the Year of the Rabbit with a festive lunch buffet or afternoon tea at The Portman Ritz-Carlton, Shanghai!
In addition, they also have some resplendent CNY hampers, if you're thinking of some house gifts for friends or are looking to butter up your landlord.
Chinese New Year Lunch Buffet
Portman's Restaurant will be hosting Chinese New Year lunch buffets from January 21 to 29. The lunch is only ¥458 per person, which includes free-flow soft drinks.
The scrumptious buffet will be laden with an international spread, but will have an emphasis on celebratory Chinese New Year dishes. One of those dishes is Yu Sheng or Yee Sang, the Singaporean/Malaysian "Prosperity Toss Salad," which will be served at the table for guests to call out well wishes for the year as they lift up and mix the auspicious smoked salmon and salad.
On the buffet will also be premium seafood on ice, including prawns, mussels, clams, and whelks, as well as sushi and sashimi. There will also be a salad bar, Chinese cold dishes, dim sum, and a selection of hot dishes including salted egg yolk sautéed prawns, beef cheek with turnip, Teochew-style steamed pomfret, kung pao frog legs, and more.
In addition, there will be a "volcano hotpot" with a base sukiyaki soup. An array of sides include sliced beef, Chinese cabbage, beansprouts, mushrooms, vegetables, luncheon meat, crabsticks, and more, as well as condiments and sauces.
You can make a beeline to live station, which will have roasted peking duck, roasted pork belly, Singaporean-style seafood laksa, roasted Cajun whole lamb leg, barbecue beef brisket with truffle jus, fish and chips, and chicken char siew shawarma.
Finally, desserts include a chocolate fountain, an ice cream station, an a selection of sweet treats like mango pomelo soup, red velvet cake, fruit tarts, caramel coffee cake, jasmine tea panna cotta, fried rice cake, and fruit.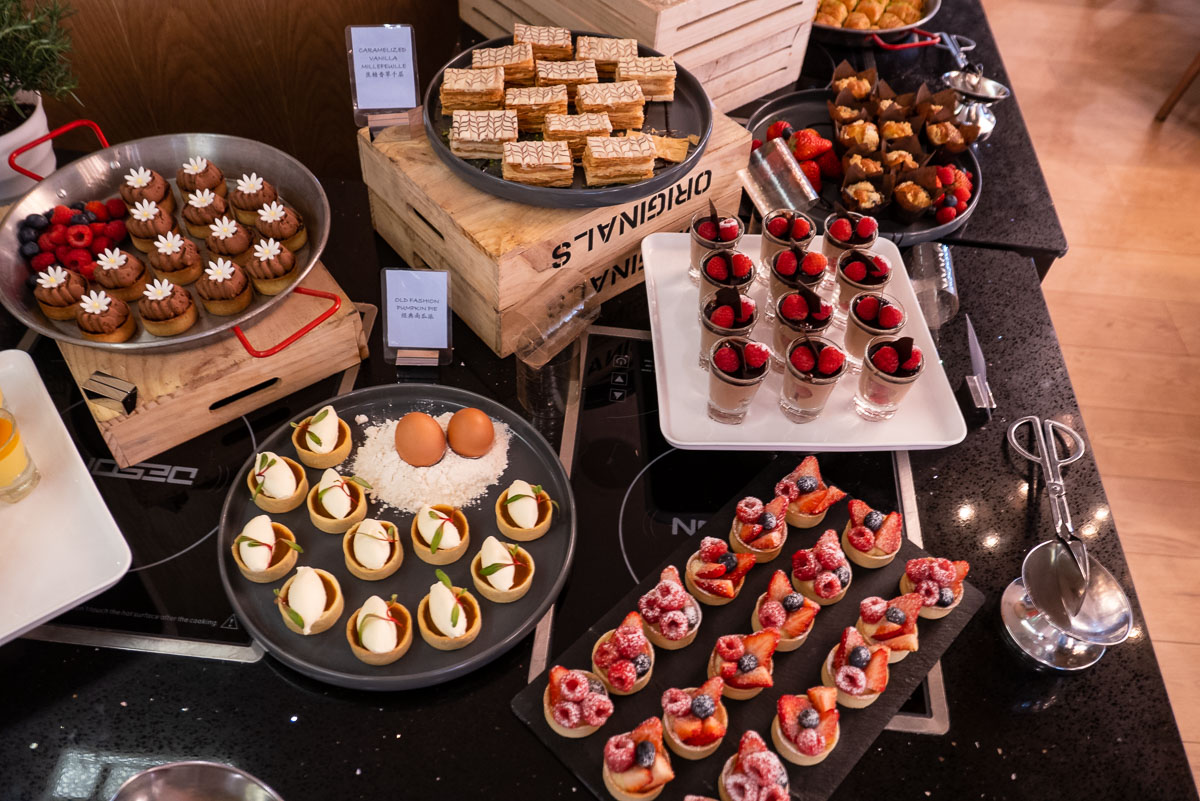 The Chinese New Year buffet lunch is served from 12pm-2:30pm on January 21 to 29.
Book the lunch buffet via the QR code below for Nomfluence Readers Deals!
With free-flow soft drinks ¥418 (originally ¥458)
With free-flow selected alcoholic drinks ¥498 (originally ¥538)
For three people, free-flow soft drinks ¥1,188 (originally ¥1,284)
Kids ages 6-12 years old ¥198 (originally ¥229)
---
Chinese New Year Afternoon Tea
To celebrate new beginnings and the arrival of the Year of the Rabbit, pastry chef King Shang has created an afternoon tea set featuring an array of sweets and savories.
There are four savory bites and four sweet treats, as well as a red bean soup with glutinous rice balls and scones. Highlights include White Rabbit mousse, lucky salmon and tangerine spheres, strawberry hawthorn flower tea cake, and basil & cherry mousse cake lucky bags.
The afternoon tea also includes one coffee or tea per person. Available from January 2 until March 12.
Book via the QR code below to get Nomfluence Readers Deals!
One person afternoon tea set ¥238 (originally ¥288)
Two person afternoon tea set ¥398 (originally ¥488)
---
Chinese New Year Hampers
Carry prosperity forward with the gift of giving! The Portman Ritz-Carlton, Shanghai has two CNY hampers for the season, priced at ¥1,888 and ¥2,588.
The beautifully presented boxes include a bottle of Moët & Chandon Brut NV champagne, Chinese New Year rice cake, an assortment of nuts, chocolate pralines, pineapple tarts, black truffle sauce, extra virgin olive oil, balsamic vinegar, XO sauce, and dried mushrooms.
Scan the QR code below to purchase.
---
The Portman Ritz-Carlton, Shanghai
Address: 1376 Nanjing Xi Lu, near Xikang Lu 南京西路1376号上海商城波特曼酒店1层, 近西康路
Tel: 62798888