Sponsored by The Portman Ritz-Carlton, Shanghai

Terrace 8 at The Portman Ritz-Carlton is reopening for the season! Free-flow bubbly for four hours on the rooftop terrace, starting from ¥415. Early-bird bookings now open!
Nomfluence Readers Deals
BOOK your spot at Terrace 8
And get 15% off your bill!
Sun Seekers: Free-Flow at Terrace 8
Terrace 8 is Jing'an district's best-kept secret—it's a sprawling rooftop terrace in downtown Shanghai at The Portman Ritz-Carlton. (That's at the Shanghai Centre.)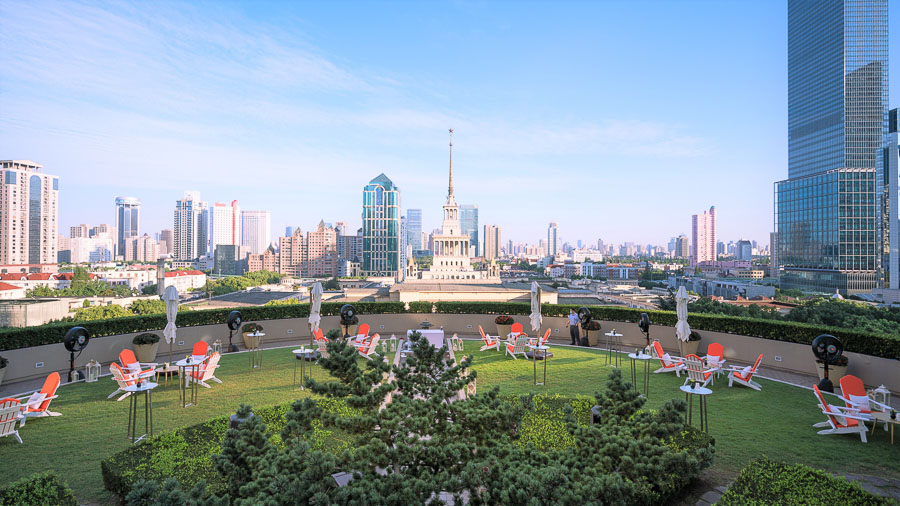 Previously open to the hotel's residents, the terrace has been spruced up for the season and is open to the public, complete with cushioned lawn chairs and patio umbrellas courtesy of Moët & Chandon sprawled across meticulously trimmed lawn.
Free-Flow Champagne & Global Tapas
You are here for the free-flow champagne! It's ¥488 for four hours of unlimited Chandon Brut NV or ¥688 for Moët & Chandon Imperial Brut NV. In addition to the champagne, the deal also includes free-flow red and white wine, and beer, too.
They also have other packages like a bottle of Moët & Chandon Imperial Brut NV and an antipasti cheese platter for ¥988 and a dozen bottles of beer for ¥328; cocktail of the week is ¥108, courtesy of resident mixologist Tural Hasanov.
As for food, Terrace 8 serves a curated menu of global tapas by Executive Sous Chef Xian.
Spanish, Asian and Middle-Eastern tapas, including bocadillas, tortilla espanola, hummus, stuffed olives, chicken wraps, albondigas, sliders, Thai-spiced fish cakes, truffled fries, and desserts.
Here are a few of the tapas available:
If you're thinking about blowing off work, this would be the place to do it. And do it quick while the weather is good! I spent a sunny afternoon nibbling through the sweets and savories, a little disappointed that I didn't opt to wear a sundress/cancel my meetings for the day. (Ideas. Hint, hint.)
Terrace 8 opens from April 17! And it will be open from 2:30pm on weekends.
Nomfluence Readers Deals
If the free-flow deal isn't already a steal, there are additional Nomfluence Readers Deals.
Valid from now until mid-October when you book via the QR Code below.
15% off your total bill. Four hours free-flow Chandon (¥488, now ¥415), Moët & Chandon (¥688, now ¥585)
Prices listed are net.
---
Terrace 8
(Opens April 17-mid October)
Address: 8/F, The Portman Ritz-Carlton, Shanghai Centre, 1376 Nanjing Xi Lu, near Xikang Lu 南京西路1376号, 上海波特曼丽思卡尔顿酒店, 近西康路
Tel: 62798888 *5976
Hours: Thu-Fri 5:30pm-10:30pm, Sat 2:30pm-10:30pm, Sun 2:30pm-8pm