All these venues have now closed. For more restaurants in Shanghai, click here.
---
Stay on top of the churn of openings and closing in Shanghai. Here are three new restaurants you may have missed. For more F&B news, click here.
Chuckville
Address: 38 Yancheng Lu, near Xizang Nan Lu 盐城路38号, 近西藏南路
Tel: 63233351
Hours: Mon-Thu Sun-Thu 11am-10pm, Fri-Sat 11am-midnight
From the makers of Bulldog Bar-B-Q comes Chuckville, an American barbecue restaurant and sports bar that's churning out ribs and smoked brisket. Unlike Bulldog, which is the size of a shoe box, Chuckville has the space for an actual smoker.
It's located near Laoximen metro station. The second floor is good for private events, plus there's also a terrace. Venue is pet-friendly.
Restrictions on licensing for live fire smokers and the lack of local demand result make real BBQ hard to come by in this city. As far as I know, there are two options: Chuckville and Cages (Thursdays only).
Runner up to the short rib is the pepper crusted smoked beef brisket (¥65/130/260). It's super fatty, but this is why you go to BBQ joints. Chuckville also has pulled pork (¥45/90/180), ribs (¥45/90/180), steaks, and sandwiches from ¥45.
All main meats are sold by small, medium, or large portions. Add ¥30 for two sides with any meat order. Additional sides are ¥25 each, including coleslaw, grilled corn, burnt end mash, corn bread and more.
The buffalo wings (¥68 for six) are spot on, too. These are tangy, spicy, finger lickin' wings with a liberal amount of Frank's RedHot. Served with the traditional accompaniment of blue cheese dip. There are salads too, but you're not here for those.
Draft beer from ¥40, bottled Tsingtao ¥30, and classic cocktails start from ¥35 (wow).
You'd need to clear out your eating schedule for the day to fully appreciate Chuckville.
---
Jobu
Address: 1315 Xinzha Lu, near Shaanxi Bei Lu 新闸路1315号, 近陕西北路
Tel: 62116665
Hours: 3:30pm-12pm
Jobu is a friendly neighborhood bar in Jing'an that does a sizable menu of Taiwanese bites, along with other casual bar food like burgers, sandwiches, etc. It's very enjoyable, and compared to other bars of Jobu's standard, the food is a step above the rest.
Despite the bar and darts in the back of the room, Jobu is 100% family-friendly. It's also pet-friendly too. The terrace is spacious and has a retractable canvas roof to shield diners from the elements.
Of the Taiwanese fare the Luwei (¥65) is a highlight. It's an assortment of braised items—pork belly, fish cake, seaweed, hard-boiled eggs, and tofu, stewed in a sweet-savory base fortified with soy sauce.
Don't miss the Jobu salad with hummus pita pockets (¥50). Smooth and creamy hummus with veg to dip and to spread on toasted pita.
The grilled Taiwanese sausages (¥40) is a staple. You're meant to eat a piece of the sweet sausage with a piece of raw garlic. Divine.
And if you're a fan of burgers, sandwiches, and the like, the spicy fried chicken sandwich (¥65) is right up your alley.
Drinks: Beer starts from ¥40, cocktails from ¥50, and wine from ¥48.
It's a solid no-frills casual addition to the neighborhood.
---
ROUROU
Address: B2/F, 168 Hubin Lu, near Jinan Lu 湖滨路168号B2楼, 近济南路
Tel: 63777703
Hours: 10am-9:30pm
A Xintiandi mall gets crayfish rolls. It's in the Infinitus Mall, the same one where the new Tomatito is.
ROUROU is as straightforward as it gets—five flavors of crayfish (Chongqing spicy, salted egg, curry, Cajun, and Boston original) sandwiched between soft rolls. It's fast food in a mall. It takes what the local love and smushes it with an American favorite.
How's it taste like? Like fast food. It's not a novel idea, but it'll fare better than lobster rolls did with the local market. (The perception is that lobster rolls take premium item and cheapens it by putting it into a "burger" or "sandwich". The crayroll is somewhere in the middle.)
Rolls are ¥48, set with fries and a drink is ¥58, and two rolls with fries and a drink is ¥88. It's fairly inexpensive.
Snacks items include popcorn crayfish ¥30, onion rings ¥23, and fries ¥18.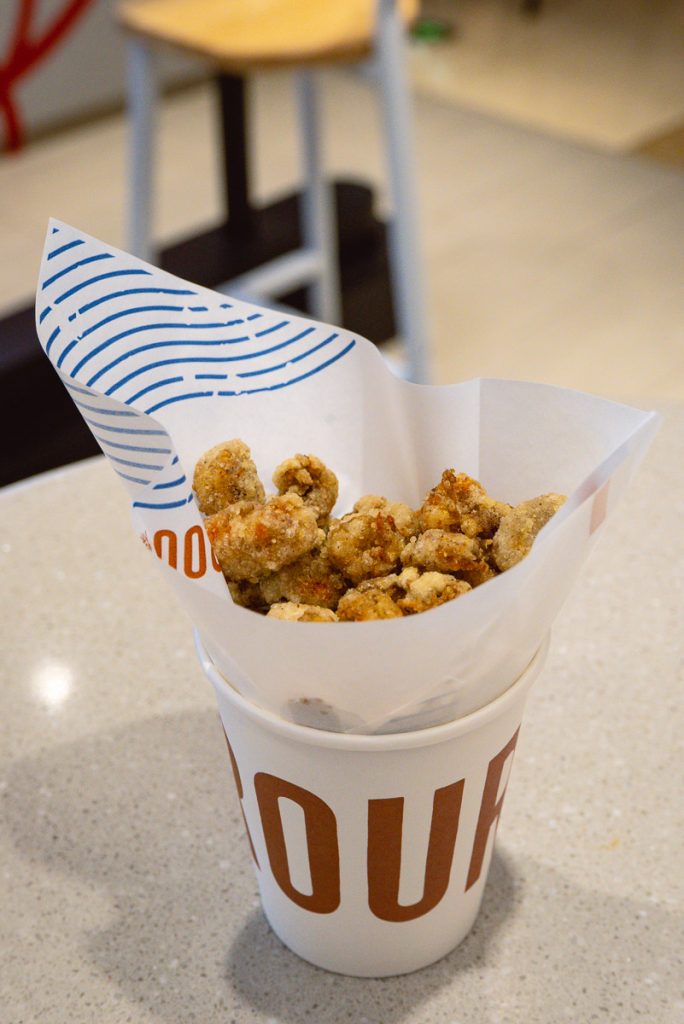 The 17 Chongqing Spices is bloody spicy. I dig it. The Singapore Salted Egg is a work in progress, mild in comparison to the fiery numb-spicy charge of the Chongqing. The rolls are enjoyable, but missing texture.
I wouldn't go out of my way to eat crayfish rolls, but if it were part of the cinema food offerings, I'll definitely choose a tray of spicy crays over that caramel BS they call popcorn.