Here's a list of 20 new restaurants (and bars with good food) in Shanghai that have opened in the first half of 2019 (plus a few stragglers from 2018).
From casual all-day brunch spots to hyped up fast food chains, noodle shops, and upscale restaurants, here are 20 places I went to and wrote about, compiled into a neat list.

New Restaurants in Shanghai – First Half, 2019
Arch by Taste Buds
I know what you're thinking—Arch is a cocktail bar! It may not be a restaurant, but you should definitely try the food, specially the pastas, which are excellent and affordably priced.
Details and more about Arch here.
BOR Eatery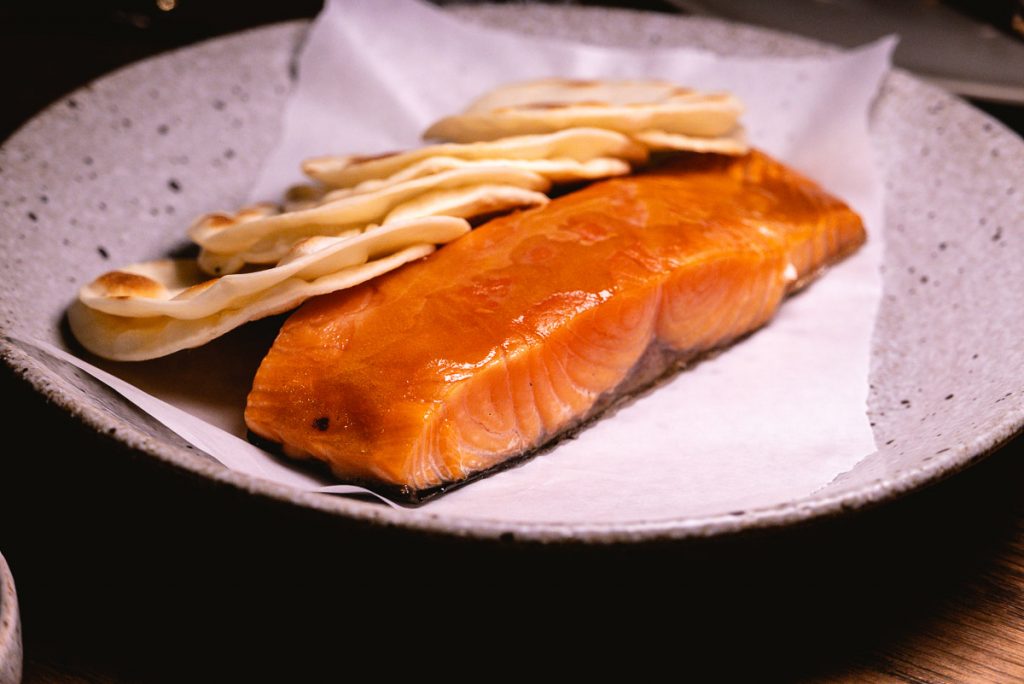 A casual dining restaurant that revolves around a seasonal chef-driven menu led by Danish chef Kasper Pedersen. The open kitchen is something other chefs only dream about. The food is a mix from the now-shuttered Pelikan, Kasper's experimental/new ideas, and quirky dishes. It's still largely Nordic, because that's where Kasper's from.
Details and more about BOR Eatery here.
Book this restaurant now!
Bun Cha Cha
Bun Cha Cha is casual Vietnamese restaurant in the basement of Lippo Plaza that trades in bun cha. The food in question is a popular northern Vietnamese street food of grilled meat, rice vermicelli, and fish sauce with condiments to dip. It's comforting, everyday kind of food. Available on Ele.me.
Details and more about Bun Cha Cha here.
Book this restaurant now!
Chuckville
Chuckville is an American barbecue restaurant from the makers of Bulldog Bar-B-Q. It's one of a handful of restaurants in Shanghai that do actual smoked barbecue. It's meat-heavy, obviously. Casual sports bar vibes and cheap drinks to go with ribs, wings, and brisket.
Details and more about Chuckville here.
Da Yi Hot Pot
Da Yi is probably the 10000th hot pot restaurant to open this year. It's run by the same group behind Osteria, Plump Oyster, Botanik, and C Pearl, which makes me rest easy knowing that the seafood is fresh. The soup broths are very luscious and almost too rich to be cooking premium meats and seafood in, but I digress—it's tasty.
Details and more about Da Yi here.
Heritage by Madison
Heritage by Madison is essentially chef-about-town Austin Hu's heritage served on a plate—American, contemporary, and with Asian flourishes. Expect sharply executed vegetables, flavor-packed meats, and sauces that you'd want to bottle up and take home.
Details and more about Heritage here.
Hunter Gatherer Open Kitchen
Hunter Gatherer Open Kitchen is one of few healthy restaurants that have opened in Shanghai this year. It's basically a revamp of their Hubindao space, adding interactive stations and an activity area.
Details and more about Open Kitchen here.
Ifuku Isaribi
Ifuku Isaribi is a Japanese restaurant in Plaza 66 that specializes in robatayaki and ichiyaboshi. The latter is a technique whereby meat and fish are dried overnight by charcoal grill. Business casual for people who work in and around the area.
Details and more about Ifuku Isaribi here.
Jobu
A Jing'an neighborhood bar serving no-frills Taiwanese bites and bar food. The Taiwanese dishes are definitely worth stopping in for, especially the luwei and the cold noodles.
Details and more about Jobu here.
La Mesa
A food truck menu of mostly Latin street eats, featuring arepas, tacos, empanadas, sandwiches, burritos, and skewers. La Mesa's street-facing window helps facilitate their eating and drinking al fresco vibe.
Details and more about La Mesa here.
Ministry of Crab
Actually opened in October 2019. Sri Lanka's famed Ministry of Crab opens an outpost on the ground floor of Barbarossa, People's Square. Fresh crab flown in live from Sri Lanka, serving from 500g to 2kg whole crabs.
Details and more about Ministry of Crab here.
Book this restaurant now!
Nakama (Closed November 2019)
My favorite restaurant of the year so far. I doubt anything that'll open in the second half of this year will trump it. Dry-aged wagyu cooked on binchotan at this yakiniku, plus other non-dry-aged meats, sushi, and charcoal-grilled goodies. Intimate space with character.
Details and more about Nakama here.
Peking Inn
A restaurant and bar in Jiashan Market serving traditional Beijing chunbing aka spring pancakes and drinks with a Chinese twist. The food is easy going and the cocktails inventive. Gorgeous terrace.
Details and more about Peking Inn here.
Book this restaurant now!
Polux
All-day French cafe in Xintiandi by the legendary Paul Pairet (Mr & Mrs Bund, Ultraviolet). It's worth the hype. High volume restaurant that does a massive menu of brunchy dishes and casual French bistro fare.
Details and more about Polux here.
PS. Cafe
Popular Singaporean cafe chain PS Cafe opens in the refurbished Xintiandi Mall. Global cuisine from ribs to laksa plus cocktails. Don't miss the desserts.
Details and more about PS Cafe here.
Book this restaurant now!
Ramen Mitsuyoshi
Most definitely top 5 in this list. Ramen Mitsuyoshi is a tiny ramen shop on the border of Xintiandi and what's left of Old Town. Super rich tonkotsu broth with extra al dente noodles.
Details and more about Ramen Mitsuyoshi here.
Rye & Co
Rye & Co is a café, restaurant, and bar that gives the casual all-day brunch a Nordic-inspired twist, coupling it with an upstairs cocktail lounge, complete with outdoor seating on their exclusive rooftop space. Brought to you by the people behind The Nest and The Cannery.
Details and more about Rye & Co here.
Shake Shack
An extremely hyped opening that brought more people to Xintiandi in a month than some restaurants could hope for from an entire quarter. It's fast food from across the pond. Burgers with cheese. Plenty of people like that kind of thing.
Details and more about Shake Shack here.
UP Shanghai
Like Arch, UP Shanghai is more of a club than it is a restaurant. But their American comfort food is definitely worth the trip. The Broadway Burger is to die for. They also have one of the best burger deals in town. Plus, they've just started a legit Sunday barbecue on the terrace.
Details and more about UP Shanghai here.
Wolfgang's Steakhouse
An international franchise known for top grade dry aged USDA prime beef. Top-grade steaks cooked in butter served table side, an excellent wine list to match, and stellar service. For when you want to splurge on meat.
Details and more about Wolfgang's Steakhouse here.
Book this restaurant now!