Halfway through 2019, here are the four new restaurants in Shanghai worth their salt.
Average check listed below is food only, not including drinks.
---
Nakama (Closed November 2019)
Address: 283 Taiyuan Lu, near Jianguo Xi Lu 太原路283号, 近建国西路
Tel: 54666260
Hours: Tue-Sun 6-11pm, closed Monday
Average check: ¥600
What is it?
Nakama (烧肉火伴) is a Japanese yakiniku restaurant in Shanghai that's all about dry-aged premium wagyu beef, cooked over binchotan (white charcoal). They also serve a bit of sashimi, some izakaya, and some rice dishes. It's a small and intimate space that seats up to 25, of which 13 are around the counter.
The main attraction here is dry aged Australian and American wagyu, mostly striploin and rib eye cuts with a marble scoring of either M7 or M9.
Why it makes the list
Nakama is unpretentious, and instead of relying on heavy promotions or media exposure, it's building their loyal clientele the old fashioned way—good food, good service, and patience. Excellent ambiance.
The dry-aged meats are exceptional and aren't exorbitantly priced. Plus, the price-friendly izakaya bites level out the meal (and the average check). Order individual cuts or leave it up to laoban to customize a selection of cuts.
Read the full write-up of Nakama here.
---
Polux
Address: No. 5, Xintiandi North Block, 181 Taicang Lu, near Huangpi Nan Lu 太仓路181弄5号新天地北里, 近黄陂南路
Tel: 63339897
Hours: Tue-Sun 10am-10pm
Average check: ¥350
What is it?
Polux is an all-day dining French café/bistro by Paul Pairet in Xintiandi, Shanghai.
This is Paul's interpretation of the archetypal French café, but with influences around the world with breakfast and brunch as its cornerstones. Dinner is more country-style bistro food and draws from Mr & Mrs Bund's French dishes, with the plating and design of the former Chop Chop Club, with plenty of dishes echoing signatures and favorites from the two. It even borrows from Ultraviolet. Simplified, of course.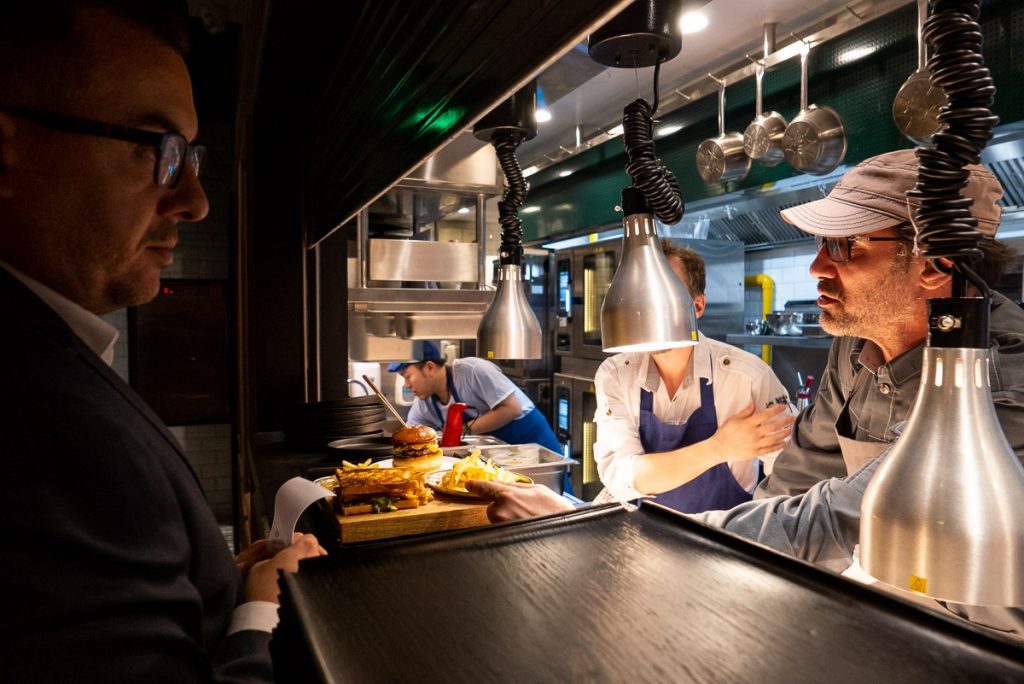 Why it makes the list
I want to eat at Polux every day.
That's exactly what Paul Pairet envisioned for Polux—some place you'd want to and can go to every day. Some people I know go weekly. Myself, as often as possible.
How Polux functions is remarkable from the operations point of view. Here's why: four menus with more than 150 dishes/items of extremely high quality served in a high-traffic destination. The dishes are made to order, using high-quality ingredients. I can't think of any other restaurant in Shanghai that does it this well.
It's Mr & Mrs Bund and former Chop Chop Club food with a casual twist. And so what if those are rehashed signatures on smaller plates? Those dishes are great, and you don't need to journey to the Bund.
Polux is familiar, instantly likeable, comforting, and satisfying. It removes complexity but without sacrificing depth.
Ratings on review sites are less than favorable. Polux had a tough opening week—it was a highly anticipated venue and they got slammed with people who obviously wanted to order everything, then nitpicked about food they're incapable of making themselves. Well, bugger that. Y'all try opening and running a restaurant.
Oh, and here's a retraction: In my article I made a comment that the coffee is expensive. Let me redact that to say it isn't—not for Xintiandi and not for a place that isn't a cubbyhole coffee shop. Plus, it's good coffee.
Read the full write-up of Polux here.
---
Heritage by Madison
Address: 1/F, 600 Zhongshan Dong Er Lu, near Longtan Lu 中山东二路600号1楼, 近龙潭路
Tel: 63129089
Hours: 12pm-10pm
Average check: ¥350
What is it?
Heritage by Madison is the long-awaited manifestation of Austin Hu's prowess and diverse knowledge of cuisines. It's western, twisted with Asian and Chinese flavors like soy sauce, Sichuan peppercorns, and yuzu. It's essentially Austin's heritage served on a plate.
It resides at the Bund Financial Center, housed in a handsome space with a bar and counter seating facing the open kitchen.
Dishes range from "exploding with flavor" (see: beef tartare) and "sometimes less is more" (see: bavette, salmon). The menu caters for the wide range of diners, who are as picky as they come.
The menu is updated often and there are plenty of off-menu specials (just ask your server), and it's most certainly a chef-driven restaurant.
Why it makes the list
It's bold flavors, simple (read: not unnecessarily fancied up plating), easily likeable, and comforting. The food has its own identity and stands on it's own, and is very Austin. Really though, ask about those specials.
I really like this kind of food. Most of the dishes I like at Heritage usually require a day's prep of fasting, and then a double espresso to wash it down.
Now, this isn't a fine dining establishment, though it looks snazzy. If you want to be waited on hand and foot, expecting pizzazz, you're looking at a higher average check and white tablecloths.
Heritage is still in its early stages, having just celebrated their grand opening. Brunch to come soon.
Read the full write-up of Heritage by Madison here.
---
Wolfgang's Steakhouse
Address: 1/F, Sinar Plaza, 588 Dongchangzhi Lu, near Xinjian Lu东长治路588号白玉兰广场1楼,近新建路
Tel: 55829715
Hours: 11:30am-10:30pm
Average check: ¥1,200
What is it?
Wolfgang's Steakhouse is an international franchise known for top-grade dry-aged USDA prime beef. The Shanghai outpost opened at the end of 2018, making it the brand's second location in China following the Beijing 2017 outpost. The steakhouse has 11 locations worldwide and counting.
Located across the W Shanghai, Wolfgang's Steakhouse is massive, seating up to 200 people. It has a steady stream of regulars and is usually busy. Their crowning glory is the 1.5kg bone-in porterhouse for ¥1,600. Service charge is 10%.
Why it makes the list
Who doesn't love a good steak? (Vegetarians and vegans please don't answer that.)
Wolfgang's is expensive, but you have to look at it as a whole. They've invested (or have investors) who import the stuff from the US and have a large walk-in dry-aging unit onsite. Service is impeccable. The waitstaff work the dining room with the refined mannerisms befitting a place of this stature, all the while toting scalding hot plates of butter-sizzling steaks to serve table side.
In my write-up I stressed that "there are people who eat for sustenance, and there are people who eat for the experience." Wolfgang's is the latter.
In the end, it hangs on the occasion: If you want to buy USDA beef from CitySuper and cook it on your iron cast pan (if you have one), spend ¥100 for a fairly decent Argentinian steak at el Bodegon, or get high on a preciously marbled dry-aged Porterhouse at Wolfgang's.
Read the full write-up of Wolfgang's Steakhouse here.
Book this restaurant now!