One thing is certain, there is no shortage of gelato and ice cream shops in Shanghai. Looking for the best scoops of ice cream or takeaway tubs for all occasions? This list will have you sorted.
From Italian gelato to classic American style, featuring single origin chocolate, matcha, funky flavors, froyo, and more. Plus, plenty of new flavors from old favorites.
Gelato Dal Cuore
Gelato Bello
Azabuya
KESSHŌ 
Luneurs
Mimilato
Dip In Gelato
Bonus
Gracie's
Buco
Spoooon
Dallatte Gelato
Pint Club Gelato
Flying Flamingo
---
Gelato Dal Cuore
Address: 600-9 Shaanxi Bei Lu, near Xinzha Lu 陕西北路600-9号, 近新闸路
Tel: 61481388
Hours: 12pm-9pm
Gelato Dal Cuore's excellent quality gelato has garnered some serious fandom from gelato addicts. It's known for inventive seasonal flavors, one-day specials (like the Durian Musang King), and Singaporean/Malaysian-inspired creations, all of which are made on-site. It's my favorite gelato place, and I order them by the tub as often as I can.
They do some truly creative combinations with flavors that really pop like the Shanghai Scallion Noodle (holey moley, does it taste like 葱油拌面) as well as classics of Salted Caramel, Amarena Cherry, and Chocolate Fondant 72%. This season's must-try new flavors include Avocado Coconut Gula Melaka, Rice Wine, and the savory Mozzarella.  
How Much: ¥38 for a double scoop, ¥48 for a triple scoop, to-go tubs are ¥160/500g, ¥240/800g. Available on Eleme.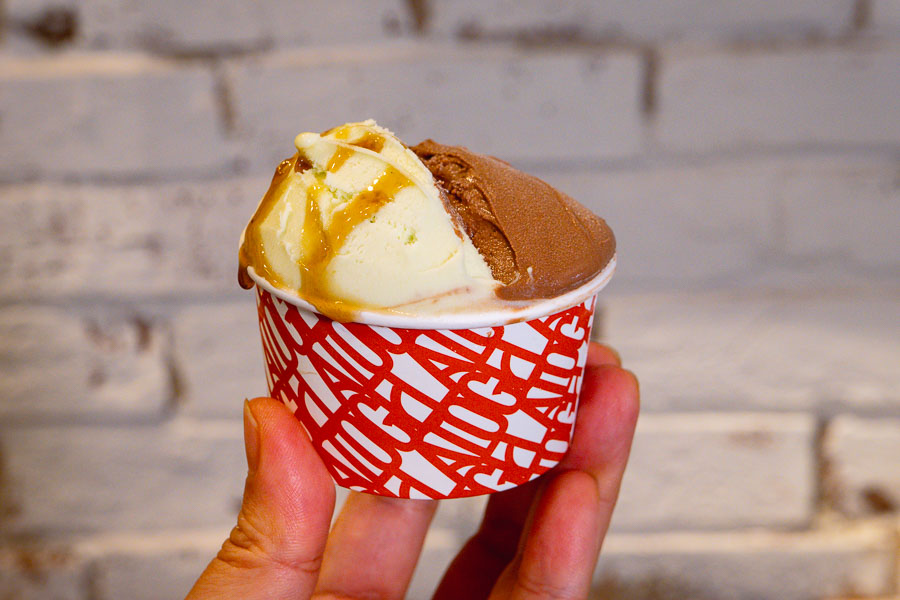 ---
Gelato Bello
Address: 126 Yongkang Lu, near Xiangyang Nan Lu 永康路126号, 近襄阳南路
Tel: 15692192026
Hours: 11am-9:30pm
Newly opened on the quieter end of Yongkang Lu is Gelato Bello, a tiny hole-in-the-wall serving some pretty darn good gelato. It's run by husband and wife team, Alberto Lova (Italy) and Gabbrielle Wang (China), who've set aside time from their day jobs to pursue the joy of gelato making.
There are 10 flavors available; the house favorite is the coffee liquor and Sicilian pistacchio. The eye-popper is the 97% dark chocolate, which I really like. It's bittersweet, and I could eat a tub of it. You should also try the salty butter & caramel. It's different than other salted caramels in town, and you can really taste the butter in each bite. 
How Much: ¥40 for two flavors, ¥50 for three, available in a cone, takeaway cup, or chilled glassware (if you're finishing your gelato in-store). Takeaway tubs are ¥148 for 500g, two flavors.
---
Azabuya
Address: 313-315 Wulumuqi Zhong Lu, near Fuxing Zhong Lu 乌鲁木齐中路313-315号, 近复兴中路
Tel: 16621383917
Hours: 10am-10pm
Address: LG2, Taikoo Hui, 789 Nanjing Xi Lu, near Weihai Lu 南京西路789号兴业太古汇LG2层, 近威海路
Tel: 62242207
Hours: 11am-10pm
Azabuya is a Japanese cafe and ice creamery that's all about MATCHA! It's possibly the best matcha ice cream I've had in Shanghai.
If you like matcha ice cream, you'll be pleased that to find that they have 3 intensities of matcha on offer. Level 1 matcha is good, but Level 3 matcha is amazing. Though, one whole serving of Level 3 matcha is lot to handle. They also have flavors of cookies and cream, black sesame, black chocolate, raspberry, etc. 
Azabuya actually opened its first location in 2017 at Kerry Parkside Pudong. But this is the first I've heard of it! They have two locations, the tiny cafe on Wulumuqi Lu location where they have ice cream, crepes, and galettes, and a bigger space in Taikoo Hui, where they serve a full menu of noodles, soups, and rice dishes.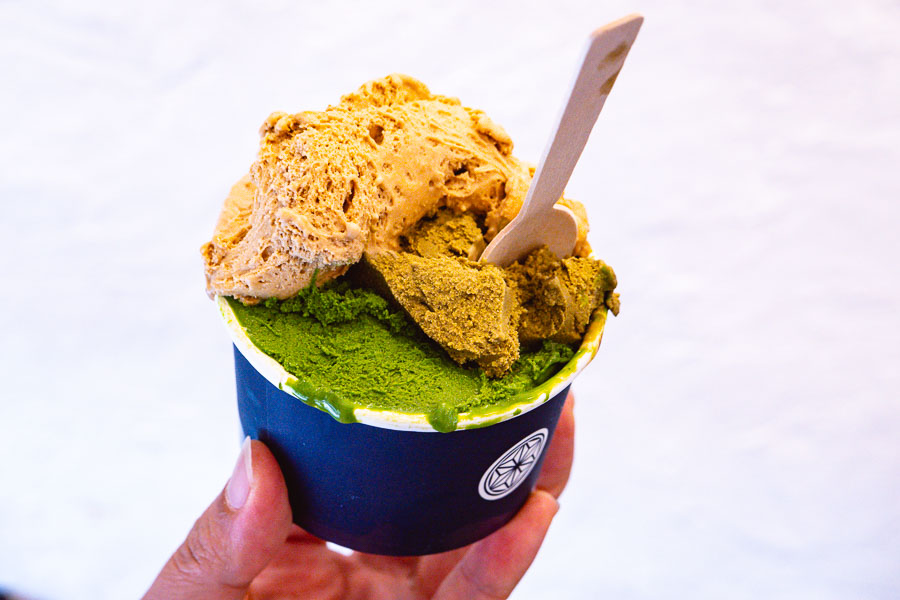 How Much: ¥34 for a double, ¥38 for three, and ¥40 for two in a cone.
---
KESSHO
Address: No. 104, Bldg 3, 358 Kangding Lu, near Shaanxi Bei Lu 康定路358号3幢104室, 近陕西北路
Tel: 62889128
Hours: 10am-8pm
Boutique chocolatier KESSHŌ added ice cream to their repertoire earlier this year, highlighting their bean-to-bar single origin cacao in icy form.
KESSHŌ's Cacao Voyage is a flavor journey through their single origin cacaos, featuring ice creams made with 70% Tanzanian, 58% Tanzanian, 90% Ghanaian, and 70% Ugandan cacao beans. My favorites are the 70% Tanzanian and the 90% Ghanaian, both luxuriously rich with bold chocolate flavors.  
How Much: The box set is ¥192 and has eight cups (80g each). Get them in-store for ¥28/single, ¥38/double. Also available for delivery via their mini-program.
---
Luneurs
Huashan Lu: 888 Huashan Lu, near Wukang Lu 华山路888号, 近武康路
Tel: 18221541460
For other locations, check their WeChat official account or mini-program.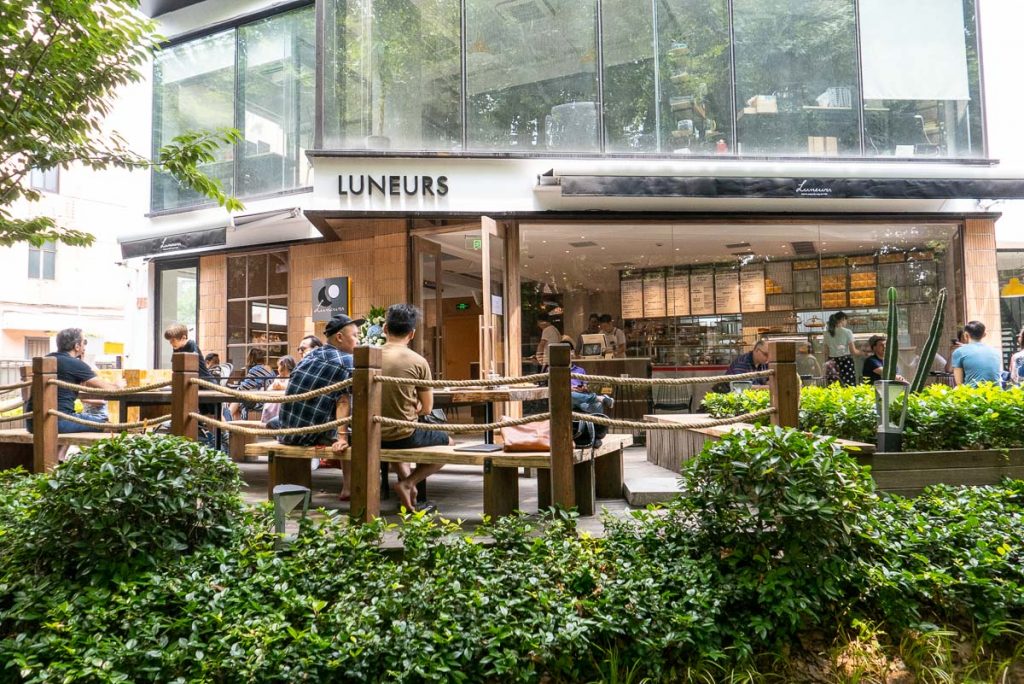 Luneurs Boulanger & Glacier is an uber-popular French bakery and ice cream shop. The counter display of baked goods, streams of strong quality coffee, and artisan ice creams are all cause for their success. That, and their devotion to providing quality products. They now have 13 locations! I like going to the Huashan Lu location, especially when I can get a seat on the terrace. 
Their signature flavors are salted caramel, chocolate, and vanilla. New flavors coming soon: coconut pandan, banana lychee sorbet, and cherry sorbet.
How Much: ¥35 for a single scoop, ¥50 for double scoop. Plus, you can order tubs for delivery, ¥168/438g via their mini-program.
---
Mimilato
Address: 1251 Changle Lu, near Huashan Lu 长乐路1251号, 近华山路 
Tel: 17317619656 
Hours: 12pm-9pm
Mimilato is a hole-in-the-wall shop on Changle Lu that specializes in flavors that utilize ingredients sourced from around China. They have about ten ice creams and sorbets that rotate seasonally, including Wanpee (a fruit from Guangxi), fermented tomato sorbet, fig and Tokaj Hungarian sweet wine, porcini (mushrooms from Yunnan), stracciatella with mint and chocolate, and more. 
How Much: ¥35 for two flavors, ¥50 for three, add ¥10 for a cone. Boxes are ¥180.
---
Dip In Gelato
Address: 205 Fumin Lu, near Julu Lu 富民路205号, 近巨鹿路
Tel: 18901970512
Hours: Tue-Sun, 12:30pm-10pm
Address: 644 Weihai Lu, near Maoming Bei Lu 威海路644号, 近茂名北路
Tel: 18041104119
Hours: 12pm-9pm
In addition to their tiny store on Fumin Lu, Dip in Gelato has now expanded to include a second location on Weihai Lu.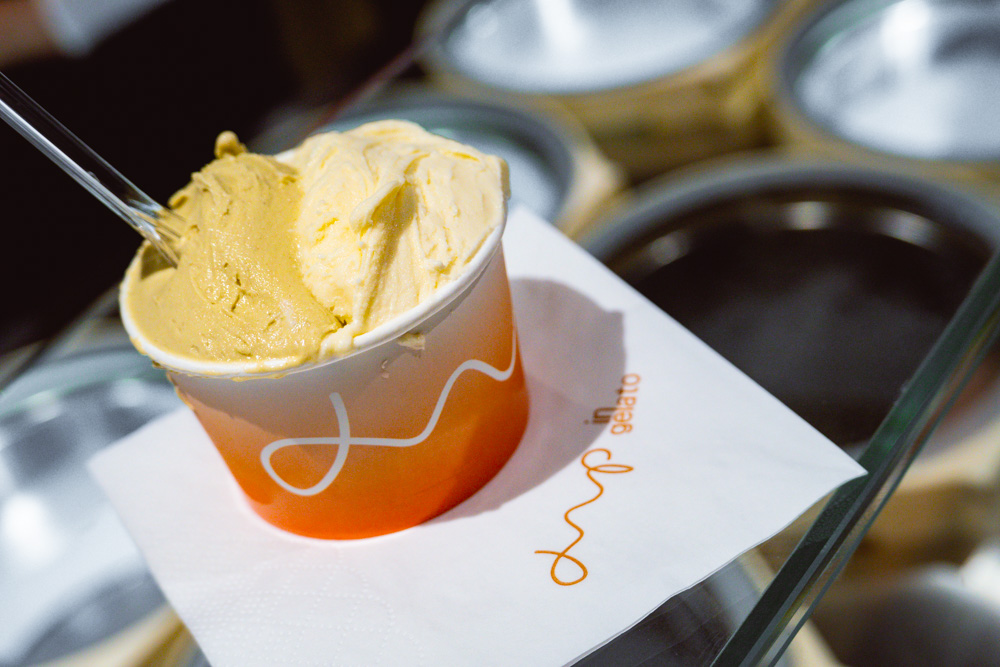 They do small batches of often funky combinations and obscure flavors that rotate seasonally, including green apple and dill, baobab, Hokkaido white wine and white chocolate, black sesame and ginger, and pineapple-lime-cactus. They have the standards, too (pistachio, pistachio, chocolate) and also do sugar-free and vegan sorbets. 
How Much: ¥35 for two flavors, ¥45 for three in a cup; ¥40 for two flavors in a cone. Takeaway tubs are ¥120/350g, ¥135/380g, and ¥160/500g.
---
Bonus
Address: 243-3 Wulumuqi Zhong Lu, near Wuyuan Lu 乌鲁木齐中路243-3号, 近五原路
Tel: 17316580877
Hours: 11am-9:30pm
Cornerstone ice cream shop Bonus does some inventive and bold flavors, mixing in things like peppercorn, salted egg yolk, coconut and papaya, and cheese with fig. Some also have a touch of alcohol. Flavors rotate.
How Much: Single scoops start at ¥25/single scoop, two scoops from ¥40.
---
Gracie's Ice Cream
Address: 204 Xinle Lu, near Donghu Lu 新乐路204号, 近东湖路
Tel: 54651259
Hours: 9am-10pm
Gracie's does American-style ice creams, stocking classic flavors like Cookies & Cream, Cookie Dough, and Mint Chocolate Chip, and Banana Speculoos Cookie, as well as London Fog and Black Sesame. Get it in-store at Al's Diner.
How Much: ¥30/single scoop, ¥50/two, ¥90/pint.  Also available via delivery.
---
Buco
Address: 20 Donghu Lu, near Huaihai Zhong Lu 东湖路20号, 近淮海中路
Tel: 33565118
Hours: 11:30am-midnight
Buco is an ice cream window attached to Alimentari Grande. There are eight flavors, including pistachio, hazelnut, chocolate (non-dairy), blueberry or Amarena. Single scoop for ¥25, two for ¥40. Favorite: pistachio.
Pro-tip: Sign up as a Popolo Group member on WeChat, the restaurant group does kickbacks with their point collection system.
---
Spoooon
Address: 59 Yongjia Lu, near Xiangyang Nan Lu 永康路59号, 近襄阳南路
Tel: 54109870
Hours: 8:30am-10pm
Located on Yongkang Lu, Spoooon does frozen yogurt, plain yogurt and fresh Greek yogurt with all the toppings of nuts, sweets and fruits. I actually like their Greek yogurt the most—it's way cheaper than the store bought variety, and according to them, it's made fresh. Their frozen yogurt is pretty good, too.
How Much: Froyo is ¥18 per cup sans toppings, tubs of 250ml for ¥39, 500ml for ¥73, and 1L for ¥142. Available via delivery.
---
Dallatte Gelato
Address: 170-3 Jiashan Lu, near Yongjia Lu 嘉善路170-3号, 近永嘉路
Tel: 13918063862
Hours: 10am-10:30pm
A small gelateria serving up to a dozen flavors at any given time. Among their best sellers are pistachio and hazelnut. I tend to go for the lemon sorbet.
How Much: Tubs are ¥180/500g. Available via delivery.
---
Flying Flamingo
Bang: 1/F, Grand Gateway, 1 Hongqiao Lu, near Huashan Lu 虹桥路1号港汇广场1楼, 近华山路
Tel: 64473808
Hours: 9am-10pm
Mr Willis: 3/F, 195 Anfu Lu, near Wulumuqi Lu 安福路195号3楼, 近乌鲁木齐路
Tel: 54040200
Hours: 11am-11pm
Henkes: 1/F, Reel Mall, 1601 Nanjing Xi Lu, near Changde Lu 南京西路1601号1楼, 近常德路
Tel: 32530889
Hours: 11am-11pm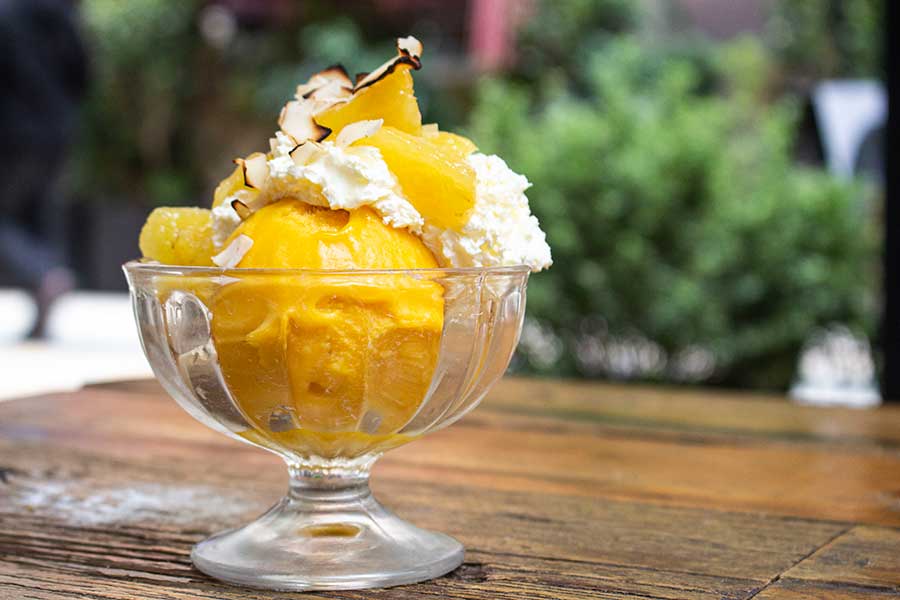 Flying Flamingo is Willis & Co's own brand of ice cream. Find it at Mr Willis (mango-passionfruit-pineapple ice cream and Rocky Road), Bang (sundaes with salted caramel, chocolate, and mango) and Henkes (red peach; white rum, passionfruit and lychee, and pistachio and grapefruit). Best place to have it is probably Henkes and BANG Grand Gateway, which have a nice terraces/outdoor seating.
---
Pint Club Gelato
Small batch brand Pint Club does creamy gelatos and dairy-free icy treats in personal-sized cups and tubs. You can find it at Xime, Homeslice 158 and Shankang Li, and Tiger Bites, or order via their mini-program "Pint Club Gelato". There are four flavors: salted vanilla, salted caramel, earl grey and blackberry, and strawberry black pepper. 
How Much: ¥98 for a 330g tub or ¥168 for six cups (85g each).