A list of some of the best Japanese restaurants in Shanghai that do fantastic omakase menus, ones that I frequent and keep going back for more.
---
I love a good omakase meal.
It's the satisfaction of being able to sit at the counter to watch the exceptional mastery and art behind sushi and sashimi making. There's also the lighthearted banter, the cheeky toasts of sake, and the dynamics of my dining companions that truly make it a memorable meal.
I also find that the omakase experience gets better the more I go. Getting to know your sushi master is similar to getting to know your bartender, and familiarity does add to the experience.
Without further ado, here are seven restaurants for you to bookmark.
Note: Ingredients change based on availability and season.
Ochiyo
Ochiyo 1710
Hulu Sushi 葫芦寿司
Kappo Yu 鮨割烹·遊
Sushi Naoki 鮨直輝
Machiya 町家
Sangou 三合
---
Ochiyo
Address: 1285 Huaihai Zhong Lu, near Baoqing Lu 淮海中路1285号上方花园55号, 近宝庆路
Tel: 15800349060
Hours: Mon-Sat, 5:30pm-10:30pm (lunch upon request)
Ochiyo 1710 is great, but Ochiyo is even better. It's where you'll find chef Sun-San behind the counter, and it's a step above in terms of experience and sushi cuts. Every dinner is different, from seasonal baby eels that are only available for a couple weeks to whole slabs of top-grade tuna fresh off the plane from Japan.
Sun-San is also from the Oyama school and spent his formative years doing kaiseki at Ochobo (now closed). Ochiyo is located in the 上方花园 compound in a lanehouse. He also runs a small import company, which is how he is able to get some lesser-seen Japanese ingredients.
Kaiseki is a multi-course meal, and the more noticeable differences (if you're not a sushi snob) are the inclusion of multiple techniques used in the creation of a kaiseki menu. This includes courses of amuse bouche and soups, grilled and simmered dishes, tempura, etc. It's not just nigiri sushi and sashimi.
Omakase at Ochiyo is ¥1,280 per person.
---
Ochiyo 1710
Address: 1710 Huaihai Zhong Lu, near Gao'an Lu 淮海中路1710号, 近高安路
Tel: 18301714918
Hours: Tue-Sun, 11:30am-1:30pm, 5:30pm-10:30pm
Ochiyo 1710 houses three concepts, a section each for omakase, yakitori, and yakiniku. It's helmed by chef Sun-San, who also runs Ochiyo (see next restaurant). The omakase dinner (¥1,280) is excellent, but I also highly recommend going for lunch, which is a steal for ¥680. I wrote about it recently here.
The interiors are sleek and refined with hardwood floors, textured stonewalls, lacquered countertops, and quirky artwork. The omakase bar seats 10. Lunch was mostly nigiri based with a couple hot dishes and sashimi in between the sushi.
Omakase at Ochiyo 1710 is ¥680 for lunch, ¥1,280 for dinner.
---
Hulu Sushi 葫芦寿司
Address: No. 101, 110 Xingfu Lu, near Fahuazhen Lu 幸福路110号101单元, 近法华镇路
📞 13501689458
🕒 Mon-Sat, 6pm-11pm
Hulu Sushi is a 12-seater omakase restaurant located within Pirata on Xingfu Lu. These two restaurants are symbiotic, as they are after all, run by a husband and wife team. Both restaurants just reopened this August, previously located in Columbia Circle.
Chef/owner Liu-San founded Hulu Sushi in August 2018. Before that, had spent seven years as a sous chef at Sushi Oyama, a wildly popular omakase restaurant in Shanghai. Oyama has long since closed but is still talked about to this day as a barometer of excellence. (Coincidentally, three other restaurants on this list are headed by chefs who come from the Oyama school of sushi.)
While Liu-San's style inevitably shows echoes of Oyama, he has really come into his own. His is a steady paced meal accented with flavor bombs like torched toro crowned with uni and the layering of ebi, scallop, and even more sea urchin. And he's also quite the entertainer.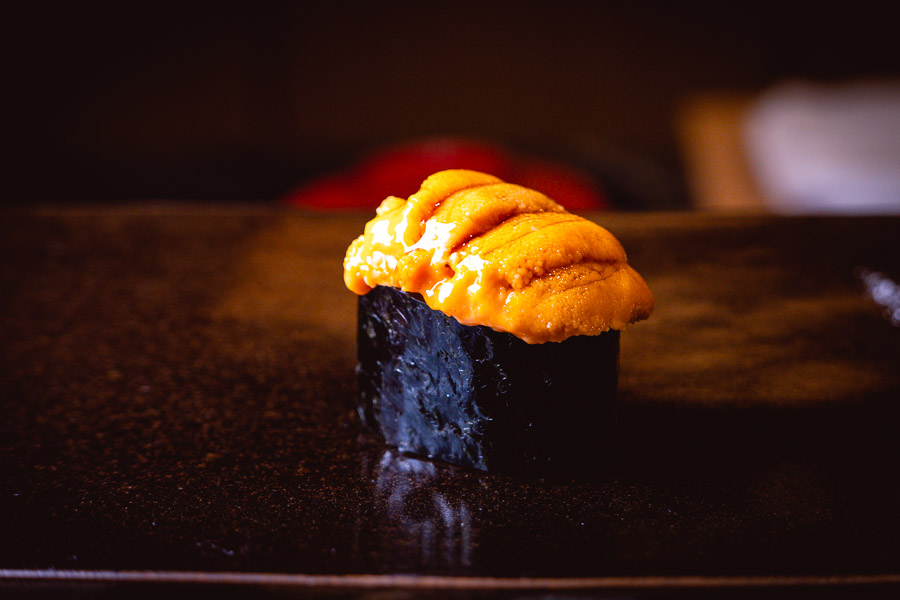 Omakase at Hulu Sushi is ¥1,080 per person.
---
Machiya 町家
Address: 228 Wuding Lu, near Changhua Lu 武定路228号, 近昌化路
Tel: 62999303
Hours: Mon-Sat, 11:30pm-2pm, 5:30pm-10pm
Nestled between a few no-name stores in a sleepy corner of north Jing'an is Machiya, a casual Japanese restaurant helmed by Ichinohe Naoki, a humble yet impressionable baseballer-turned-chef from Tokyo. He's been plying his skills at Machiya since it opened in 2017; before that he was the sous chef at the Japanese restaurant in the Moller Villa.
The restaurant has a 12-seater bar, private rooms, and booths in the main dining room. Though, you really want to get a seat at the counter.
Machiya also strives to serve omakase at an affordable price. There are two menus available for ¥880 or ¥1,280.
I have to admit I haven't been here in a while, but my previous visits have been more than memorable. As I understand it, Machiya is still going strong! These photos are from a while back:
Wagyu beef wrapped around sweet shrimp topped with sea urchin.
Omakase at Machiya is ¥880 or ¥1,280 per person.
---
Kappo Yu 鮨割烹·遊
Address: 33 Wuxing Lu, near Huaihai Zhong Lu 吴兴路33号, 近淮海中路
Tel: 64667855
Hours: Mon-Sat, 6pm-11:30pm
Kappo Yu is the longest standing omakase restaurant I know of, at least one that is located downtown. It opened in 2010, almost immediately after Sushi Oyama burst onto the scene. Kappo Yu does kaiseki style, led by Niu-San, who is also from the Oyama school. He's been at the helm since 2018.
It's a small restaurant with a bright red counter that snakes around the centerstage. There are a plus a couple private rooms, too.
Fun fact: The quirky projections that run on the back wall throughout the meal are developed by founder Hirano Naoya, theatrics that later inspired the creation of Anthologia, an immersive theatre-style Japanese restaurant.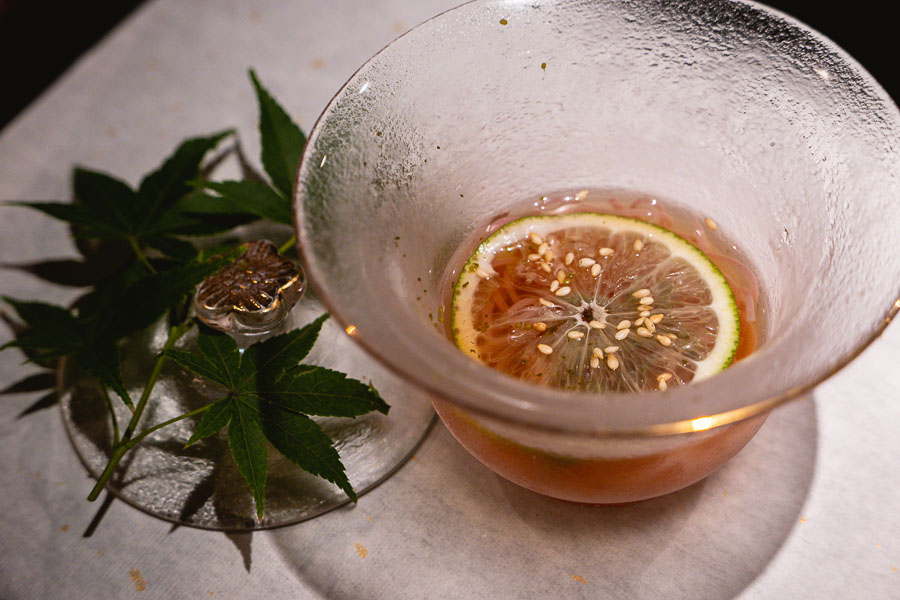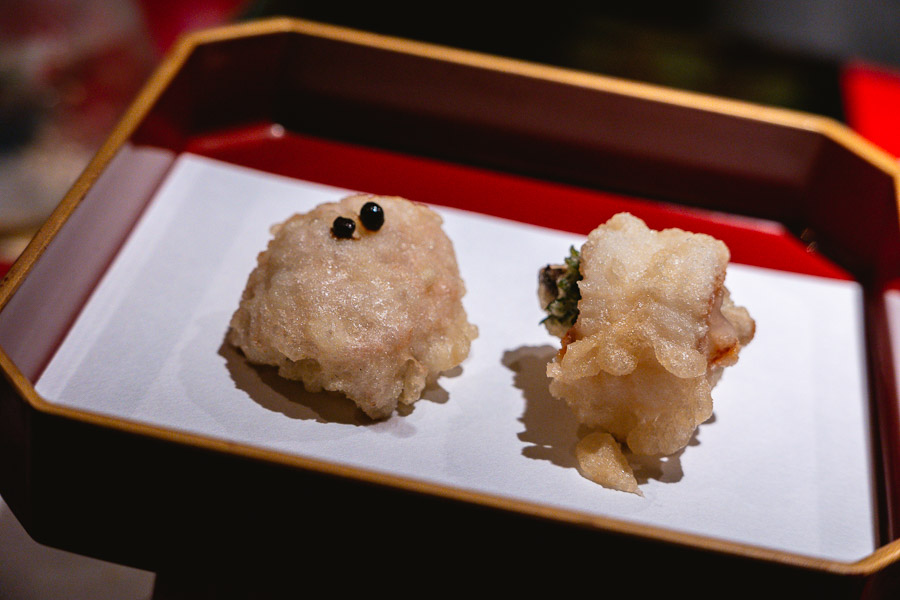 Omakase at Kappo Yu is ¥1,100 per person.
---
Sushi Naoki 鮨直輝
Address: 虹梅路3911号10号楼, 近延安西路
Tel: 54730595, 18121390595
Hours: Mon-Sat, 6pm-11pm
Address: 46 Yancheng Lu, near Xizang Nan Lu 盐城路46号, 近西藏南路
Tel: 63120655
Hours: Mon-Sun, 5:30pm-11pm
There are two outposts of Sushi Naoki, one in Gubei and another in Huangpu district. It's run by chef Kevin Lin, a Taiwan-native who spent the last 20-odd years honing his craft.
He does a high-end brand of omakase, and uses premium ingredients like Triton's trumpet sea snail, abalone, puffer fish milt, and sujiko kasuzuke in his menu. I've been going to Chef Kevin as far back as 2017.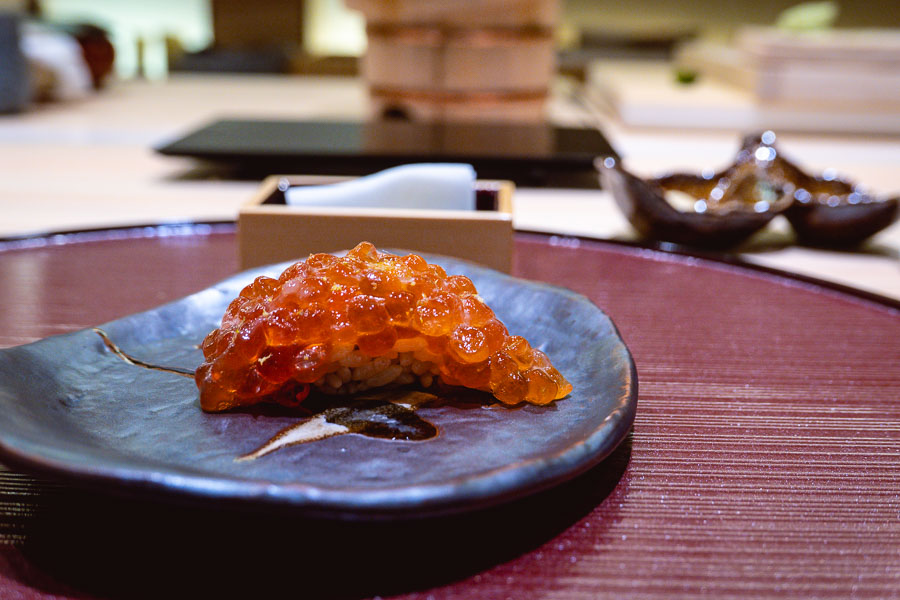 Omakase at Sushi Naoki is ¥2,500.
---
Sangou 三合
Address: 1/F, Renaissance Shanghai Yangtze Hotel, 2099 Yan'an Xi Lu, near Zunyi Nan Lu 延安西路2099号, 上海扬子江丽笙精选酒店1楼, 近遵义南路
Tel: 62299398, 18049964439
Hours: Daily, 5pm-2am
Sangou is a creative high-end Japanese restaurant in Gubei. It's a three-pronged concept, serving omakase, yakitori, and tempura. Here, you can get two kinds of omakase: sushi and tempura.
They also do a non-traditional brand of omakase, leaving room for exploration and inclusion of Chinese flavors, for example, by serving Cantonese-style broths in place of miso soup. Other slight tweaks are peppered throughout the menus.
Traditionalists might balk at the idea of straying from the tried and true ways of sushi, but Sangou is keen to swim against the flow to set themselves apart. Leading this charge is Chef Xiong for sushi and Executive Chef Chef Ben Kwong on tempura.
Click here to read more about the omakase sushi.
Like the sushi selection, the ingredients used in the tempura menu changes based on season and what's available. Sangou does the premium stuff, using ingredients like ginseng, king crab, shirako, and monkfish liver.
Omakase sushi starts from ¥1,880 and tempura is ¥1,380 or ¥1,680.