​Summer is hot. That means we get to feel less guilty about cooling down with ice cream, right? Ice cream, gelato, sorbet, frozen yogurt… here's where to get the best in Shanghai.
Gelato Dal Cuore
Address: 600-9 Shaanxi Bei Lu, near Xinzha Lu 陕西北路600-9号, 近新闸路
Tel: 61481388
Hours: 12pm-9pm
Gelato Dal Cuore's excellent quality gelato has garnered some serious fandom from gelato addicts. If I lived closer, I'd be there daily. Known for its Instagrammable gelato peaks, funky seasonal and sometimes one-day only specials (like the Musang King and Pandan), theirs is one of the best in town, all made onsite.
Local touches like Oolong and Sichuan Peppercorn alongside classics of Salted Caramel and Amarena Cherry. You might have also seen their EARTH flavor, a vegan ice cream of coconut milk and oat milk making rounds on social media since conception in April 2021.
It's ¥35 for adouble scoop, ¥48 for a triple scoop, to-go tubs are ¥160/500g, ¥240/800g. Available via delivery. Favorites: Chocolate or Fig and Mascarpone.
---
Pint Club Gelato
Address: 394-3 Wulumuqi Nan Lu, near Zhaojiabang Lu 乌鲁木齐南路394-3号, 近肇嘉浜路
Hours: 11am-9:30pm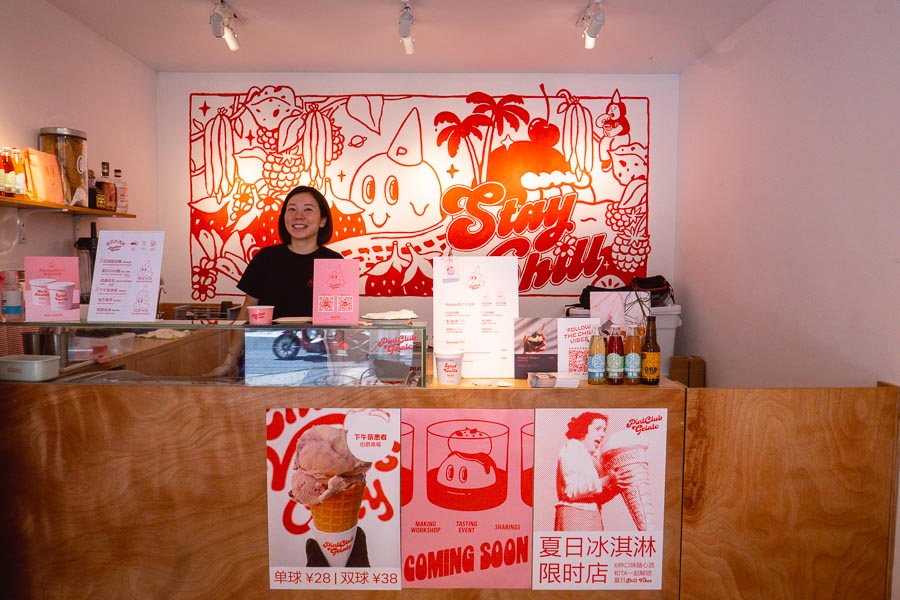 Small batch ice cream brand Pint Club Gelato by designer-turned-gelato maker Hang Lo now has a brick-and-mortar pop-up store for the summer. They'll be scooping at Wulumuqi Nan Lu until the end of October. You'll find creamy gelatos like the strawberry and black pepper and the signature Earl Grey & Blackberry (totally bomb). There are also dairy-free options like the super sour salted calamansi and the PB&J.
Single scoop is ¥28, double ¥38, cone or cup. The store also has small and large tubs to-go.
---
Luneurs
Huashan Lu: 888 Huashan Lu, near Wukang Lu 华山路888号, 近武康路
Tel: 17721234052
Luneurs Boulanger & Glacier is an uber-popular French bakery and ice cream shop. The counter display of baked goods, streams of strong quality coffee, and artisan ice creams are all cause for their success. That, and their devotion to providing quality products. They now have EIGHT locations! (I like to go to the Huashan Lu location when I can get a seat on the terrace.) For other locations, follow their WeChat official account.
Four flavors, including salted caramel with caramel biscuit, dark chocolate with caramelized almonds, strawberry and mint sorbet, and peanut with feuilletine and peanut sauce (special flavor for their 3rd anniversary) available at all locations. Plus, two additional flavors: vanilla with cookie and passion fruit sorbet available at iapm, One ITC, MixC and Hengfu locations.
It's ¥30 for a single scoop, ¥45 for double scoop. Favorites: dark chocolate and salted caramel.
---
Dip In Gelato
Address: 205 Fumin Lu, near Julu Lu 富民路205号, 近巨鹿路
Tel: 18901970512
Hours: Tue-Sun, 12:30pm-10pm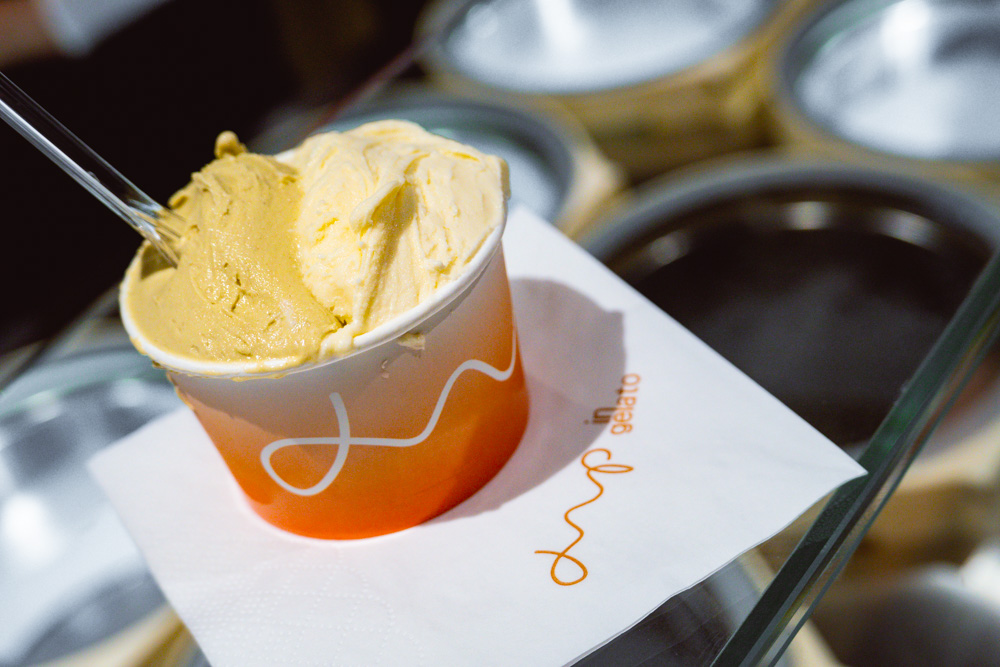 A shoe-box of a gelateria on Fumin Lu, Dip in Gelato does small batches of often funky-flavored gelato. The menu changes seasonally. They have some standards (pistachio, hazelnut) but also sugar-free and vegan sorbets, zabaione (1.1% alcohol content and tastes excellent), Earl Grey Cheesecake (also excellent), malted milk white coffee, and one with camomile and chardonnay.
Cups are ¥35 for two flavors or ¥45 for three; cones are ¥40 for two flavors. Takeaway tubs are ¥120/350g, ¥160/500g.
---
Bonus
Address: 243-3 Wulumuqi Zhong Lu, near Wuyuan Lu 乌鲁木齐中路243-3号, 近五原路
Tel: 13764212399
Hours: 11am-9pm
What was once a seasonal pop-up is now a cornerstone of Wulumuqi Lu. Bonus has some inventive and bold flavors, mixing in things like peppercorn, salted egg yolk, coconut and papaya, and cheese with fig. Some also have a touch of alcohol. Flavors rotate. Single scoops start at ¥25/single scoop, two scoops from ¥40.
---
Gracie's Ice Cream
Address: 204 Xinle Lu, near Donghu Lu 新乐路204号, 近东湖路
Tel: 54651259
Hours: 9am-11pm
Gracie's Ice Cream is the longest running artisan ice cream shop in Shanghai, run by the same people behind Al's Diner. They stock classic American flavors and creative combinations like Cookie Dough, Mint Chocolate Chip, Earl Grey, Black Sesame, and more. They also release seasonal specials like Pumpkin Spice, passion fruit sorbet, etc. This year's specials: Raspberry and lychee sorbet, milk and honeycomb ice cream, and rum raisin.
¥30/single scoop, ¥50/two, ¥90/pint. Pick up pint tubs and takeaway cups at Al's Diner on Xinle Lu, also available via delivery.
---
Buco
Address: 20 Donghu Lu, near Huaihai Zhong Lu 东湖路20号, 近淮海中路
Tel: 33565118
Hours: 11:30am-midnight
Buco is an ice cream window attached to Alimentari Grande. There are eight flavors, including pistachio, hazelnut, chocolate (non-dairy), blueberry or Amarena. Single scoop for ¥25, two for ¥40. Favorite: pistachio.
Pro-tip: Sign up as a Popolo Group member on WeChat, the restaurant group does kickbacks with their point collection system.
---
Spoooon
Address: 59 Yongjia Lu, near Xiangyang Nan Lu 永康路59号, 近襄阳南路
Tel: 18121256677
Hours: 8:30am-10pm
Located on Yongkang Lu, Spoooon does frozen yogurt, plain yogurt and fresh Greek yogurt with all the toppings of nuts, sweets and fruits. I actually like their Greek yogurt the most—it's way cheaper than the store bought variety, and according to them, it's made fresh. Their frozen yogurt is pretty good, too.
Froyo is ¥18 per cup sans toppings, tubs of 250ml for ¥39, 500ml for ¥73, and 1L for ¥142. Available via delivery.
---
Dallatte Gelato
Address: 170-3 Jiashan Lu, near Yongjia Lu 嘉善路170-3号, 近永嘉路
Tel: 13918063862
Hours: 10am-10:30pm
A small gelateria serving up to a dozen flavors at any given time. Among their best sellers are pistachio and hazelnut. I tend to go for the lemon sorbet. Tubs are ¥180/500g. Available via delivery.
---
Flying Flamingo
Bang: 1/F, Grand Gateway, 1 Hongqiao Lu, near Huashan Lu 虹桥路1号港汇广场1楼, 近华山路
Tel: 64473808
Hours: 9am-10pm
Mr Willis: 3/F, 195 Anfu Lu, near Wulumuqi Lu 安福路195号3楼, 近乌鲁木齐路
Tel: 54040200
Hours: 11am-11pm
Henkes: 1/F, Reel Mall, 1601 Nanjing Xi Lu, near Changde Lu 南京西路1601号1楼, 近常德路
Tel: 32530889
Hours: 11am-11pm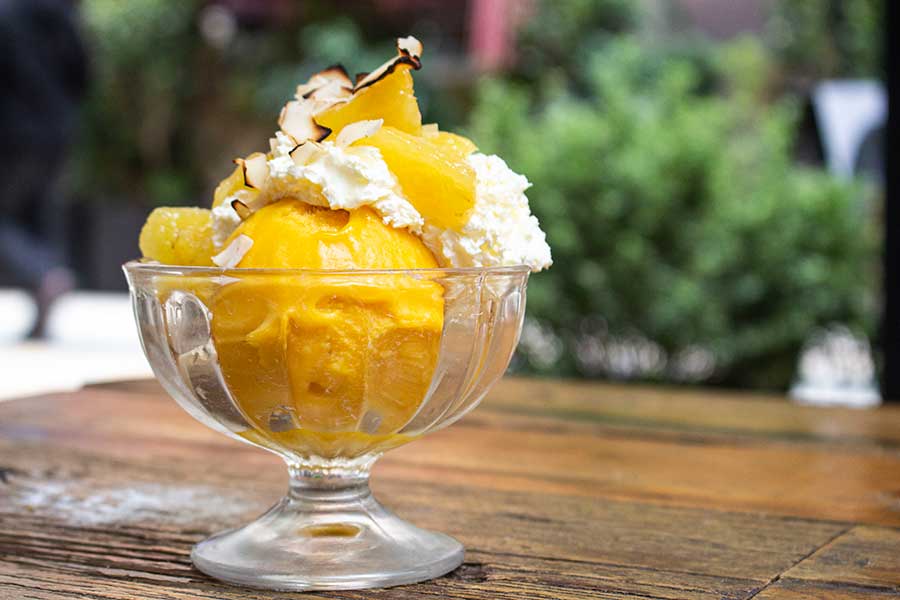 Flying Flamingo is Willis & Co's own brand of ice cream. Find it at Mr Willis (mango-passionfruit-pineapple ice cream and Rocky Road), Bang (sundaes with salted caramel, chocolate, and mango) and Henkes (red peach; white rum, passionfruit and lychee, and pistachio and grapefruit). Best place to have it is probably Henkes and BANG Grand Gateway, which have a nice terraces/outdoor seating.