[ Sponsored by The British Gin Garden ]
---
Gin is having a revival, and has been for the last five years. Demand has increased and supply is diverse, ranging from household name labels like Beefeater and Gordon's to boutique craft gins, and unconventional-turned-trend pink gins to the innovative non-alcoholic adaptation.
The numbers don't lie. Gin is in.
Gin 101
Gin is a complex drink. It's a neutral, flavorless spirit with a wide bouquet of botanicals, primarily juniper, but also cardamom, coriander seed, fruit peels, and other berries.
Gin Trends
Gin-tasting experiences
As the distilleries ramp up their game on offering master classes, the gin bars of the world are making moves to fine tune their own personalized showcases. Experiential restaurants and bars is a global consumer trend.
The customer is looking for more than just good food and food drink, but also an exclusive experience with a personal touch. Exclusivity extends to unique, small-batch labels.
Flavored gins
The pink gin phenomenon kicked off in 2018. It's pink, it's pretty, and it panders to the millennial generation as well as non-regular drinkers of gin. Every brand from Gordon's to Beefeater has a version.
In traditional gin, the botanicals do the work. The pink is derived from red fruits like raspberries and strawberries, and concentrates, creating a sweeter drink. It's the opposite of the conventional herbal gin.
Like low-ABV drinks and fruitier concoctions, sweet drinks are an easy sell, and these pink varieties are tapping into a new market of gin drinkers. While it may not be for traditionalists, this trend is lucrative and growing.
For example, Tiptree, a brand that has been making mini jams for more than 130 years, has seized the opportunity, and launched a fruit gin liqueur that blends raspberries with Hayman's gin.
Emerging markets: China
China has its own homegrown brands of gin, including boundary-pushing Peddlers Gin, which uses botanicals like Sichuan peppercorn, and Crimson Pangolin, which use junipers from their farm in Shandong. But the desire for imported labels still reigns.
China has played a central role in the global gin revolution, embracing the heritage and innovation of UK gin products to create traditional and modern gin based drinks. Exports of UK gin totaled more than ¥5.37bn in 2018.
In last four years, China imports of UK gin almost tripled in value to nearly ¥15m. The country has more than 21 million new legal drinking age consumers entering the market every year. While overall numbers still place baijiu as the spirit of choice, followed by whiskey and cognac, the new generation is predicted to change that statistic.  
The British Gin Garden
With gin being such a hot topic and so pertinent to China's demand and prospects for expansion, the UK launched a major gin campaign in China, kicking off with a huge event, The British Gin Garden at The Sukhothai Shanghai on Thursday, April 25.
There was plenty of gin and flair to match—a gin garden, plenty of UK gins, larger-than-life personalities, and an inaugural bartending competition. The GREAT British Gin Mixologist Competition 2019 saw Shanghai bartending talents James Zhou (FOGO), Joe Heruela (Shake), Julia Markina (Osteria), Max Li (The Sukhothai Shanghai) and Ting Ting Liang (Riink; Roxie) face off in a gin-centric bartending competition.
The winner of the Shanghai semi-final was Julia Markina, who took home the prize for her "Rainy Morning" cocktail, made with Kew Organic gin, cherry wood-roasted mushroom infusion, lemon juice, cherry-infused Russian honey, homemade dill flower, and fennel flower oil drops to finish.
Brands included Dodd's, Kew Organic Gin, Hayman's London Dry and Old Tom, Porter's London Dry, Cotswolds, Eden Mill, Tiptree Fruit Gin Liqueur, The East India Company Gin, and Boodles. Innovative UK brands such as NOVELTEA (cold-brewed alcoholic tea) and Seedlip (non-alcoholic) were also on hand.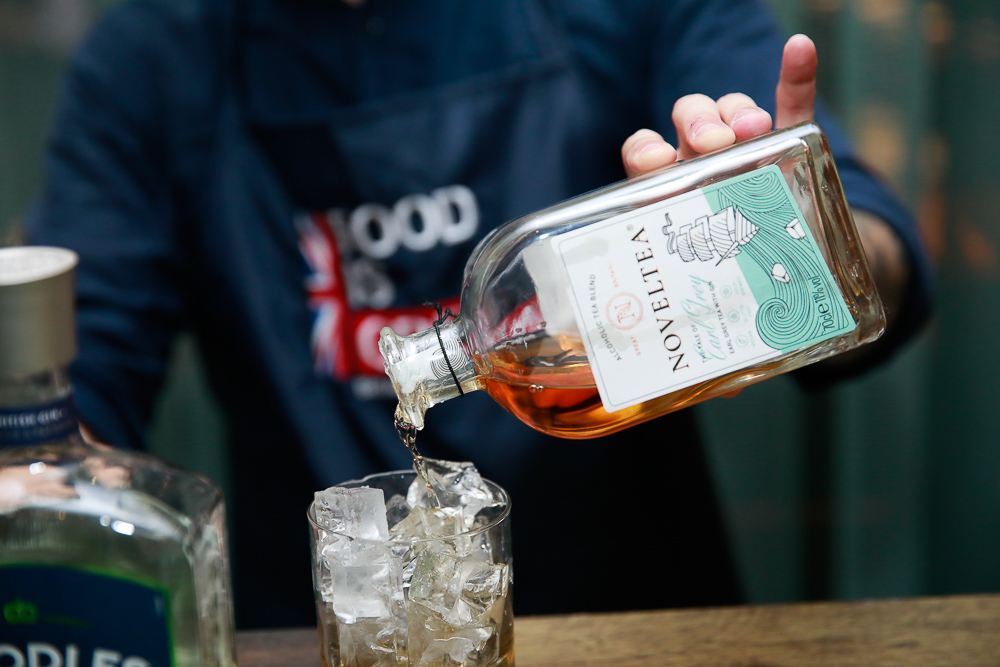 The British Gin Garden was organized by the Food is GREAT campaign, the UK Government's campaign to showcase the best of UK food and drink around the world.