Italian restaurant Frasca at the Middle House hotel has a new chef on board, Marino D'Antonio, who's just come from Beijing's Opera Bombana.
You should pay attention to what he's doing.
Chef Marino D'Antonio
Rustic Italian dishes are a hard sell for the chic clientele of the Middle House, and the impulsive palate of the masses, for that matter, and therefore need a delicate touch.
Hailing from Bergamo, Italy, Marino has more than 20 years of experience. He is dedicated and passionate, and has plenty to say about traditional Italian food.
Marino's work echoes the depth and heart of traditional Italian cuisine but doesn't lose to the fanciful wants of the market. His touch is subtle—it's there if you know how to look for it.
The food
Starters are the usual suspects. A lightly battered Fritto Misto (¥148) with baby calamari, white bait, shrimp, zucchini, served with tartare sauce and spicy tomato sauce, and a Vitello Tonnato (¥158) of veal tenderloin with capers and seared tuna.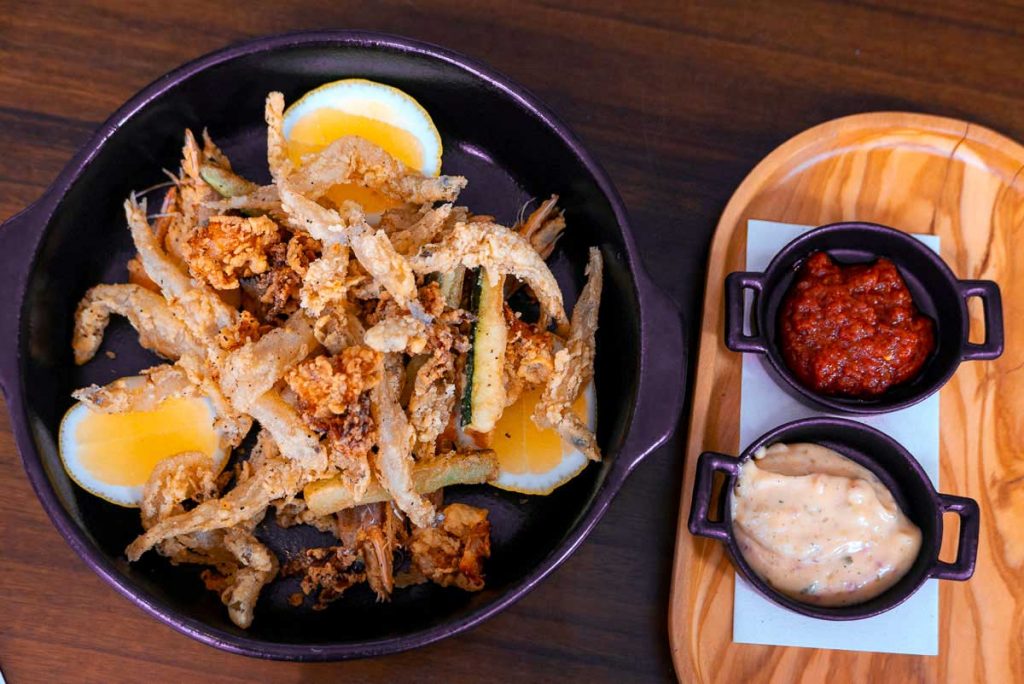 Marino maintains a high standard of quality and makes all pastas and pizza dough fresh on site.
For the pizza dough, he uses biodynamic flour made from soybeans, rice, and wheat flour, which is left to rise naturally for 48-96 hours. To differentiate themselves, the pizzas are of a Roman variety.
The Pinsa Romana is a crisp, airy Roman-style crust that's in between the crispy cracker/brittle Romana Tonda and Neopolitan. Pinsa Caprese (¥118) with stracciatella cheese, basil, and wood-grilled cherry tomatoes. The tomatoes are surprisingly sweet (Read: does not taste like water), which gets a nod for diligent sourcing.
The Linguine All Astice (¥268) is a gigantic portion to share. It comes with Boston lobster, in a light tomato sauce enriched with Sardinian bottarga. If this were the only thing you order, you'd be well stuffed before you reach the bottom of the cast-iron pot.
The highlight: Pappardelle
The linguini is nice, but not as memorable as the Pappardelle with Duck Ragu (¥128).
These large, flat, slippery noodles are made fresh daily with Japanese eggs and imported semolina flour. Its wavy contours are purposeful, easily absorbing the sauce and make rolling up bits of meat like the duck ragu effortless. The duck simmers low and slow in herbs, seasoning, and plenty of white wine, giving that ambrosial, deep flavor.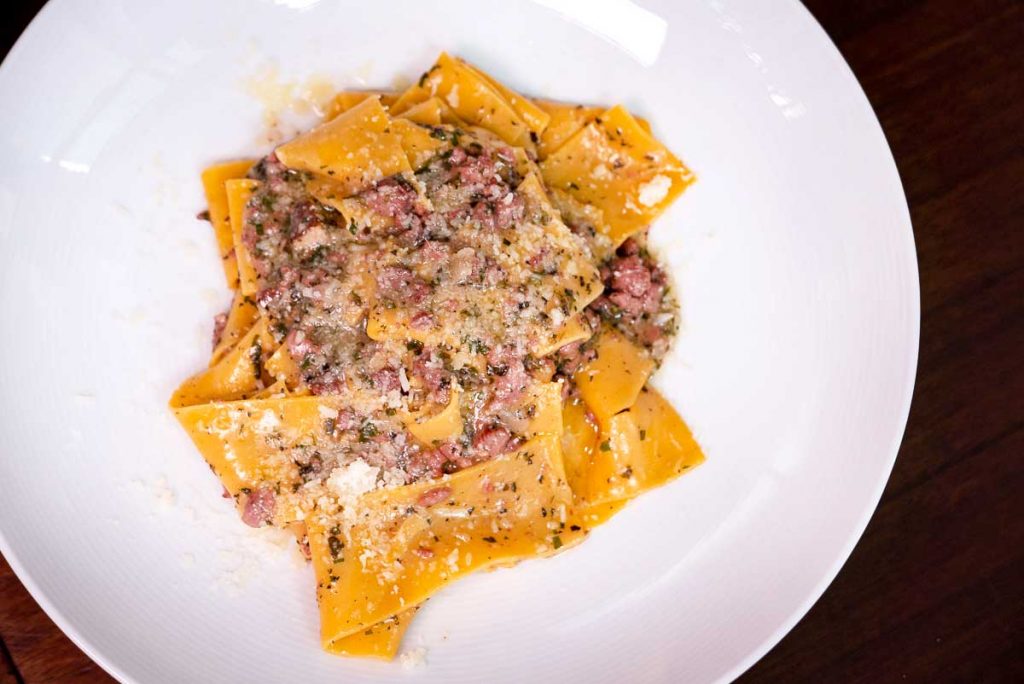 Meats and seafood
Armed with a Josper oven, Frasca does cherry and apple wood fired premium steaks, meats, and seafood. The distinct smokiness from the Josper elevates the premium cuts. Gotta have those large sharable dishes.
The quality products do most of the heavy lifting.
The La Milanese (¥268) is the perennial Italian favorite, and you can find it on the menu at any self-respecting traditional Italian restaurant.Pounded thin, the veal cutlet is then breaded, and pan-fried. It comes with cherry wood smoked potatoes and tartare sauce.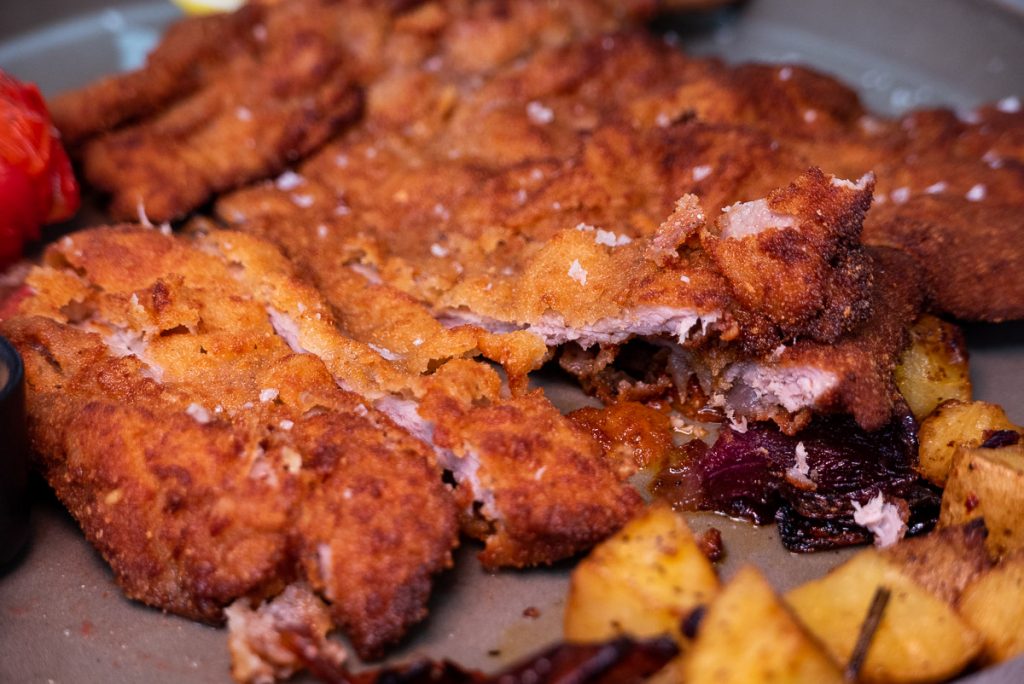 For dessert, the Tiramisu (¥88) is a standout. I'm a fan. The Savoiardi biscuits are amply drenched in rich espresso, layered between healthy spreads of mascarpone cheese.
In summary
Frasca is flying under the radar. This is the bane of being a hotel restaurant—people are often hesitant to venture to hotels for a meal. But it shouldn't be so.
I would go out of the way for the Pappardelle Duck Ragu. The pastas are definitely worth trying.
Brunch deal
Frasca also has a killer brunch deal—¥198 per person and includes five appetizers to share, an egg dish, a main course, and desserts to share. Free-flow prosecco for ¥168. Menu below.
Outdoor covered seating for al fresco.
---
Frasca
Address: The Middle House, 366 Shimen Yi Lu, near Wujiang Lu石门一路366号, 近吴江路
Tel: 32168168
Hours: 11:30am-2:30pm, 6-10pm