From time-tested, hole-in-the-wall institutions to hip mainstays, here are my favorite local Chinese restaurants for noodles in Shanghai.
Some of these local restaurants, like Da Chang Mian close during the summer, presumably because it's too hot.
I'm also working off a wish list of noodle spots! So if you have a recommendation, please leave a comment below.
---
A Niang Mian
Address: 36 Sinan Lu, near Nanchang Lu 思南路36号, 近南昌路
Tel: 53066604
Hours: 11am-8pm

A Niang has long since been the go-to for locals seeking good noodles. It opens promptly at 11am, and the canteen is quickly filled with a line out the door. Most if not all are here for the yellow croaker noodles (¥25 黄鱼面 huang yu mian).
It's a warming bowl of rich stock made from yellow croaker bones and soy sauce, the perfect base for chewy noodles and ample slivers of fresh, flaky white fish. Pair it with a bowl of pickled mustard greens with minced meat (¥5 雪菜肉丝 xue cai rou si), a savory accompaniment with bits of pork flash fried with vinegar. Other must-trys include the fried eel noodles (¥24 爆鳝面 bao shan mian) and crab meat noodles (¥39 蟹粉拌面 xie fen ban mian).
---
Yi Ji E Guan 逸记鹅馆 (Goose Noodles)
Address: 106 Zhaozhou Lu, near Ji'an Lu 肇周路106号, 近吉安路
Tel: 63859710
Hours: 8:30am-8pm

More than al dente noodles with offal-rich geese soup and white-cut geese, served in a shabby back alley cubbyhole of a noodle shop.
The noodles here are whip-taut, topped with goose fat fried scallions, and with just enough house-mix of soy sauce at the base of the bowl to keep the noodles slick. (¥36 for a bowl of noodles, including the soup.)
The soup is heavenly. It's a massive bowl of rich, potent broth with baby bok choy and an assortment of goose innards—creamy livers, crunchy gizzards, and tender intestines. The size of the bowl is as big as the following serving of dumplings.
That said, be sure to order the dumplings (¥39 for a bowl of eight). These fat purses are filled with a mixture of goose meat and innards, served in the same broth as above. It's heady to say the least.
Yi Ji E Guan was introduced to me by Shanghai-based food writer Christopher St. Cavish over at SmartShanghai. (Multiple visits and a ton of research went into his article. Go read it.)
---
Wei Xiang Zhai
Address: 14 Yandang Lu, near Huaihai Zhong Lu 雁荡路14号, 近淮海中路
Tel: 53839032
Hours: 6:30am-9pm

Wei Xiang Zhai is the go-to spot for sesame noodles (¥10 majiang mian 麻酱面). The restaurant runs like a machine and it's hectic with people jostling for a place to sit, and no matter the time of day, you'll find a line snaking out the door.
There's a method to finding a seat—hover. Wait for someone to vacate their seat and snap it up. Once you've found your perch, take your time. These spring noodles coated in creamy sesame paste sauce, lightly drizzled with chili oil need to be savored. (Honestly, I should do a list of just sesame noodles in Shanghai.)
Get a deep-fried pork chop 炸猪排 (¥13), too, and add a splash of vinegar to it. Beat the crowd and go during non-peak hours.
---
Da Chang Mian
Address: 59 Fuxing Zhong Lu, near Ji'an Lu 复兴中路59号, 近吉安路
Tel: 63744249
Hours: 10am-8pm

Those who have an affinity for "spare parts" would find Da Chang Mian the pinnacle for brined large intestine noodles (¥23, 大场面 da chang mian), served with soup or dry.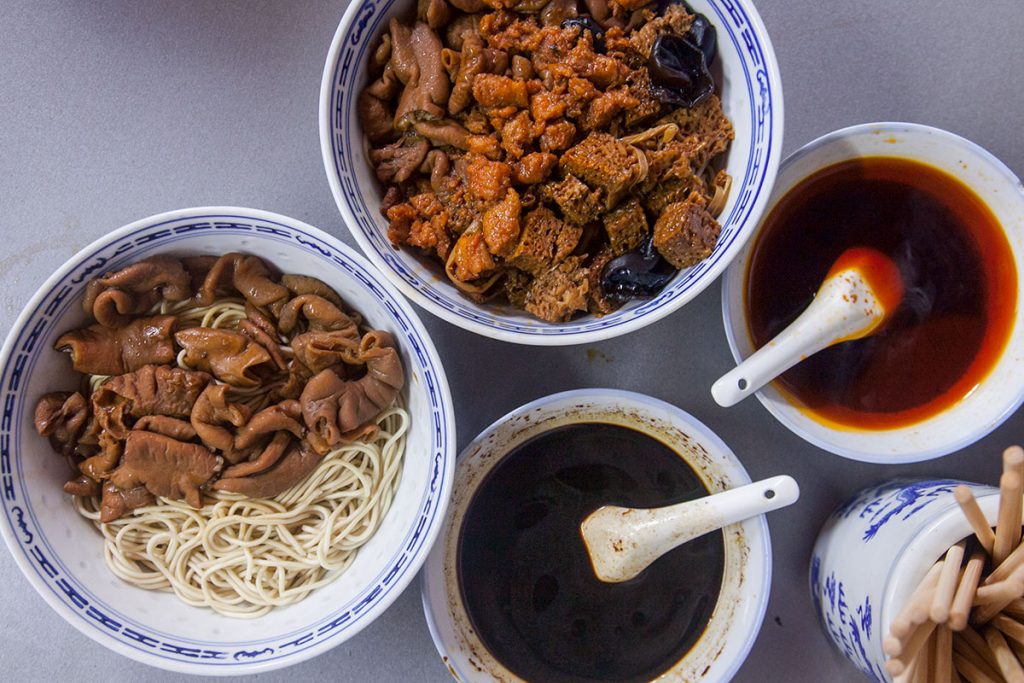 The intestines are cleaned until they're chalk white (as seen sitting in a sieve outside the kitchen) before being brined and then topped onto gummy noodles. The flavors are as intense as you can imagine: offally stinky. There's also a variation that has fried pork, braised kaofu (a type of spongy tofu) and black fungus mushroom 大辣烤拌 (¥37).
It's possibly the best place to get large intestine noodles in Shanghai, drawing lines out the door. Despite being the most run down hole-in-the-wall, the flow of people assures me that it's "safe" enough. Get there before 11am to ensure yourself a seat. Da Chang Mian, like most other smaller noodle shops, close during the summertime, and reopen after the worst of the heatwave surpasses.
---
Haling Noodles 哈灵面馆
Address: 445 Guangxi Bei Lu, near Ningbo Lu 广西北路445号, 近宁波路
Tel: 6322-2188
Address: 8 Guangxi Nan Lu, near Yan'an Dong Lu 广西南路8号, 近延安东路
Tel: 6320-2326
This popular local shop has been around since 1987. It's a hole-in-the-wall chain that draws lines out the door and is known for their gargantuan portions. Plus, it's open 24/7.
The specialty here is the spicy bullfrog noodles (¥45, 牛蛙面 niu wa mian) cooked with bright green chilies and preserved Chinese cabbage. It's a saucy order with about two to three bullfrogs worth of springy meat, and the added spice makes it absolutely satisfying.
They also have a braised large intestine noodle (¥28, 大场面 da chang mian) that's also pretty damned good. And guess what? It's open 24/7. Many locations throughout Shanghai.
---
Liu Tang Men 六堂门
Address: 419-1 Xinhua Lu, near Dingxi Lu 新华路419-1号, 近定西路
Tel: 13122314059
Hours: 11am-9:30pm
Liu Tang Men (previously called Liu Dao Men) is one of the mainstays for Sichuan noodles. There's a lot to love about this sensational little shop, from the friendly service to the freshly made chili oil.
Their calling card is the tianshui mian 甜水面 (¥19), a tiny bowl of chunky, chewy noodles tossed in a splash of sweet soy sauce, chili oil and crushed peanuts. These are only available after 1:30pm!
Don't miss the dandan mian 担担面 (¥16), springy noodles bathed in chili oil, made fresh daily, and the wanza mian 豌杂面 (¥35), topped with starchy cowpeas.
They've recently expanded their shop, which gets a steady stream of customers during lunch hour. It's a little out of the way, so I've taken to ordering the noodles via ele.me.
---
Jianguo 328
Address: 328 Jianguo Xi Lu, near Xiangyang Nan Lu 建国西路328号, 近襄阳南路
Tel: 64713819
Hours: 11am-2pm, 5pm-9pm
Shanghainese restaurant Jianguo 328 has become my default for entertaining visitors to Shanghai. It's cozy and has the character of being a homey local restaurant, but with service that's more attuned to the needy nature of foreigners. Plus: English menu and wine list.
It's also known for their attention to quality, providing an MSG-free meal, using filtered water, and a long list of consistent signature dishes. It's operated by Taiwanese restaurateur Karen Chen, who also runs Unagi (eel rice), Machiya (Japanese with omakase), and Vesta (western).
In addition to their braised pork belly 红烧肉 (¥58), stir-fried pork liver 酱爆猪肝 (¥28), and Jiuxiang Caotou 酒香草头 (¥28), the scallion noodles 葱油拌面 (¥18) are among the most ordered dishes, and for good reason.
These gummy noodles might seem plain, but give them a good toss and coat them in the scallion-fragrant oil and you'll understand. Just be sure to eat them while they're hot. One minute too long makes these noodles harden in their place.
---
Address: 73 Yongkang Lu, near Xiangyang Nan Lu 永康路73号, 近襄阳南路
Tel: 54651667
Hours: 11am-2:30pm, 5pm-9:30pm
Man Long Chun is a small local restaurant in Shanghai serving the most famous of Shanghainese foods—the xiaolongbao. In addition to the soupy dumpling, they do an excellent bowl of scallion oil noodles.
They have about eight varieties of xiaolongbao to choose from, including some seasonal specialties. Be sure to order a bowl of scallion oil noodles (¥25, 葱油拌面) to go with those dumplings. These stringy noodles are pretty good. Best for sharing.
---
IAPM: IAPM, 6/F, 999 Huaihai Zhong Lu, near Shaanxi Nan Lu 淮海中路999号环贸iapm商场6楼, 近陕西南路 
Tel: 68775277
Hours: 11am-10pm
JYJ Noodle Bar is a popular upmarket Taiwanese chain in Shanghai that does excellent noodles. All outlets are located in malls.
The noodles aren't cheap in comparison to my usual street-side haunts. You pay a premium for the quality of the noodles, the mall locale, and the better than average decor and service. Though, the noodles are pretty great, and if you find yourself in need but don't want to grime it out at a hole-in-the-wall, JYJ will be satisfactory.
---
Dong Tai Xiang
Address: 188 Chongqing Bei Lu, near Dagu Lu 重庆北路188号,近大沽路
Tel: 63595808
Hours: 24/7
Dong Tai Xiang is the lesser known destination for sheng jian bao, outshone by its rivals Da Hu Chun and Yang's. The pan-fried baozi are good, and so are the noodles. Multiple locations, but the one at 188 Chongqing Bei Lu is open 24/7.
They also do some pretty decent noodles, including Scallion Oil (葱油拌面 cong you ban mian ¥12), Sesame Noodles (麻酱面 ma jiang mian ¥11), and an assortment of cold noodles drenched in peanut sauce. It's not a bad option if you're living in the area and want a quick fix. Get some of their cold wontons doused in peanut sauce (冷馄饨 leng hun tun ¥13) while you're at it.
---
Ding Te Le 顶特勒粥面馆
Address: No. 22, 494 Huaihai Zhong Lu, near Yandang Lu 淮海中路494弄22号, 近雁荡路
Tel: 51079177
Hours: 24/7

Open 24/7, Ding Te Le is a late-night congee and noodle mainstay for locals.
It's a hovel of a restaurant, located down an alley amidst the glitzy branded shops on Huaihai Zhong Lu, slotted in a lot within a housing compound. It will prove difficult to find, but keep an eye out for the ICBC Bank, the alley is right beside it.
It's also listed in the Michelin Guide for a Michelin Plate, defined as "fresh ingredients, capably prepared: simply a good meal."
The offerings are substantial for a shop of its size, including different flavors of congee, simple meat mince noodle soups, braised pork rice (卤肉饭 lu rou fan ¥27), Sesame Noodles (¥15), and sides of fried pork chop (炸猪排 zha zhu pai ¥10) and fried/steamed vegetables.
The star here is undoubtedly the Yellow Croaker Noodles (黄鱼面 huang yu mian ¥30).
Springy noodles sit in a thick, milky stock of preserved mustard greens and cutlets of flaky fried yellow croaker. It's lip-smacking. Because they serve it hot enough to singe the hairs off your lip, you'd need to give it some time to cool, which in turn, allows the noodles to swell up with the flavorful soup. Win-win.
---
Han Mama
Address: Lot 307, 3/F, K11 Mall, 300 Huaihai Zhong Lu 淮海中路300号K11艺术购物中心3楼307室
Tel: 53833638
Hours: 10am-9:30pm
Han Mama is also a well loved Taiwanese restaurant in Shanghai. The original location on Nanchang Lu, now closed, was also awarded a Bib Gourmand in the Michelin Guide's 2017 inaugural release, maintaining it for two years.
Han Mama's expertise is beef noodles. They make their beef stock daily on a no-nonsense ethos of purified water and zero MSG, then skim the fat off.
The result is a cleaner, milder rendition compared to your typical, street-side variety. Expect a rich beef stock, coupled with buttery tendon, tender brisket, and al dente noodles. Get the Half Tendon Half Beef Noodles (¥58).
They also have a full menu of Taiwanese dishes. Other must-orders include the sanbeiji (chicken stir-fry with basil, ¥58).
---
My Wishlist Noodle Places:
Chang Jiao Mian
Yongkang Noodles
老弄堂面馆
心樂麵館
难得一面
蟹黄鱼
老地方面馆
春和面馆
逸桂禾阳春面馆
德兴馆
一面春风
老蟹沪味干挑面
Yu Xing Ji