These are the results from a survey conducted by Nomfluence on the impact on Shanghai residents and their preferences for delivery and restaurants once the lockdown has been lifted.
Shanghai Endures one of the Strictest Covid Lockdowns
Shanghai entered one of the world's strictest Covid lockdowns on March 28, 2022. The citywide lockdown for 26 million Shanghai residents began with Pudong (east side of Shanghai) on March 28, followed by Puxi (west) on April 1. Residents are to remain within their homes and are not allowed out. The lockdown was supposed to last four days, but is still on-going nearly two months later. All businesses were ordered to close, including restaurant delivery and supermarkets, resulting in a scarcity of food and supplies early on in the lockdown.
Most Shanghai residents have been getting food and drink supplies through group buys on WeChat, though most have not been able to get specific foods due to the break in the supply chain. Some residents have been able to receive government rations, however, the quality and frequency from district to district varies significantly—some districts have received upwards of 20 food packages from the government, others have received only two.
As of May 25, some districts in Shanghai have been slowly reopening, allowing residents to leave their apartments and compounds for up to three hours each day. A majority of restaurants and bars still remain closed; a handful are able to deliver food, though most still require group buys or high MOQs. Some shopping malls in the outlying districts, more than 6km from the city center, have started reopening with highly policed restrictions. Some residents are able to go venture, only if they have a 48-hour PCR test in hand.
A re-opening date for the city has not been announced. Restaurants and bars have not been informed of any dine-in possibilities yet.
---
Shanghai Lockdown: Impact on Residents, Preferences on Delivery and Restaurants
A survey on the impact of the lockdown on Shanghai residents and their preferences for delivery and restaurants was conducted from May 11 to May 16, 2022 via Nomfluence.
Editor's Note:
Nomfluence is run by me, Rachel Gouk. I am only one person and I'm not a professional analyst. I just wanted to understand people's attitude towards food, restaurants, delivery, and preferences for when the lockdown is lifted. The goal of this survey is to help restaurants and bars plan ahead and to understand the needs of their guests. I would like to thank everyone for your time and for filling out this survey. I hope that the information in this report will prove useful for F&B operators moving forward.
The survey results has 4 parts:
Demographic
Current Situation, Delivery Preferences, Re-Stocking
Post-Lockdown Restaurant/Bar and Cuisine Preferences, Safety & Precaution Measures
Write-In Responses: Safety, Suggestions, Requirements
---
Part 1: Demographic
This survey features a small sample of the Shanghai population; a total of 1714 respondents completed the survey. The survey was conducted online in English (1359 respondents) and Chinese (355 respondents); data from both versions have been combined. Detailed demographic below.
Respondents are 59% female, 41% male. The biggest age group is 25-35 years (51%). Of the respondents, 33% are from China, 26% from North America, and 20% from Europe. 99% who answered the Chinese language survey are from China, 10% who answered the English language survey are from China.
There are 268 people (15%) from Shanghai. Most expatriates and Chinese from outside of Shanghai have lived in Shanghai for more than 6 years (46%).
As for industry, a majority are in education (26%) and F&B and hospitality (20%).
(Granted, this is an understandable disparity as Nomfluence is primarily an English-language food and drink blog.)
Most Shanghai residents are still working full time hours at home (63%). Some will continue to work from home (17%), while others will consider the possibility (37%). Less than half will return to the workplace once lockdown has ended.
This definitely means that more restaurants should offer delivery to meet the demand of those working from home once the lockdown has ended.
The salary range of the respondents has a correlation with following questions like "how often do you dine-out a week" and "how much would you spend at a restaurant". Respondents with monthly salaries of ¥15,000 – ¥30,000 are 34%, and those with salaries of more than ¥30,000 are 48%.
---
Part 2: Current Situation, Delivery, Restocking
Most of the respondents have been able to find sufficient food supply during Shanghai lockdown. However, 3% have not able to find sufficient supplies, and 45% have not been able to find specific foods.
Surprising yet unsurprising, 48 respondents purchased an additional fridge or freezer during the lockdown. Most households in Shanghai do not have the luxury of double-door fridges or have insufficient storage capacity for large quantities of food. Most group buys require purchasing large amounts of food, for example: 200 sets minimum from a bakery, each set is about 2kg of bread.
Currently, the majority of respondents (44%) will spend up to ¥200 on restaurant delivery per person. 37% said less than ¥100 per person, 12% said ¥200-300.
64% said MOQ is not necessary. MOQ or minimum quantity order is the amount you must purchase before your order is sent out. Write-in responses for "reasonable MOQ amount" averaged at ¥150.
Most important requirements for restaurant delivery from respondents are: guaranteed hygiene in food preparation (15.4%), restaurants to offer dishes from their regular menu (14.7%), and dishes that are difficult to make at home (14.5%). Affordability (13.8%) is not far behind. Least important is Large Portions.
Preferences on what respondents would order from restaurants ranks beef dishes (24%) at the top, followed by poultry (15%), and seafood (14%). Many still require dishes with vegetables (12%), while others have the specific need for vegetarian and vegan options (5%).
The category "flavorings" (7.6%) is not a typical restaurant delivery option, but has considerably high interest for respondents wanting soup stocks, sauces, marinades, etc. to add to their own home cooking.
Write-in responses include: "guilty pleasures," "comfort food," "curries or flavors that can't be replicated at home or require many spices," fast food, and fried chicken.
As for alcohol via delivery, most respondents prefer wine (34%), followed by beer (22%), and packages (12%). Packages refer to cocktail packages, where by a set of spirits and mixers are provided, to let's say, make a negroni. 12% of respondents do not drink.
Main reasons for ordering delivery are to take a break from cooking (48%) and wanting a variety of dishes (35%).
The frequency of ordering delivery prior to lockdown puts most at 1-3 times a week (50%), while others ordered 4-10 times a week (38%), and some ordered more than 10 times a week (5%).
When asked if respondents will increase or decrease their ordering frequency moving forward, 46% will not change their ordering habits. 27% will increase, 27% will decrease.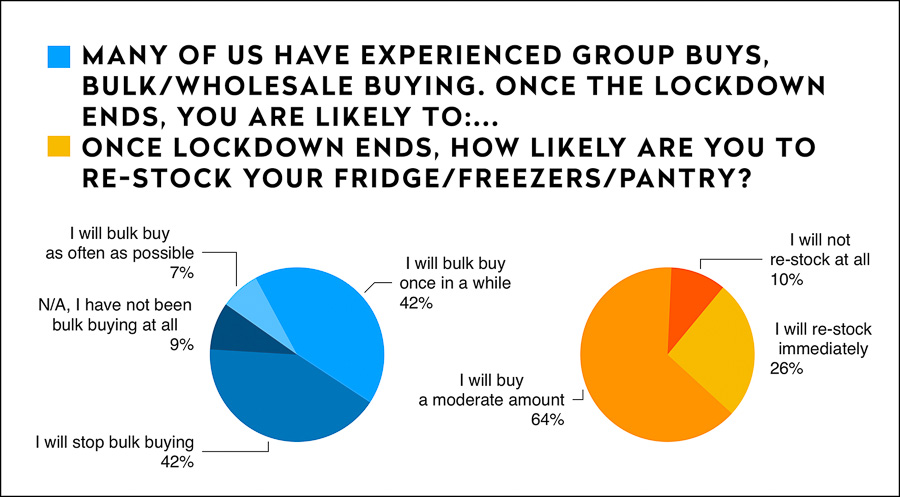 As for bulk buying and restocking, 42% will continue to bulk buy once in a while, while 42% will stop; 26% will restock immediately once the lockdown ends, while 64% will only restock a moderate amount.
Respondents will stock up on these 6 items first: Dairy (10.6%), coffee (9.8%), beef (7.5%), baking supplies (7.2%), vegetables (5.8%), and fruit (5.8%).
There are small but important differences if you split the Chinese and English language survey results. More respondents on the English survey chose baking supplies (8.1%), the Chinese language survey had 4%. The Chinese survey had more beef (11%) and the English survey had 6.3%. There was also a higher percentage of ready-to-eat (7%) in the Chinese survey compared to the 4.6% in the English survey, same goes for seafood (6% CN, 3.5% EN).
---
Part 3: Return To Restaurants & Bars
If lockdown was lifted "tomorrow" and dine-in has resume, 53% will return immediately for a meal. However, what could be worrying for restaurants and bars are the numbers for those that will only dine-in after 2-3 weeks or longer (13%).
The preference for restaurant or cuisine types once lockdown is over also has important differences for EN and CN survey versions.
The Top 5 restaurants or cuisine types (combined surveys) that respondents will go to first after lockdown are: Japanese (11.1%), Italian (8%), Burgers & Sandwiches (7.6%), Pizza (6.1%), Thai (6%).
The Bottom 5 restaurant or cuisine types (combined surveys) are: Dongbei (1%), Hunan (1.1%), Latin (1.1%), Vegan/Vegetarian (1.2%), Shanghai Benbang (1.2%).
The above graph shows the difference in Top 5 and Bottom 5 for the English language survey and Chinese language survey. Japanese cuisine is popular in both.
There were also some write-in responses: Portuguese, Brazilian, Turkish, Vegan, Seafood, Fine Dining, Bubble Tea, Peruvian, shaokao (Chinese BBQ), low sugar dishes, a whole lamb, roasted duck, and "pretty much the entire list."
Respondents don't really care if a restaurant is large or small sized. However, 65% will prefer venues with outdoor spaces.
As for changes to dine-in, should restaurants decide on operating post-lockdown with a limited menu or set menus due to scarcity of produce or ingredients… Most respondents are OK with a limited or reduced menu (41%).
Others will accept set menus (26%), and some will accept pre-ordering and pre-pay before arrival (17%). However, 16% would not accept any of the above.
For drinking establishment preferences, most will go to anywhere that's open (40%), while 16% will choose a cocktail bar, 15% a beer or sports bar, and 14% a wine bar. 14% will not go to any.
As for traveling outside districts that they live in, 81% said they would travel to other districts to eat and drink, 6% said no, 13% said maybe.
Precautionary measures that are most important to the respondents are that staff wear masks. Least important is live footage of the kitchen.
The obvious deterrent for going out is getting Covid, and all the hassles that come with testing positive. It is good to see that spending money isn't the biggest deterrent.
Post-lockdown, respondents are willing to spend upwards of ¥400 for a casual dinner, not including drinks. That's 50% of respondents. Still, only 44% will spend less than ¥200 for a casual dinner, while 6% are willing to spend less than ¥100. For the fine dining or upmarket category of restaurants, 3% said that they will spend upwards of ¥1,000.
For spending habits moving forward, 52% will not change their spending habits, 27% will increase, 21% will decrease.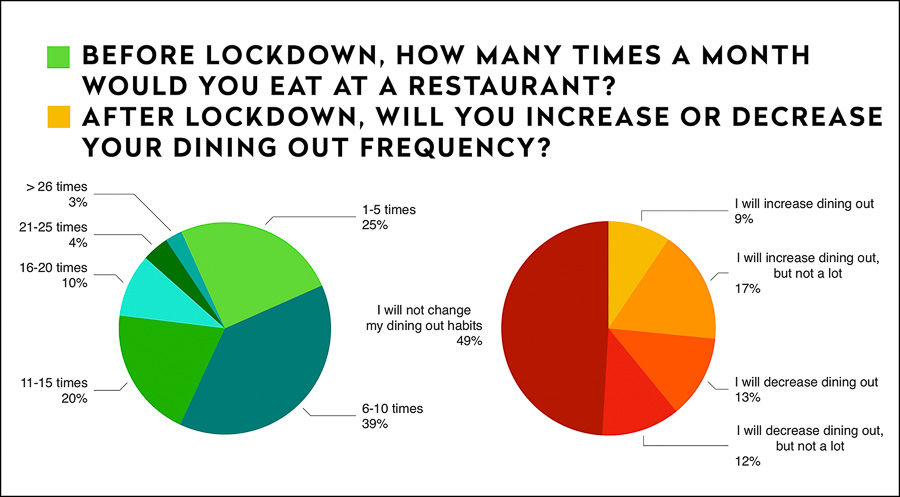 Prior to lockdown, most respondents dined out 6-10 times a month (39%), and 30% dined out 11-20 times a month. 7% dined out more than 21 times a month.
Dining out frequency will not change for 49% of respondents. Those that will increase frequency is 26%, decreased frequency is 25%.
---
Part 4: Write-In Responses on Safety, Suggestions & Requirements
More than 700 write-in responses were received. I've broken them up into categories based on keywords in the responses. Some excerpts of write-in responses have also been included, edited for clarity.
The main categories are:
Safety & Precautions
Deals, Promotions & Information
Venue Requirements
Menu Offerings, Food & Drink
Pricing
Of the write-in responses, 71 respondents wrote in "Just Open," 47 respondents want a sense of "Normalcy" or "Return To Before Lockdown", and 13 respondents will rely on the word of government policy when it comes to dining out.
"Just open and we will come!" — Respondent #858
"For me it's not about the restaurant, but the status of the city. As long as central quarantine is prevalent, I'm not dining out." — Respondent #617
Safety and precautions is the biggest concern. Most wrote in "Safety" and prevention (29%), but others mentioned specifically for "Sanitization" (20%) of the venue and to provide disinfectant gel or spray for guests. Food hygiene is also a concern (12%), but that should always be upheld, outbreak or no.
A difficulty for venues, especially small venues is the 8% who don't want crowded spaces and the 7% who want sufficient spacing between tables. 10% want venues to be vigilant in checking guest's health codes and latest PCR tests.
"If you advertise that you will check temperatures and QR codes please do it. Otherwise I know you are just joking and don't really care." — Respondent #5
"(Don't) put up with people who don't comply (to the rules). Firm but fair." — Respondent #1241
A high amount of respondents said Deals or Promotions (46%) would interest them, and that percentage is even higher if you count Happy Hour (12%) requests. Some mentioned happy hours that start earlier in the day would interest them. Events (13%) include pop-ups, guest shifts, community events, live performances, open mics, quiz night, etc.
The driving factors for Online Booking (9%) is to avoid disappointment and so that respondents do not have to queue in close proximity with others.
Many have asked for clear dissemination of information (7%), for current opening hours, deals, full menu and pricing, and entry requirements to be posted online or on venue WeChat accounts. There were also a few calling for "contactless menus."
"Knowing what restaurants have on their menu (online) and cleanliness. Updated menus on their sites (or WeChat accounts) that are easy to read with a reservation system. WeChat contact to message for any questions."— Respondent #999
Calls for Advertising and Marketing (9%) are unusually high. Respondents have asked for visibility of information like promotions, deals, and special events. Also included in this section are "Dianping vouchers," "WeChat posts," and "Articles Online."
On that note, contact Nomfluence for advertising!
"Coverage about specific dishes. Good photos, and information of lockdown recovery. If a business is in danger to close or that they offer quality (will interest me)." — Respondent #1358
"Don't downgrade service or quality. Consumers will not mind paying for high-quality products if the prices are fair. Businesses need to formulate promotional activities to attract consumers. I hope media platforms can also consider the current difficulties of these businesses and reduce prices, too." — Respondent #150
Venue requirements ranking the highest is Outdoor Space (35%), followed by providing Good Service (31%) and Good Ambience (26%).
"Offer good food and (good) service consistently. It really puts me off when the quality of food and taste don't match up when going back to a restaurant. (Also) recognize your customers. They don't have to know me by name, but just a "welcome back" will make me happy." — Respondent #1248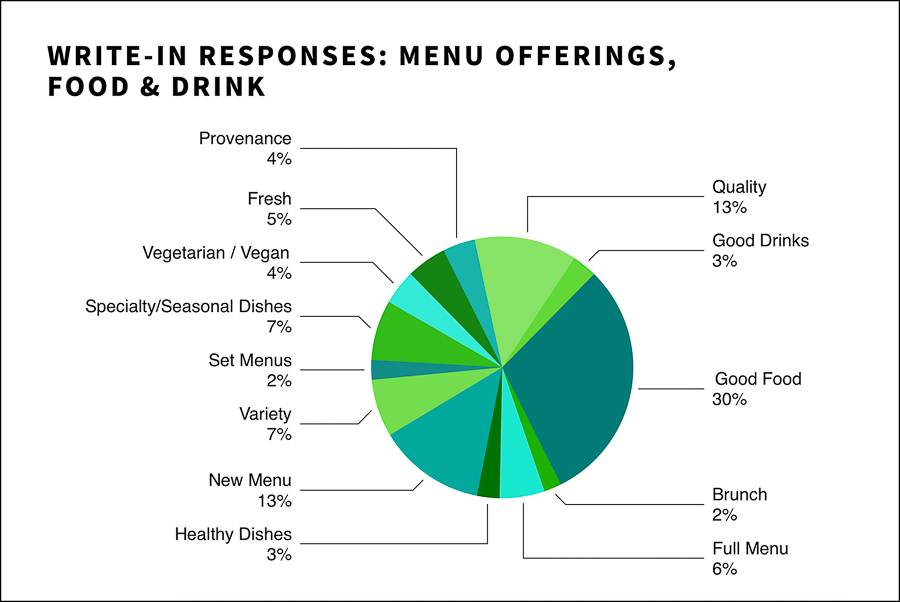 Apart from offering Good Food (30%) and Good Drinks (3%), many respondents were interested in New Dishes / New Menus (13%). Similarly, most would be interested with Specialty or Seasonal Dishes (7%) and a Variety (7%) of options.
Most also cared about Quality of food (13%), Freshness (5%) of ingredients, and Provenance (4%), where the ingredients come from. A lot of responses also asked for dishes that aren't easy to recreate at home.
Delivery and Take Out options were mentioned 37 times (5%) of the write-in responses. Some have asked for different pricing for dine-in, take away, and delivery, and to provide easy takeaway methods for dine-in or for someone passing through on the way home from work. A couple mentioned allowing them to bring their own takeaway boxes.
For pricing, most want food and drink to be Affordable (36%). Fair Prices (26%) isn't the same thing per se. Many were vocal about No Price Gouging (13%), some vehemently stating they would blacklist venues that do so.
"Don't' skimp on ingredients and to charge premium prices for poor quality." — Respondent #958
Other write-ins of interest include:
"Sell frozen versions of their (dishes)…items that can store (for a long time) in the freezer." — Respondent #1262
"More ready-made or semi-ready-made ingredients and dishes to order and stock up at home. Haidilao and Hema's hotpot bases are very useful." — Respondent #1055
"Provide more meal options for solo diners." — Respondent #115
---
Editor's Note:
I would have loved to include more write-in responses, but this report is long enough as it is. I hope that my friends in the F&B and hospitality industry find this useful in some way. I wish all of you the best of luck in kick starting business again.
I hope that businesses can maintain operating whilst offering quality with fair prices. And I also hope that consumers can be understanding and kind to the service staff, and are discerning when voicing disappointments.
Once again, thank you all who have completed the survey, and thank you for reading this report. I look forward to the reopening of Shanghai.