Shanghai Burger Month 2021 is rolling! 12 restaurants, 12 burgers, all September long.
And there have already been some burger enthusiasts that have completed their Burger Passports and have entered them into the lucky draw for cash prizes!
Collect 8 stamps to enter the lucky draw!
You can get a Burger Passport at any participating restaurant, and start collecting stamps when you order a participating burger to enter a lucky draw for cash prizes and more. Want to keep one as a memento? Just ask for another passport.
Click here to read more about the Burger Passport, Lucky Draw Rules, and Prizes.
---
Burgers, Deals & Happy Hours
To help you make the most of your burger quest, here are some deals and happy hours at the participating restaurants to go with your Shanghai Burger Month burgers.
A.K.A. Asian Craft
Address: 1/F, United Valley, 462 Changle Lu, near Shaanxi Nan Lu 集社1楼, 长乐路462号, 近陕西南路
Tel: 18116246747
The DILLIGAF Burger ¥118
Beef patty, mac & cheese lava patty, bacon, and cheddar, topped with beef chili sauce and served with shoestring fries. This is a monster of a burger created just for Burger Month. And it is most definitely the highest calorie count on this list. Available for dinner.
Deal: A special for Shanghai Burger Month, AKA is offering up a complimentary Sichuan Pepper Session WIPA beer from 12 Square Meters Brewing Shanghai with every purchase of the DILLIGAF burger.
---
Beef & Liberty
Address: 1/F, Kwah Centre, 108 Xiangyang Bei Lu, near Huaihai Zhong Lu 嘉华中心1楼, 襄阳北路108号, 近淮海中路
Tel: 54562356
The Liberty Burger ¥159
New Zealand grass-fed rib-eye house ground patty (220g) with caramelized onions, house pickles, dijonnaise, and a mound of Jarlsberg cheese, served with fries. Beef & Liberty is bringing back this beauty—a classic burger but topped with copious amounts of Jarlsbeg cheese, served table side. Available all day, only at the KWAH store.
Deal: Happy hour at Beef & Liberty is from Tuesday to Sunday from 3-8pm. Select draught beer, house wine, and cocktails for ¥39.
---
Bubba's Food Co.
Address: Rm 103, Bldg 18, 808 Shaanxi Bei Lu, near Kangding Lu 陕西北路808号18号楼103室, 近康定路
Tel: 62730283
The Fried Cheese, Cheeseburger ¥88
100% house-ground USDA beef, fried cheddar slab, smoked pepper aioli, dressed lettuce, fire-roasted tomato, marinated red onion. Bubba's signature burger! Available all day.
Deal: Every Tuesday, buy-one-get-one free burgers at Bubba's from 5-10pm. Plus, happy hour is Monday to Friday from 5-8pm. Get ¥10 off all cocktails and wines. Plus, reduced prices on selected beer. That's draft beers from ¥25, bottle beer from ¥35, cocktails from ¥45.
---
Cages
Address: 3/F, 428 Jiangning Lu, near Wuding Lu 江宁路428号3楼, 近武定路
Tel: 52995273
Big Mick ¥98
"Two all-beef patties, special sauce, lettuce, cheese, pickles, onions, and our buns….no seeds" served with a side of chili cheese tater tots. A new burger for Burger Month. Available all day.
Deal: Happy hour at Cages is every Monday to Friday from 5-8pm. Get ¥15 off beer and liquor drinks. (Excluding holidays and special events.)
---
The Cannery
Address: 1107 Yuyuan Lu, near Jiangsu Lu 愚园路1107号, 近江苏路
Tel: 52760599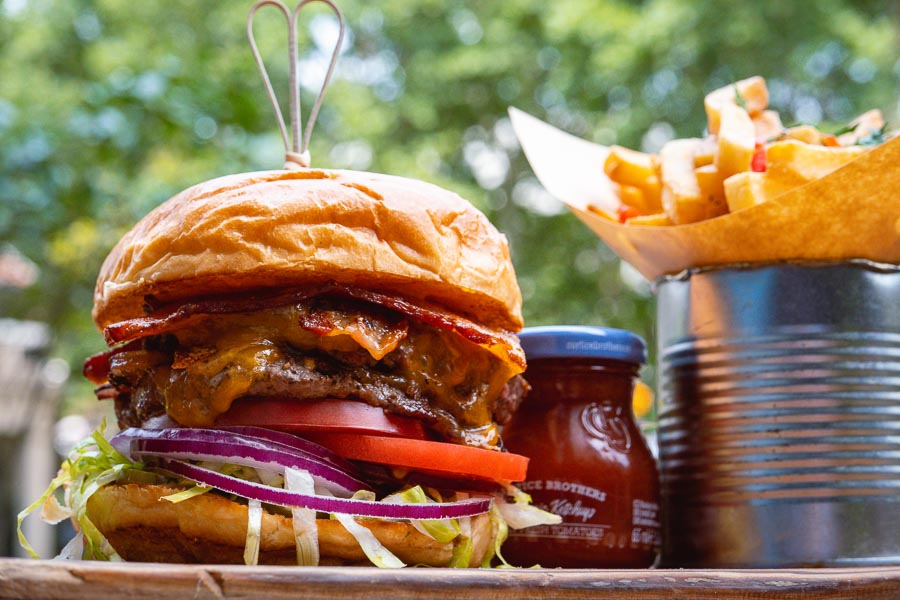 Double Smash Cheeseburger ¥128
Double smash beef patty, housemade bacon, cheddar, pickles, house sauce, served with fries. A favorite at The Cannery, the Double Smash is yet another signature on this list. Available all day.
Deal: The Cannery does Uncorked Thursdays, offering up 50% off all wines by the bottle, including a selection of organic, biodynamic, and natural wines.
---
Cuivre
Address: 1502 Huaihai Zhong Lu, near Wulumuqi Nan Lu 淮海中路1502号, 近乌鲁木齐南路
Tel: 64374219
Mike on the EXTRA Blue ¥118
Australian beef patty, blue cheese, onion confit, homemade bacon, served with fries. Cuivre already does a blue cheese burger, but this one has extra house bacon. Add ¥10 for truffle fries or sweet potato fries. Available for lunch and dinner.
Deal: Complimentary soft drink during lunch, Monday to Friday. Plus, on Mondays from 5:30-9:30pm, order the burger and get a complimentary cocktail.
---
Green Common
Address: Suite 49, 1/F, 1139 Changning Lu, East Section Raffles City, near Zhongshan Bei Lu 上海市长宁路1139号, 来福士广场东区1层49号, 近中山北路
Tel: 62333696
Moving Mountains Cashew Burger ¥72
Moving Mountains vegan patty, vegan burger bun, red bell pepper cashew sauce, lettuce, tomato, coriander, served with side salad. A new burger on the menu with a fresh and creamy sauce made with cashews, bell peppers, and apple cider vinegar. The sole vegan burger for Shanghai Burger Month! Available all day.
Deal: Green Common has buy-one-get-one burgers every Monday, all day. Three burgers available, including the Moving Mountains Burger, and two others with Beyond Meat and OmniPork.
---
Heritage by Madison
Address: 1/F, 600 Zhongshan Dong Er Lu, near Longtan Lu 中山东二路600号1楼, 近龙潭路
Tel: 63129089
Aged Beef Burger ¥138
Aged beef patty, smoked cheddar, house mustard, arugula. Heritage's classic burger has been on the menu since opening. Available all day.
Deal: Fancy up your burger at Heritage by Madison with their Double Bubbles promo on Fridays from 5-9pm. Buy-one-get-one champagne and sparkling.
---
Highline
Address: 6/F, 282 Huaihai Zhong Lu, near Huangpi Nan Lu 淮海中路282号雅诗阁公寓6楼, 近黄陂南路
Tel: 63330176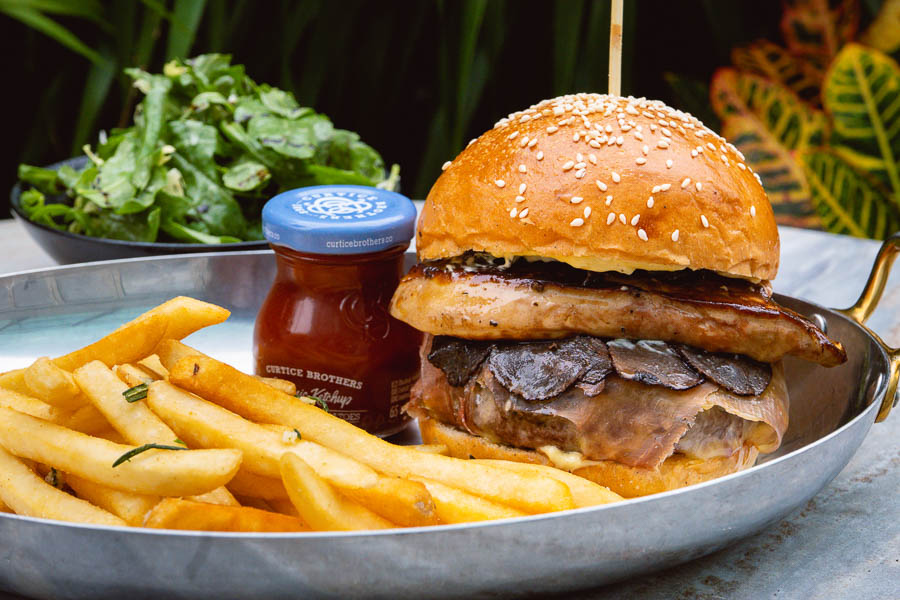 Foie Gras Burger ¥158
Wagyu beef, seared foie gras, shaved black truffle, mushroom duxelle, and bayonne ham, served with garlic fries and arugula salad. This is a signature at Highline. Available all day.
Deal: A special for Shanghai Burger Month, Highline is offering this luxe burger for ¥158! (Originally priced at ¥198.) In addition, Highline has a happy hour every Monday to Thursday from 5:30pm-7:30pm. Highballs start from ¥58, bottles of bubbly from ¥198, and red wine by the glass from ¥48.
---
Liquid Laundry
Address: 2/F, K.Wah Centre, 1028 Huaihai Zhong Lu, near Donghu Lu 嘉华坊2楼, 淮海中路1028号, 近东湖路
Tel: 64459589
Spicy Godmother ¥88
Charred Angus beef burger (150g), sesame Laoganma aioli, mozzarella, fried shallots, sautéed peppers, pickled mustard greens, house sesame buns, served with fried shredded potatoes. A new burger on the menu at Liquid Laundry, using the famed Laoganma chili sauce. Available for lunch and dinner.
Deal: Liquid Laundry has a happy hour from Sunday to Thursday, from 4pm-8pm—¥35 for craft beer, ¥50 for selected house wine, house pour, and cocktails. Plus, after 8pm, get ¥50% off selected wines by the bottle and house spirits. You can also order the burger during brunch, and get the free-flow on Friday to Sunday from 11am-3pm, ¥150 for two hours of free-flow selected drinks.
---
The Smokehouse
Address: 1/F, 97 Xiangyang Bei Lu, near Xinle Lu 襄阳北路97号1层, 近新乐路
Tel: 64379446
FIGJAM "Fu#% I'm Good Just Ask Me" ¥88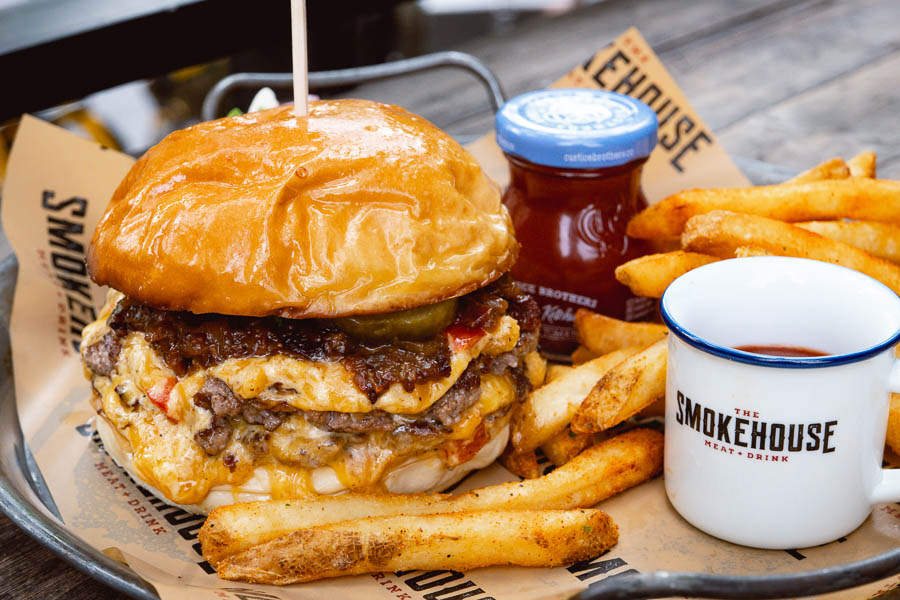 Double smash patty, double layer of pimento cheese, bacon onion fig jam, scallions, pickles, ketchup & mustard, served with slaw and fries. A new burger at The Smokehouse that comes loaded up with double everything. Available all day.
Deals: Wednesday is burger night at The Smokehouse, all burgers ¥88, and you get a free Carlsberg, Boxing Cat Beer or house wine, from 5pm until close. They also have a daily happy hour from 4-8pm, reduced prices on drinks; beer and wine from ¥30.
---
UP Shanghai
Address: 2/F, 688 Shaanxi Bei Lu, near Kangding Lu 陕西北路688号2楼, 近康定路
Tel: 15618073530
Broadway Burger ¥88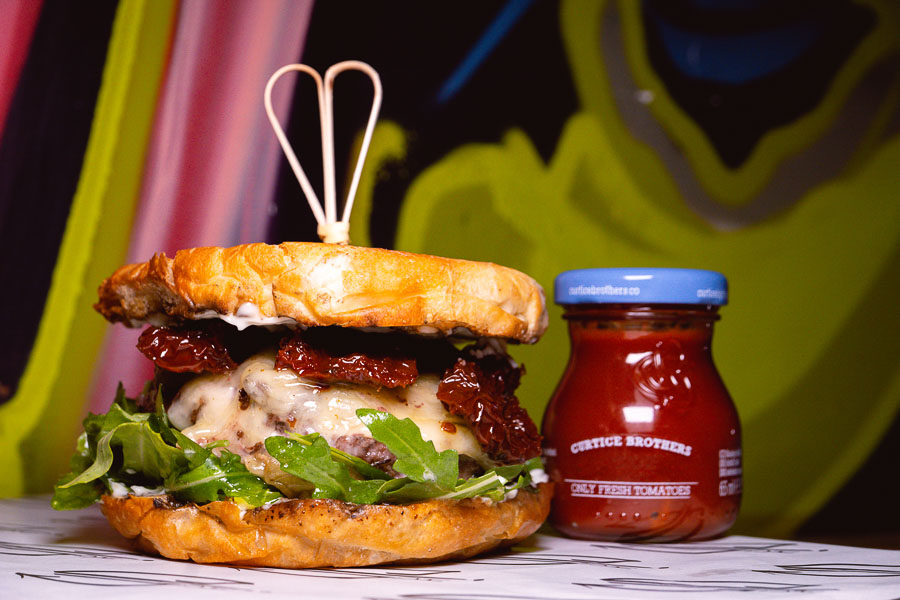 Beef patty, truffle, arugula, provolone, oven-dried tomatoes, buttered buns. UP Shanghai isn't a restaurant, but damn, they do a good burger. Available from 6pm until late.
Deals: Tuesdays is bachata and salsa night, and it's ¥100 for free-flow mojitos from 9-11pm; two drinks for ¥100 after 11pm. Wednesdays there's free shisha for groups of four people, and highballs are ¥58, from 7pm on the terrace. ALSO on Wednesdays is buy-one-get-one burgers, hotdogs, and chicken karage takeaway box! Thursdays is buy-one-get-one on all drinks from 7-11pm.