Sponsored by Z-Rou

In the affluent world, the race for a "healthier lifestyle" has been in fifth gear since it became socially acceptable for yoga pants to be daily wear. Vegetarian, vegan and/or plant-based diets are part of that culture—more greens and less meat all for the betterment of ourselves and the planet.
In recent years, plant-based food brands have increased their urgency to grab the attention of this captivated market. This is why you'll keep hearing that "plant-based" is the future.
Enter Z-Rou, Shanghai's own plant-based "meat" product. Their approach? To be a gourmet plant-based product that is conducive for restaurants to use in creating tasty meat-less dishes. And Z-Rou is making its mark in Shanghai through some of the city's most popular restaurants.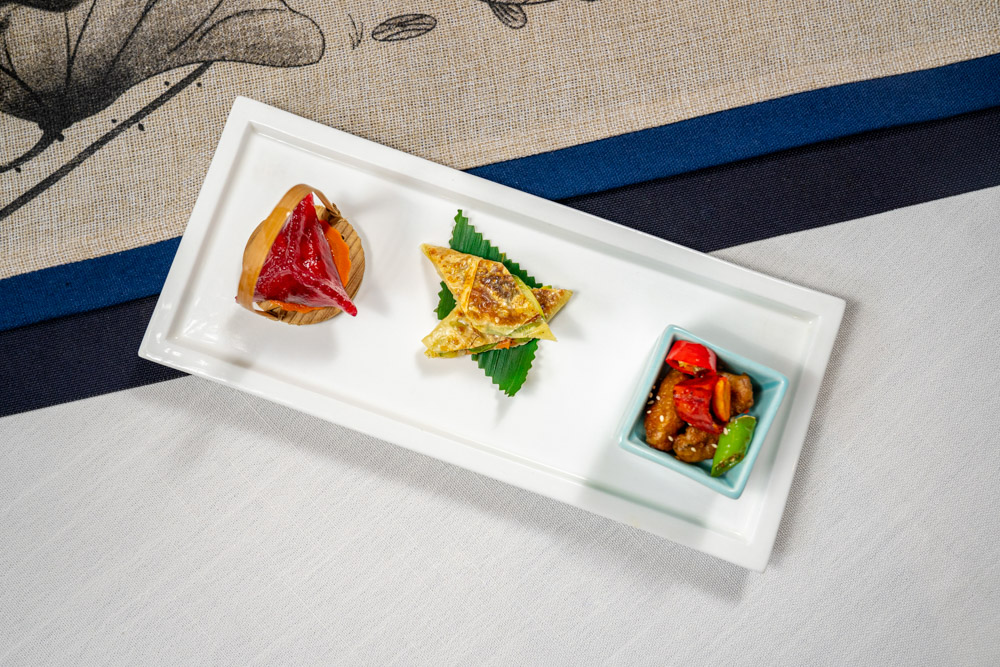 About Z-Rou & The Demand for More Plant-Based Options in China
Z-Rou (株肉) launched in China in November 2019. Z-Rou is a plant-based "meat" product made with non-GMO soybeans, konjac, coconut oil, and shiitake. It is meant to imitate minced pork in flavor, aroma, and texture. For restaurants, it's a product that is considerably versatile and easy to prepare.
YouKuai Group is the Shanghai-based company behind Z-Rou. The product is distributed B2B by Shanghai-based IS Seafood and it is sold on the official Z-Rou store.
According to Euromonitor, more than 60% of Chinese consumers are receptive to plant-based diets, and 39% of Chinese consumers are reducing their meat intake, which comes mostly from pork. Then there's issue of food safety.
Z-Rou tackles these concerns and needs head on with strict adherence to health and safety, quality and taste, accessibility and nutrition. It is free from cholesterol, trans fat acids, antibiotics, hormones, and cruelty. It is rich in amino acids, vitamins B1, B2 and B6, and is a good source of calcium and iron.
It is a choice. And their mission is to empower chefs to be creative when choosing to offer diners with more plant-based options.
5 Restaurants To Try Plant-Based Z-Rou Dishes in Shanghai
Here are five restaurants where you can try dishes with Z-Rou, a homegrown plant-based meat, plus some thoughts from chefs and operators on the future of plant-based foods.
Cantina Agave
Address: A Mansion, 291 Fumin Lu, near Changle Lu富民路291号, 近长乐路
Tel: 61701310
Hours: 11am-11pm
Cantina Agave has three dishes: Taco (¥30) with Z-Rou, guacamole and pico de gallo, Taquitos (¥55) with Z-Rou, salsa verde, and guacamole, and Chilorio (¥50) with cheddar cheese and pico de gallo.
"No one would ever ask before but in the last 12 months I would say quite a bit of customers want plant-based options. Usually always had vegetarians but now getting more vegans. I think it's a good thing. If it helps the environment and also helps you to be healthy, then I'm all for it. China already eats a lot of vegetables so the transition shouldn't be that difficult. Just got to learn how to incorporate the flavors of Chinese cuisine into the plant-based options, then I think it'll be a no brainer."
— Raffe Ibrahamian, Founder, Cantina Agave
---
The Cannery
Address: 1107 Yuyuan Lu, near Jiangsu Lu 愚园路1107号, 近江苏路
Tel: 52760599
Hours: Mon-Thu 12pm-midnight, Fri 12pm-1am, Sat 11am-1am, Sun 11am-10pm
"(As a chef) I think it's a good product, however, some local cooks require a lot of training to use it, as it takes a bit to get used to its texture. Not sure about the future—but it has been well received as a vegan option at The Cannery."
— Sean Jorgensen, Chef, The Cannery
---
Spread The Bagel
Address: 32 Yuyuan Dong Lu, near Changde Lu 愚园东路32号, 近常德路
Tel: 13817173245
Hours: 8am-8pm
"Z-Rou is a great meat alternative to create different types of dishes with and is quite versatile. It takes a bit of practice to nail the texture. People are looking for healthier alternatives as they live healthier lifestyles. As people become more educated on plant-based meat, and have an inclination to try it. We've gotten great feedback so far. Customers are happy that we finally have a meat alternative and that it doesn't go unnoticed!"
— Christine Asuncion, Founder, Spread The Bagel
---
Bird
Address: 50 Wuyuan Lu, near Changshu Lu 五原路50号, 近常熟路
Tel: 13501726412
Hours: Mon-Tue 6-10:30pm, Wed-Sun 12-3pm, 6-10:30pm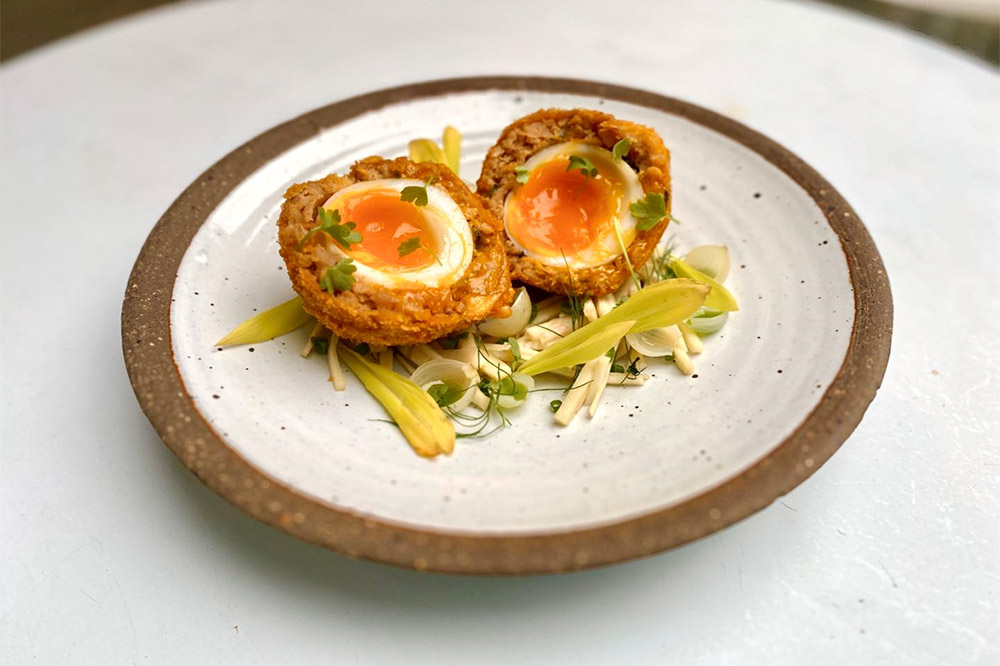 "I chose Z-Rou is because it is locally produced, and supporting local is crucial no matter where you work. Z-Rou is kind of all-purpose in terms of texture. Most people have sort of problem of how to firm Z-Rou into a shape so they can process it. We add in some natural emulsification and gelification like mustard, glucose, and pectin from sautéed roots. And its savory flavor is acceptable for guests, especially Asians.
After COVID-19, people are more careful of what they eat, and for us those vegan and vegetarian dishes sold much more than before. We can't expect everyone to quit meat. But as chefs, we are an important part of the food chain. We have the chance to work on it, make some tasty recipes and let people know it could be easy. If we can do something good for the planet and provide a healthier diet, why not?"
— Jonathan He, Head Chef, Bird & Bitter
---
Canton Table
Address: Three on the Bund, 5/F, 3 Zhongshan Dong Yi Lu, near Guangdong Lu 中山东一路3号5楼, 近广东路
Tel: 63213737
Hours: Mon-Fri 11:30am-2:30pm, 5:30-10pm; Sat-Sun 11:30am-3pm, 5:30-10pm
Canton Table has a 7-course Z-Rou tasting menu for ¥328 per person.
"To find the best way to cook Z-Rou, I spent months studying it and thinking about how to integrate it into Chinese. Z-Rou is a brand new ingredient in Chinese cuisine and people are unsure about how to cook it. More and more people are becoming health conscious and more health strivers accept plant-based foods like Z-Rou."
— Eason Man, Executive Chef, Canton Table
Cook Z-Rou At Home
Who's eating Z-Rou? The plant-based community, of course! Though, if you're a meat lover, it's definitely worth trying—it's one of the biggest things happening in the F&B world now, and it doesn't hurt to try everything once.
If you're interested to cook Z-Rou at home, you can buy it by via the QR Code below. It's ¥79 for 300g of ground or minced Z-Rou.