Affectionately known as "Nana," Shinohara Noriko is the co-founder and CEO of BFB Group, which runs multiple restaurant and bar concepts in Beijing and Shanghai. The latest is Bottega Shanghai, an ultra-popular Italian restaurant specializing in Neapolitan pizzas.
---
Shanghai's Food and Beverage Industry Superwomen
In celebration of Women's Day, this series is an ode to the resilient and passionate women in the food and beverage industry.
Featuring eight interviews with chefs, bartenders, owners, and entrepreneurs, these women share how they got their start, challenges they've faced in recent years, their achievements and dreams, and what they're working on now.
It is my greatest honor to have interviewed these exceptional women and to be able to share a small piece of their amazing journey. Cheers to all the women moving and shaking in their industries—you do you, girl!
---
Shinohara "Nana" Noriko, Co-Founder & CEO of Bottega
From Tokyo, Japan. Co-founder & CEO of BFB Group; Bottega, El Barrio, Forno, Daruma, and Coco Crew, and dog mom of Simba.
---
Shinohara "Nana" Noriko is the co-founder and CEO of BFB Group. The team just opened Bottega Shanghai to much fanfare, drawing a swarm of people every day from 4pm. (Bottega opens at 5pm.) Formerly Beijing-based, this restaurateur and businesswoman is one of Shanghai's latest transplants, and she has her sights set on expanding her brands in Shanghai.
Entrepreneurial from a young age, Nana's introduction to business began when she was 16. She moved to Beijing in 2010 and opened the first Bottega in 2014, though it was not her original intention to do so. Nearly 10 years on, her restaurant group now runs five brands in two of China's biggest cities.
---
Can you tell me about your background and how you got your start?
Nana: I've always been quite entrepreneurial from a young age. I started my first online clothing store when I was 16, sourcing products in China and selling in Japan. I moved to Beijing in 2010 to study accounting and ended up opening the first Bottega in late 2014 shortly after I graduated university.
Originally, I wanted to open a Japanese burger chain, like MOS Burger. I talked to Daniele (Salvo)—I was a frequent customer at the pizza place where he worked at the time—and he said something like, "Why not do Italian? I can find an Italian restaurant manager for you."
Plus, back in 2013, the fashion industry was not as mature as it is today.
In the end, Daniele couldn't find a restaurant manager. Daniele and Paolo were supposed to work at Peppina (an international chain serving Neapolitan pizzas), but that didn't work out. Instead, we became partners and opened the first Bottega.
In 2018, we opened a Mexican restaurant and nightlife concept called El Barrio, then six months later launched Japanese izakaya Daruma. Then in 2020, we opened Beijing's first truly authentic Roman pizzeria and trattoria called Forno, and followed up with a second location a year later.
In 2022, the focus was always going to be Shanghai. We opened our first Bottega here in December and plan to open a new coconut water concept next month called Coco Crew.
The opening of Bottega Shanghai has been a riot! What do you think contributed to its success?
Nana: Great location was key. We really took our time getting to know the city scouting for the right location, which took us two years to find.
The right team. We've been perfecting what we do for over seven years. We have a great team of pizza chefs, kitchen staff, and an awesome marketing team—this is the real key to our success.
When you have one store it's easy. When you have two it becomes complicated. But when you have more and more, then it gets easier again. We also had the brand and budget to hire good people.
Why are you at the managing the door everyday, giving out numbers to people who are queuing to get into Bottega? Why not ask staff members to help?
Nana: Because I have to! It's difficult for my staff to handle it as it requires a pretty delicate approach. People are waiting in line can get agitated, frustrated, and even aggressive. You need to be polite, but also direct and firm. Most people do understand and are polite. It's also important that I'm there as the face of the restaurant to welcome them.
What challenges did you encounter in the last three years? How did you overcome those challenges, and what learnings can you share?
Nana: The most difficult time was surviving as a business in very difficult conditions that weren't showing any signs of letting up. We had restaurants shut countless times, sometimes for more than a month at a time, and we had little to no financial support from most of our landlords. The uncertainty made it impossible to plan ahead.
No matter how difficult the situation is don't give up. There is always a solution to get out of it, even if it doesn't seem clear in the beginning.
What barriers have you faced as a woman in becoming successful in your field?
Nana: When I was just starting out I was quite young and therefore felt that I didn't get enough respect during business negotiations. Later on, I felt as a woman I actually got quite a lot of support.
Many people did not take me seriously as the owner of a successful Italian restaurant brand because they believed that I either needed to have a background in the industry or be of Italian descent.
I've had many instances while working in the service of my own restaurant where a customer demands to speak with the owner, only to express disbelief when I inform them that I am, in fact, the owner.
What toppings would make your perfect pizza? Unless there's already one on the menu…and why!
Nana: My favorite has got to be the Calzone Fritto, which is a Neapolitan style calzone that's deep-fried. It's light, crispy, fluffy, and extremely delicious and I consider it to be the ultimate comfort food.
In celebration of powerful women, what does the idea of "power" mean to you?
Nana: Power means being able to do what I want. To have time for myself and being financially independent.
What's the most important piece of advice you could give to people who want a career in F&B?
Nana: You've got to be extremely passionate about what you do. Otherwise the long hours and late nights will tire you out very quickly.
Also be prepared to miss out on many holidays and special occasions like Christmas, New Year's, etc., because those are the busiest days of the year for restaurants. If its your own restaurant, you will need to be there every day until you've built a solid team around you that can manage your business while you're away, which is easier said than done.
Moving forward in 2023, what do you expect for the market and business? And do you have exciting plans?
Nana: I can feel things opening up and returning to pre-Covid numbers pretty quickly, which is extremely exciting to see. At the moment we are focusing on getting Bottega (Shanghai) running as smoothly as possible while preparing to launch a new coconut water concept called Coco Crew in March.
In the near future, it's very likely that we bring one of our other concepts from Beijing. Either Roman pizzeria and trattoria Forno or Mexican cantina and club El Barrio.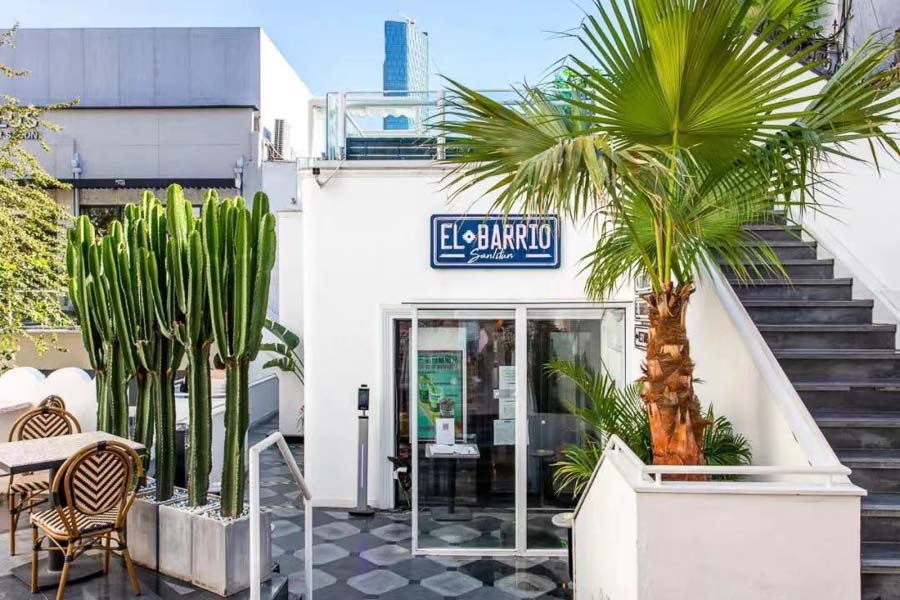 What would your next dream project be like?
Nana: My dream would be to open Bottega or Forno inside an old heritage building in Shanghai somewhere in the former French concession.
Anything else you'd like to add or say?
Nana: Bottega is pet-friendly, bring your fluffy friends!
---