From the tail-end of last year, here are three new restaurant openings in Shanghai you might have missed. Chihuahua for casual Mexican food and cocktails, Hundo for yakitori and yakiniku, and bistro and wine bar Mavis.
Chihuahua: Mexican Food, Great Tacos!
Chihuahua is a casual Mexican taco-fonda in Jing'an. It's cheap and cheerful, an alternative for Mexican food (especially the tacos) if you're in this part of town.
Nachos, burritos, quesadillas and tacos washed down with margaritas? Yes, please. They also have a couple vegetarian options.
The Food
Margaritas frozen or on the rocks are ¥45, but are ¥30 during happy hour, Tuesday to Thursday from 5-8pm. They even have a Michelada (¥45) with clamato juice for happy hour! Other cocktails start from ¥45, beers from ¥35.
Plus, there's a free-flow brunch every Saturday and Sunday from 11am-3pm, ¥179 for two hours of Corona, Tsingtao, frozen margaritas or ¥198 for that plus house pour spirits.
Definitely going back.
Update: Chihuahua has moved to Wuding Lu.
Chihuahua
Address: 479-2 Wuding Lu 武定路479-2号
Tel: 13761346347
Hours: Mon, 11am-9:30pm, Tue-Thu, 11am-11pm, Fri-Sat, 11am-midnight, Sun, 11am-11pm
---
Hundo: Japanese, Yakiniku & Yakitori
Hundo is a Japanese restaurant that serves yakiniku, yakitori, tempura and sushi, housed on the second floor of the villa on Donghu Lu, sharing the building with Blaz and Cellar To Table. Hundo is the bigger, shinier sister restaurant of High Yaki, one of my favorite restaurants in Shanghai.
The menu is HUGE. Different to High Yaki, Hundo has tempura, sushi and a large selection hot dishes like charcoal-grilled seafood and deep-fried skewers.
The perks of Hundo is that it can accommodate large groups, and it has private rooms. The bar counter is nearly double the size, but unlike High Yaki, your yakiniku is not grilled in front of you, but in the open kitchen.
The Food
Hundo is good, but I prefer the intimate atmosphere of High Yaki. But should I find myself with a larger group or want to be in the area of Donghu Lu, Hundo is right there.
Hundo
Address: 2/F, 20 Donghu Lu, near Huaihai Zhong Lu 东湖路20号2楼, 近淮海中路
Tel: 19512374026
Hours: Mon-Sun 6pm-midnight
---
Mavis: French Wine Bistro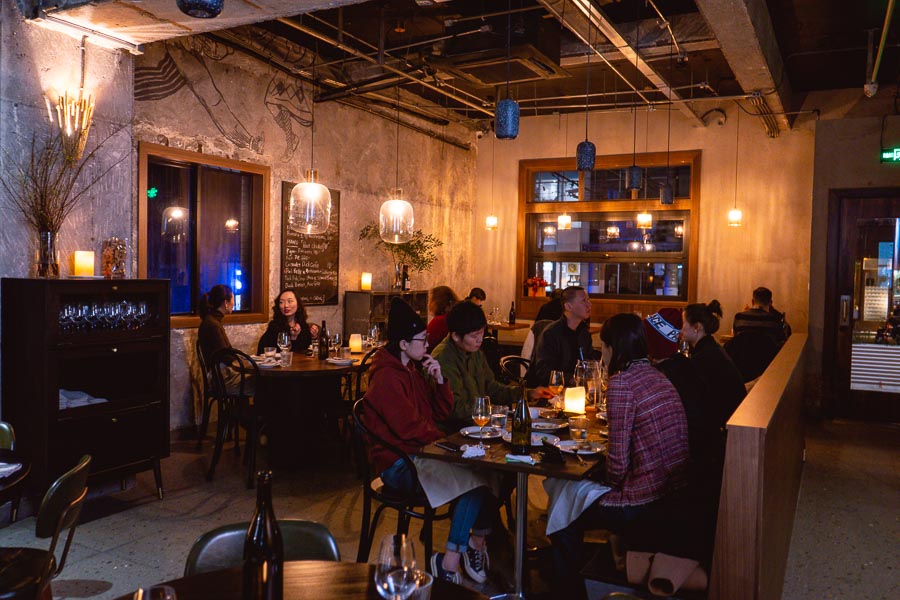 Mavis is a natural wine bar and bistro in Jing'an. It's operated by the same people behind Uncle No Name Cafe. The food is French, and the menu is scrawled on a chalkboard, displayed on the wall for all to see. The items change and rotate, too.
It's one of many notable natural wine bars that opened in 2020. When Shanghai loves a trend, people really go all out for it. And it's working well for Mavis, and the likes of SOiF, Ottimo and Pass Residence. Wine = sophistication, right?
The food is decent. There are some things I liked, and some times that I really think could be improved. I'm also going to gripe about paying for table bread at a French bistro—I do not like it, but I understand that there's a cost to produce good bread, too. The ambiance is nice enough and wines by the bottle are roughly market standard. That's big enough a draw for the neighborhood.
The Food
Mavis, I really wanted to like you. The ambience is great—high ceilings, chic, and comfortable. But the pricey chicken, which isn't a jumbo-sized one either, and selection of dishes when I visited, was a little uninspiring. What I can say is that the management really cares about hospitality, and maybe changes will happen soon. Would revisit in six months.
Mavis
Address: 966-968 Wuding Lu, near Jiaozhou Lu 武定路966-968号, 近胶州路
Tel: 17721332356
Hours: Tue-Sun, 5:30pm-11pm, closed Monday