The Shanghai Scoop is a monthly column dedicated to the latest food and drink news happening in Shanghai.
The last Scoop was published in December. It's been that long since food and drink in Shanghai had much happening. (The 2-3 months of forced silence didn't help.)
It's been a devastatingly difficult time for the F&B industry these past three months, and it's not quite over yet. For the industry, it's hoping that spending returns and maybe the goal is to break even this year. For the diner, it's the hope our favorite restaurants and bars can survive. Loyal customers, enthusiastic diners, and corporate groups…restaurants and bars are counting on you!
Despite the tough times, there are quite a few new openings on the horizon.
Coming Soon
New Restaurants & Bars Opening in Shanghai
Opening end July is ZUP Pizza Bar, brought to you by Wayne Hou (Nonna Ruth pop-ups) and Lee Tseng (Boxing Cat Brewery, Liquid Laundry). ZUP specializes in grid-cut tavern-style pizzas (that's the thin and crispy kind), as well as upside-down Sicilian pizzas, and bar bites. They'll also have a full bar program. Pizzas and libations coming to you this summer on Fumin Lu.
ZARI is a modern Korean bistro located in the former Ars & Delecto / Halu Korean bistro space on Jinxian Lu. It's brought to you by Chef Rosie, formerly of Halu. The food will be slightly more polished than Halu. Details coming soon as ZARI soft opens this week.
Speaking of Halu, it will be relocating to another downtown location. Halu founder Joonsam Park is aiming to open Halu Korean Bistro 2.0 by mid-July on Shaanxi Bei Lu, near Shankang Li. New highlights include Korean barbecue, fried chicken, and all the traditional Korean favorites. Opens to the public July 16.
Launching in a couple of weeks is UMAMIII Asian Burgers, led by chef-founder Joey Cheong. Asian dishes reimagined into burger/sandwich form, very much in the same vein as the Singaporean fusion fare at the now-closed UMAAMI global kitchen and bar. Think shrimp paste fried chicken burgers, begedil (deep-fried potato patties) in place of fries, salted egg chicken burger, and more with influences from Chinese, Indian, and Malay cuisines. It'll be delivery first, followed by a brick and mortar soon.
The new development at Hengshan 8 is underway. So far there's western restaurant Huata and il Laboratorio del Gelato. The gelato brand is by way of New York, where their NYC flagship boasts nearly 300 flavors. The franchise location on Hengshan Lu, due to open early August, won't have as many flavors though, but aims to churn out as many as they possibly can.
Famed Parisian tearoom Ladurée comes to Xintiandi. The 160-year-old brand is renowned for their legendary macarons, boasting a vault of over 100 recipes and flavor combinations.
The Xintiandi location will most definitely have this iconic French treat in a multitude of flavors, in addition to tearoom offerings of other pastries and a food menu for brunch, lunch, afternoon tea, and dinner. This isn't the first time Ladurée opened in Shanghai—the first run was in 2014. It's currently open for retail and takeaway, officially opening on July 11.
The team behind Bloom, SHAN, and Hu Ma is working on a couple new projects. Bloom on Tongren Lu has closed, but a new concept called CUCURUCU will open on July 25 in its place, centered around coconut water drinks. Bloom on the other hand is looking to reopen in a new location soon.
The group also has ASTR°, a pop-up bistro open 5 days a week, serving contemporary Asian-inspired dishes similar to SHAN, the group's other fairly new restaurant in Taikoo Li. Location and kick-off for ASTR° is to be determined.
Ana Souza (The Pontiac HK, 1515 West) is opening Post No Bills, an American-inspired neighborhood cocktail bar in Jing'an. It's at the uber popular nexus of Wuding Lu and Jiaozhou Lu, located across from Bites and Brews. Expect craft cocktails, cold beers, rock 'n' roll, street art, and good vibes. Post No Bills will have a small food menu and has plans for a compact brunch menu to go along with all the shenanigans in the near future. Pouring drinks early August.
Hulu Sushi and Pirata is opening soon at 110 Xingfu Lu, around the corner from Xingfu Li, after relocating from Columbia Circle. Japanese omakase bar Hulu is getting an upgrade, now 8 seats at the bar instead of the former 6.
Pirata will be serving their staple tapas and Spanish favorites, and perhaps a couple new dishes. Both are aiming for mid-July.
The Cut at IAPM is currently under renovation, awaiting a new, exciting, super secret concept. All I got was "it'll be meaty for sure" and that it'll be ready by September. The Cut is managed by the VOL Group, who also has Mr & Mrs Bund, Polux, Ultraviolet, and Bar Rouge in their portfolio. Hint, hint?
Wine lounge The Collective is opening at the piazza of One East mall late August. It's backed by JustGrapes (and friends), serving pizzas, fresh made pastas, and more.
F&B News Around Town
Here's a big one: Michelin 3-star and World's 50 Best restaurant Ultraviolet by Paul Pairet will launch their fourth menu, UVD, by the end of summer. It's been five years since the last one, UVC. What's on the menu? When can we book? More details coming soon.
Shake is closed for renovations and will reopen in September. 8 ½ Otto e Mezzo BOMBANA is also under renovation and reopens mid-July.
Atelier on Changle Lu is morphing from a cocktail bar into a new concept. There's brunch, fresh baked bread, coffee, and gelato on the horizon.
Michelin 3-star Taian Table welcomes new Chef de Cuisine Christiaan Stoop. The enthusiastic Dutch-German chef was previously stationed at L'Atelier de Joel Robuchon, Paris. Taian Table's Menu 37 launches in a week or so.
Park Hyatt Shanghai has new Executive Chef Martin Satow, who's just come in from Grand Hyatt Seoul. Originally from Germany, Satow has been a serial hotel chef since 2008. The Park Hyatt also has a new director of food and beverage, Robert Kolter. Kolter carries with him 14 years of experience in hotel F&B management and has spent the last four years in China, most recently at the InterContinental Xi'an. People to know if you're organizing big (luxury) events.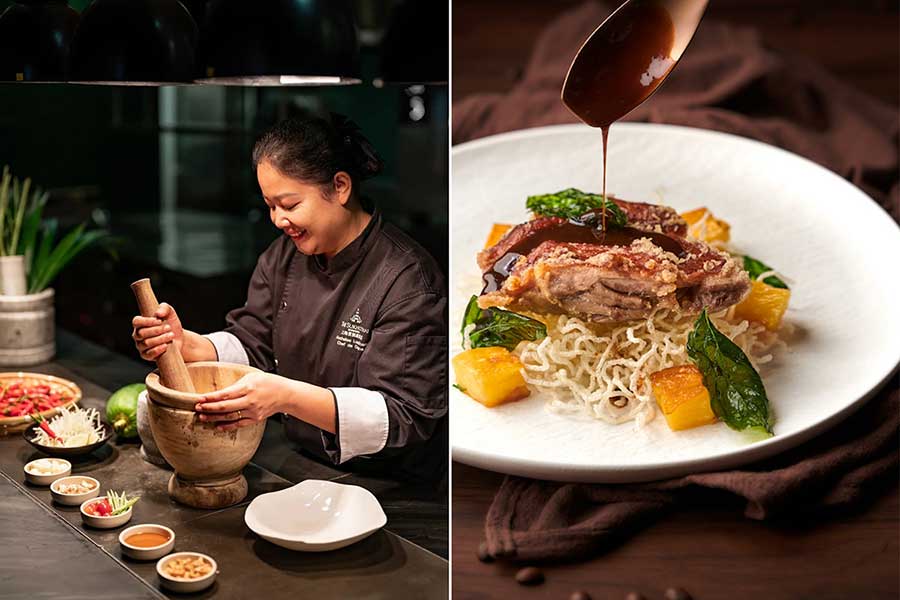 The Sukhothai Shanghai welcomes Chef Anchalee Luadkham, the new Thai chef for Urban Café. Over the years, Luadkham has worked at Mandarin Oriental Chiang Mai and Four Seasons Chiang Mai, among other hotels. The new menu at Urban Café is already underway, more details coming soon.
Rumor that Bistro 321 Le Bec would extend its temporary closure is now staunched. Chef Nicolas Le Bec is back in town and has already reopened the villa for dine-in.
Private kitchen Sichuan Flavor Studio by Chef Cheng Yuping is moving to Wuyi Lu, due to open mid-July.
Already up and running are KRU on tap on Xikang Lu, pasta bar Yaya's on Tongren Lu, and Mosto (via Beijing) on Shaanxi Nan Lu.
Closures
Sober Company is the high-profile closure. It is only temporary, though. They're currently looking for a new location and are likely to open by this fall. The last day of operation was June 26. Kazuhisa "Kazu" Arai, Group Bar Manager of SG Group gives a short interview here.
Beast of the East on Fumin Lu closed. True Legend Hospitality group founder Bryce Jenner cited the effects of lockdown plus being unable to attain rent-free concessions have led them to shutter the venue.
Rent concessions would be the biggest pain point for F&B now, followed by severe staff shortages. Decrease in manpower would mean that some of your favorite restaurants might reduce their menu offerings, hopefully only temporarily.
Beloved Hong Kong chacanting Cha's has closed all its locations with the founder returning to HK. I'll miss those prawn toasts. RIP for real.
Time-honored Shanghai benbang restaurant POLO (保罗酒楼) closed this month after operating for 35 years.
Other closures: Eldivino Thai (Changle Lu), Mikkeller (Xintiandi), Charlie's (Fengsheng Li), Prée (Xintiandi), The Twins (Taikoo Hui), Grom, Ars & Delecto, Halu 1.0, Le Salon de Joël Robuchon (Reel Mall), Planet One, Bloom, SakeMate, Mr Shaker, La Bodeguita del Sur, La Social.