The Shanghai Scoop is a monthly column dedicated to the latest food and drink news happening in Shanghai.
---
New Openings
Lots of second locations!
Atelier Izakaya 2.0 opens on the Bund!
A second, massive location of Atelier Izakaya, a popular Japanese izakaya and bar by the Taste Buds group has just opened on the third floor of the Lost Heaven building on the Bund. It looks hella sexy and swanky. And they have that massive terrace, too. Currently in soft opening. Check it out:
And if you're wondering, no, Lost Heaven hasn't closed. (Though some rumors had been floating.) There's still Lost Bakery on the first floor, and Yunnan food on the second floor.
Cages also announces its second location, Cages One East near West Bund. It officially opens on January 3, 2022. The specs: 384 seats, 1,500 sqm, batting cages, new games, and full food and drink menus. It's located in the One East mall, which also houses clubs Space Plus and 1 Oak.
Azul Italiano opened its second location in the 1000 Trees complex, now in soft opening.
There's a second location of KIN Urban Thai Kitchen at 983 Kangding Lu.
O'Mills opens a third location, O'Mills Light Brunch & Bistro on Panyu Lu.
There's another Alimentari, "Alimentari Mulino" on Maoming Lu, a couple doors down from the newly opened Shanghai Love. And looks like another two Alimentaris will open, one on Wuxing Lu the other on Nanjing Xi Lu.
Borsh & Kompot, a casual Slavic café opens in the space formerly housing Swirlz. (Yes, soft serve ice cream place Swirlz closed.) On the menu are Slavic staples like borscht, blinis, and dumplings. They also have house-infused vodka.
Dongping Lu is slowly picking up with Juke in soft opening on one end and Pain Chaud now open on the other end.
Black Rock, a whisky bar (with snacks) by Danyi Gao and Colin Tait of Shake, is currently in soft opening at 43 Fumin Lu.
A champagne bar opened in Grand Gateway, called Entropy. Entropy means a "lack of order or predictability; or gradual decline into disorder." To me, it's a lot like how I feel about new openings like these. (I don't understand why anyone would go to a mall to drink champagne.)
Coming Soon
Yaya's the pasta pop-up earlier this year by Andrew Moo (Taste Collective), Dan Li (formerly Bird), and Mike Liu (Lucky Mart) is going to have a brick-and-mortar! Fresh pastas! Coming to you after Chinese New Year at 329 Tongren Lu.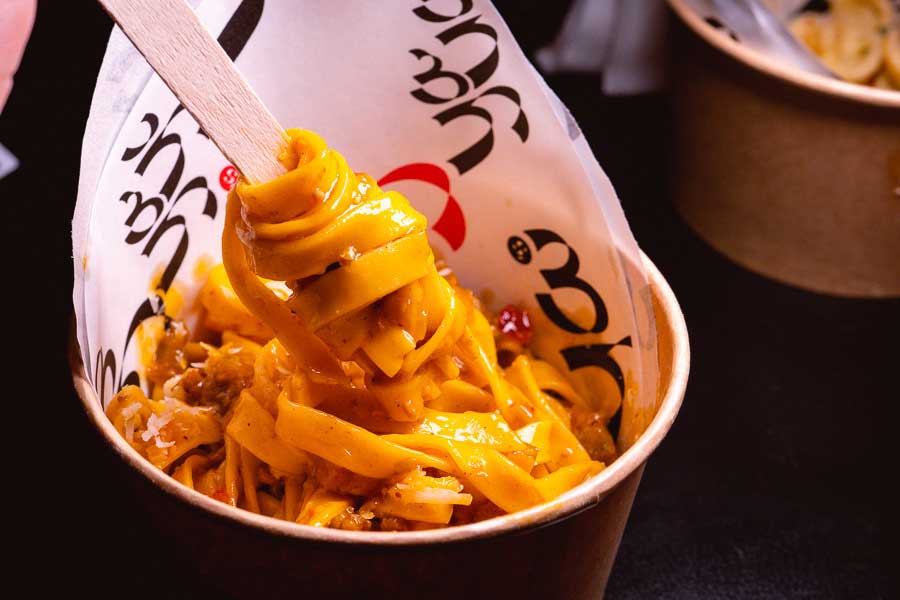 Oh, and there's another project by Taste Buds coming on Changle Lu, next to Eldivino Thai. Next door to that, The Boiling Crab just opened.
Shake Shack is opening in iapm, making it the eighth location of the burger chain.
Rumors! Whispers of Michelin three-star Frantzen are back. The restaurant announced it was going to open at Bund 5 in 2019, but well, Covid happened and that got halted. Now it seems they're looking to try again. Also from the rumor mill is that a certain big name Swedish Michelin star chef is also looking to open in Shanghai.
More rumors, but this is more substantiated. The people behind Beijing restaurant group Bottega are looking to open a venue in Shanghai. Will it be Neapolitan pizzas like Bottega, a more traditional Roman restaurant like Forno, a Mexican restaurant and bar like El Barrio, or an izakaya like Daruma? Only time will tell.
Wait… Wasn't COA supposed to open this year? I guess we'll be seeing them in 2022. Hopefully.
There's also a three-floor "art immersive restaurant" opening on the Bund in February. Vague is the information that finds its way to me sometimes.
Closures & Relocations
First, some good news about relocations.
Award winning cocktail bar Union Trading Co is relocating. Their last day on Fenyang Lu is January 10, and it reopens on January 21 at 306 Hengshan Lu.
Pirata and Hulu Sushi's last day at Columbia Circle is February 18. The Spanish restaurant and Japanese omakase will both be moving to Xingfu Lu shortly after.
And I really wish that there were more upbeat things to announce at the end of the year other than closings, but here it is.
There are two big closures on the Bund. M on the Bund announced February 15, 2022 as their official closing date. The iconic, landmark restaurant was the first Western restaurant on the Bund when it opened 23 years ago. Glam and Mahjong Social Club will also close.
And unexpectedly, Italian restaurant Atto Primo also closed. The notice went out on their official WeChat account on December 29 in the afternoon, stating that the restaurant would close from midnight, December 30. Brutal and heart-breaking.
Another big name to close is Element Fresh. Well, it's not 100% certain that we'll lose all Element Fresh locations…word is they're looking for a buyer. But the news is still disheartening. Full story here.
Bandit (Xinzha Lu) closed, but two more opened in Citic and Century Link malls.
Kartel announced its last big party on New Year's Eve and will close on January 1.
Bird and Bitter both to close, last day on December 31.
Le Cafe des Stagiaires will have their final day of operation on January 2, 2022. They're doing a big blow-out party on that day.
Also closed are Thai eatery Soi Thai and club/lounge Dusk To Dawn.
Two super popular xiaolongbao restaurants are also closing. Man Long Chun my neighborhood go-to on Yongkang Lu is already closed, and Fuchun on Yuyuan Lu's last day of operation is January 3, 2022. Fuchun is moving to a bigger location, but didn't state where. There are crazy lines outside the restaurant all day, every day, that is, if you're thinking of popping in.