A round-up of my favorite new openings in Shanghai from the past year, plus a shortlist of notable mentions. It's not an exhaustive list of new openings—it's only the places I've managed to try in the last year—but it's a good recap for 2021.
---
Favorite New Openings From 2021
Suzie
Address: 464 Jianguo Xi Lu, near Yueyang Lu 建国西路464号, 近岳阳路
Tel: 54489799, 18964036698
Hours: Tue-Sun, 5:30pm-midnight
Suzie is a fine French bistro on Jianguo Xi Lu operated by the same people behind SOiF, Ottimo, and theWarehouse. It's a splurge-worthy special occasion dinner destination to indulge in buttery, classic French food and excellent wines.
Order This: Baked Oysters, T-Bone, Sea Bass Quenelle, and wine.
---
Klay
Address: 1124 Beijing Xi Lu, near Shaanxi Bei Lu 北京西路1124号, 近陕西北路
Tel: 52788175
Hours: Mon-Fri 11:30am-2pm, 6-10pm; Sat-Sun 11am-2pm, 6-10pm
Klay is a modern Indian restaurant led by Chef Hardeep Somal, located in Jing'an. It's built up a reputation over the year and has become exceedingly popular. The food is contemporary Indian, and is similar to what you'd find at upmarket Indian restaurants in the London or LA—traditional roots with global influences.
Order This: Spicy Crab Curry, Lamb Gosht Curry, Saag Paneer, Lamb Sliders.
---
The Smokehouse
Address: 97 Xiangyang Bei Lu, near Xinle Lu 襄阳北路97号, 近新乐路
Tel: 64379446
Hours: 10:30am-2am
The Smokehouse is a restaurant/bar serving Kansas-style barbecue brought to you by Matty Waters, founder of Smoke KCQ and The Camel Group. Meats of all kinds from USDA brisket to house-cased sausages, and ribs smoked on-site, plus smash burgers.
Order This: The Classic American double smash burger, brisket, sausages, and wash it down with beer.
---
Bonica
Address: No. 60, Building 5, 273 Jiaozhou Lu, near Xinzha Lu 胶州路273弄60号1楼, 近新闸路
Tel: 62737007
Hours: 12pm-2pm, 5:30pm-10:30pm
Bonica is a Mediterranean grill and bar in Jing'an housed in a gorgeous, design-forward space. It's one of five concepts by Armada Group, who also have Loggia, La Barra, La Mezcaleria, and Tacos El Paisa within the same building. It's quite upscale and brings a new crowd to the neighborhood. Good for dates and special occasions.
Order This: Foie Gras Terrine, Escalivada, Grilled Octopus Legs, Beef Tongue.
---
Chihuahua
Address: 2/F, 1788 Xinzha Lu, near Jiaozhou Lu 新闸路1788号2楼, 近胶州路
Tel: 13761346347
Hours: Tue-Thu, 11am-11pm; Fri-Sat, 11am-midnight; Sun, 11am-10pm
Chihuahua is a casual Mexican taco-fonda in Jing'an. It's cheap and cheerful, an alternative for Mexican food (especially the tacos) if you're in this part of town. They have the best fresh corn tortilla tacos in town.
Order This: All the tacos + frozen margaritas.
---
Le Daily
Address: Rm. 106, 550 Wuding Lu, near Shaanxi Bei Lu 武定路550号106室, 近陕西北路
Hours: Mon-Sat, 10am-11:30pm; Sun, 10am-6pm
Le Daily is a sandwichery and bar in Jing'an. It's a go-to canteen for many regulars seeking a tasty no-frills sandwich and a cheeky mid-day drink. It's a cozy little spot, but the vibe is great, almost like a neighborhood diner.
Order This: Shanghai Reuben, Continental Roll, and a pint of cider.
---
Hundo
Address: 2/F, 20 Donghu Lu, near Huaihai Zhong Lu 东湖路20号2楼, 近淮海中路
Tel: 19512374026
Hours: Mon-Sun, 6pm-midnight
Hundo is a Japanese restaurant that serves yakiniku, yakitori, tempura and sushi, housed on the second floor of the villa on Donghu Lu. Hundo is the bigger, shinier sister restaurant of High Yaki, one of my favorite restaurants in Shanghai.
Order This: A bunch of skewers, dry-aged rib-eye, and sake.
---
Ottimo
Address: 4/F, Bldg 1, Surpass Court, 570 Yongjia Lu, near Yueyang Lu 永嘉路570号1号楼3楼, 近岳阳路
Tel: 15801849617
Hours: 5:30pm-1am
Ottimo is a wine bar and restaurant backed by some of the people behind uber popular wine bar SOiF. The restaurant has a stimulating, electric ambiance, a stark contrast to it's sleepy , quiet location within Surpass Court. The food is a mix of European and Asian flavors, and the wine selection is exceptional.
Order This: Osso Buco, Tuna Rice Bowl, any steak, and wine.
---
Sakaba Malabar
Address: 1081 Wuding Lu, near Jiaozhou Lu 武定路1081号, 近胶州路
Tel: 52373085
Hours: Sun-Thu, 5:30pm-1am, Fri-Sat, 5:30pm-2am
Sakaba Malabar is restaurant and bar on Wuding Lu that blends Spanish tapas with a touch of Japanese influence, also serving sake, cocktails and wines. It's a reinvention of Malabar, a long-standing fixture in Jing'an. The change was a bold, gutsy decision, and the result is great.
Order This: Tuna Tartare, Croquettes, Baked Crab, Mini Paella, Horchata Milk Punch cocktail. Ask for sake recommendations.
---
Notable Mentions
Halu
A Korean bistro on the first floor of cocktail bar Ars & Delecto.
Click here to read more.
Atelier Izakaya
Japanese restaurant and bar from the Taste Buds group.
Click here to read more.
Caminetto
Chef-driven Italian restaurant serving fresh pastas and pizzas.
Click here to read more.
Crave
Cafe and wine bar with a gorgeous terrace and excellent pastries.
Click here to read more.
Ember
High-end Japanese yakiniku restaurant serving an all-beef set menu.
Click here to read more.
Azul Italiano
Italian comfort food by the Azul Group.
Click here to read more.
LatinLand
Latin American, namely, Colombian food at Wheelock Square.
Click here to read more.
Pici
Fresh pasta bar via Hong Kong.
Click here to read more.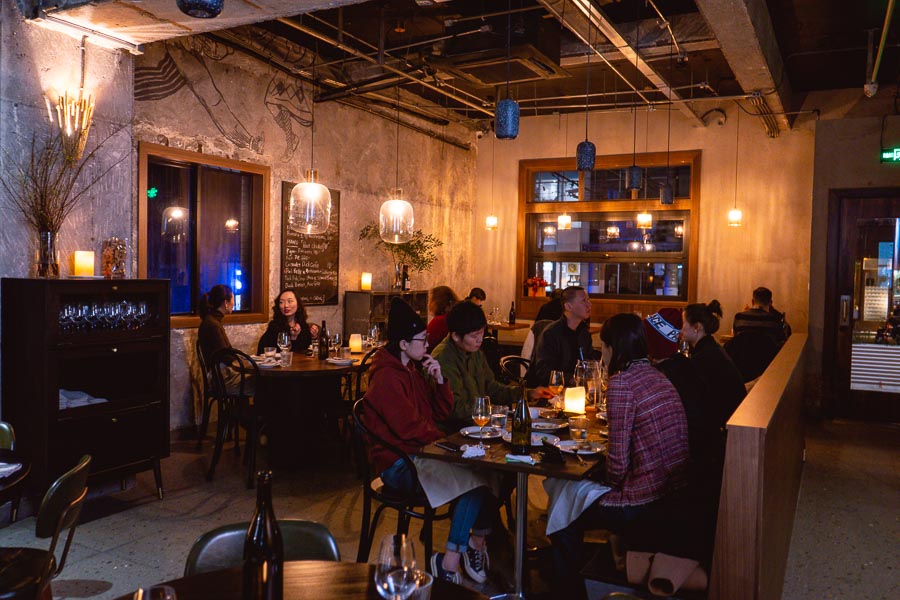 Mavis
A natural wine bar and bistro serving French fare.
Click here to read more.
ROZO
A cozy, unassuming wine bar serving Asian-inspired dishes in Jing'an.
Click here to read more.
Lounge by Topgolf
Entertainment destination with mini-golf, serving a Pan-Asian inspired food menu.
Click here to read more.