The Shanghai Scoop is a monthly column dedicated to the latest food and drink news happening in Shanghai.
---
Coming Soon
Stefan Stiller of Taian Table is opening "Stiller," an all-day fine-casual continental restaurant in Xintiandi, due for sometime in March. The food will take cues from Stefan Stiller's modern European cuisine, and will be more casual and relaxed than Taian Table.
VOS Families (SOiF, Suzie, le Daily, Ottimo, etc.) is opening Suzie's Garden in the former Coconut Paradise space on Fumin Lu this April. French-forward all-day dining in the garden.
Yak & Yeti "Himalayan Taste" is a Himalayan restaurant and bar by Anup Rajbhandari, a long-serving member of the Shanghai F&B industry. Born in Nepal, Anup seeks to bring a slice of home to Shanghai. Opening in the former Camel space on Xiangyang Bei Lu mid-late February.
Paul Pairet (Polux, Ultraviolet, Charbon, Mr & Mrs Bund) is opening a bakery/pastry-driven concept in IFC this summer. There will be coffee, pastries, fresh breads, sundaes and ice cream, and a deli counter.
Xibo is expanding with two more locations this year, MixC Suzhou Creek in March and Hongqiao in June. Speaking of, MixC Suzhou Creek is happening—plenty of new restaurants at this freshly minted mall. There are outposts of Luneurs, Cellar To Table, and BoboLee, but otherwise, it's predominantly Chinese and Asian restaurants. A big plus is that the entire mall is dog-friendly.
Michelin-starred restaurants Frantzen (Stockholm, 3 stars) and Maaemo (Oslo, 3 stars) are coming to Shanghai. Frantzen will be a "fine dining concept inspired by both 3-Michelin stars restaurants, Frantzen in Stockholm and Zén in Singapore," reads the company website. It'll be located on the Bund. Maaemo will be located on Dongping Lu.
Bottega Shanghai opened with much fanfare, drawing crowds and a line that wrapped around the building. If you're trying to get a seat, I do recommend going after 8:30/9pm to avoid the new opening rush. The team behind Bottega will also open CocoCrew, a coconut drinks concept in the coming weeks, attached to Bottega Shanghai.
---
New Openings
Papito Pancakes is opening an outpost at 1035 Changle Lu this weekend. New items on the menu include milkshakes among other pancake combos. Free Nutella pancakes for all who visit on their opening day, February 5, while stocks last.
O'Mills has opened another location in Jing'an at the WeWork building on Yanping Lu. Toasty by O'Mills is more bread-centric, focusing on sourdoughs, toasts, pastries, and sandwiches.
Goose Island now has a Taproom on Jiashan Lu, which opened just before CNY. Beers on tap or bottle, and other drinks. Food is a simple menu of snacks (fries and wings), burgers, and hotdogs. There's an all-day free-flow deal on weekends, ¥150 for three hours.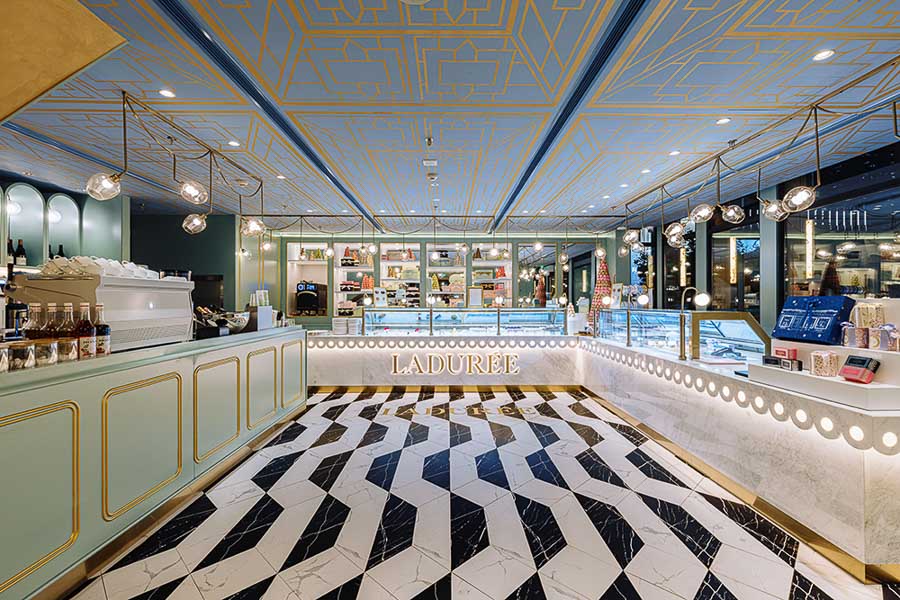 Ladurée opened its flagship at Shanghai Centre last November, positioning it as a French restaurant in addition to their line of macaroons and desserts. That makes three locations of Ladurée, including one in Xintiandi and another in Jing'an Kerry Center. Speaking of Shanghai Centre, there's also an outpost of Eli Falafel there, too.
The Willis group opened Junn Izakaya on Wukang Lu, serving skewers cooked over binchotan, izakaya bites, and cocktails.
Fine dining Thai restaurant Chin Rai opened in iapm, serving a menu by chef consultant Noom Chantrawan of Michelin one-star Chim By Siam Wisdom, Bangkok. Thai food elegantly presented in a posh setting with an emphasis on high-end wines.
La Coyota opened a taco bar and Mexican eatery on Shaanxi Bei Lu in Jing'an, and Chihuahua has relocated to Wuding Lu, located next to Viva!
Gaga opened Gaga Coast in Xintiandi, taking over the former Element Fresh Vintage space next to Starbucks. The press release reads, "Mediterranean-inspired" but the menu reads "global," serving an A-to-Z of options from hummus to kimchi bouillabaisse. Brunch is served all day—breakfast sandwiches, plates, and eggs—while dinner highlights seafood and grilled meats.
The Hengshan 8 development is nearly full with tenants. In addition to High Yaki The Sea, Mozzarella e Vino, Oliang Bangkok Bistro, and Huata, there are about a dozen more restaurants and bars in the complex. One of them is Joye&Sam, a boutique retailer selling food and drink products in addition to having a few food outlets, spread across two floors. One of the food outlets is due to be Anarkia.
There's also a pool…. And despite a very provoking slogan beneath, it's strictly no entry.
There's also a club, Basement Never Sleeps.
Other F&B in Hengshan 8 include ice creamery il Laboratorio del Gelato, SeeSaw, high-end sushi restaurant 鮨一, Western restaurants À Table and Overlaps, and William's Steakhouse.
---
News Around Town
In case you missed it, Homeslice has added fried chicken to the menu. Crunchy, deep-fried drumsticks and wings are served with tomato-chipotle or honey-mustard sauce. Currently available at Pudong Century Park and Tianshan Lu locations, and will soon be available at Pudong Hongjie and Xujiahui stores. Follow Homeslice on WeChat for the latest.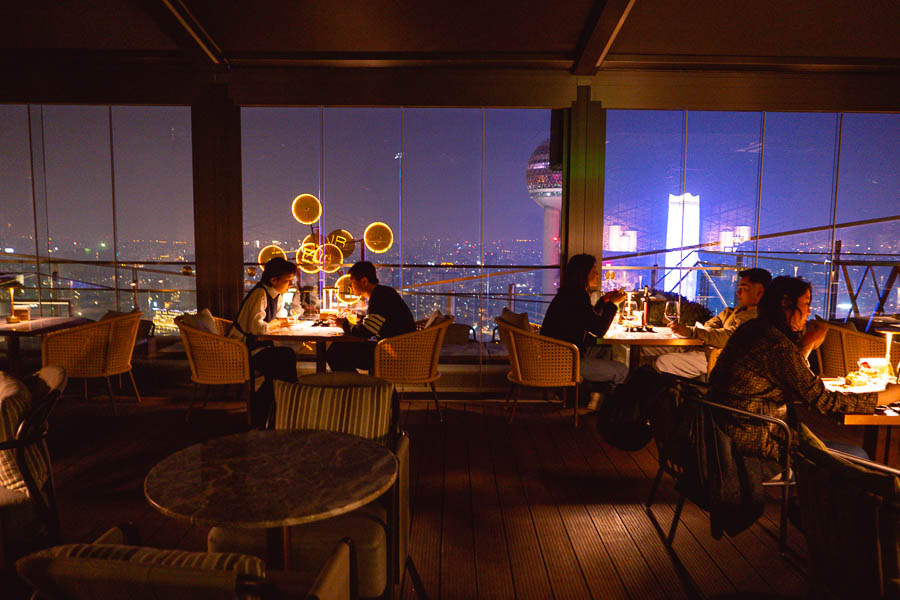 Iconic skyscraper bar Flair at The Ritz-Carlton Shanghai, Pudong has completed its full facelift, and reopened late last year with brand new interiors and menus. Sleek lounge and bar seating with astounding panoramic views, a terraced deck for al fresco, a new cocktail program, and a contemporary Asian menu.
The Waldorf Astoria, Shanghai has just launched a "Botticelli to Van Gogh" afternoon tea set in collaboration with the Shanghai Museum. The book-like stand of sweets and savories were inspired by the oil paintings from artists Van Gogh, Monet, Gaugin, etc., which are currently on display at the museum. The set is ¥528 + 15%, which includes two tickets to the exhibition, available until May 7.
The Middle House is collaborating with local tea brand BASAO, launching a co-branded tea set, as well as food and cocktails with tea. There are four teas, one for each House, available for purchase individually or as a set at The Shop, The Middle House. Chef Tony Ye at Sui Tang Li has also crafted a few dishes inspired by the teas, including a tea egg smoked with Bai Ya Qi Lan, and tea cocktails are available at Café Gray Deluxe.
The Langham, Shanghai, Xintiandi has launched a Pawcation package, opening up the hotel's rooms as pet-friendly, and have equipped the rooms with doggy day beds, water bowls, and strollers. There's even a "Doggilicious" menu available. For a supplement of ¥800 per pet, you can bring your furry friend along for a night stay. Call 23302230 to inquire or visit their official website or WeChat account.
And to squash the rumor mill: Mr & Mrs Bund is still going. They've resigned their lease for another 10 years. Short ribs, lemon tarts, cod in the bag, etc., will continue. MMB 万岁.
---
Closing Statement & Closures
2022 was an unprecedented year that brought a roller-coaster of emotions and unimaginable hardships. For F&B, it was the lowest of the low, and the aftershock is still being felt now. It is likely things won't pick up until March, but I am optimistic about the year to come, though not without some challenges. But I say, take courage in the coming year, and let's all get back to our normal.
That said, here is a list of venues that closed in the last year, ones I know of:
Anarkia
Ars & Delecto
Atto Primo
Beast of the East
Beef & Liberty (KWAH)
Bloom (now Cucurucu)
Bourbon Cookhouse
Cha's (all locations)
Cotton's (Anting Lu, after 17 years of operation)
Eldivino Thai (Changle Lu)
Element Fresh (all locations)
Fuchun (Yuyuan Lu)
Green & Safe (Xuhui)
Grom
Guyi (Fumin Lu)
Heritage by Madison
Inferno
JAX Jamon
Joe's Pizza (all closed except Nanchang Lu)
Kartel
La Bodeguita Del Sur
La Social
Lady M (all locations)
LatinLand Restaurant & Bar
Le Cafe des Stagiaires
Le Salon de Joel Robuchon (Reel Mall)
Lenotre (all locations)
Light & Salt Backstage
Light & Salt Daily
Man Long Chun
Meanwhile in Xintiandi
Mezcalito
Mikkeller Xintiandi
M on the Bund
Nene
Perch (rebranded to The Rooster)
Pistolera (Hengshan Lu)
Planet One
POLO
Popot (Jing'an)
POZ
Pree
Pure & Whole
ROZO
RYE&CO
Sake Mate
Seve
Shanghai Brew House (Jing'an)
Sober Company (looking to reopen this year)
Spicy Moment
Strictly Cookies
The Beach House
The Camel x Smokehouse
The CUT (all locations)
The Hop Project
The Rooster (Shaanxi Lu, relocated to Perch address)
The Twins
Windows (all locations)
Zozzo